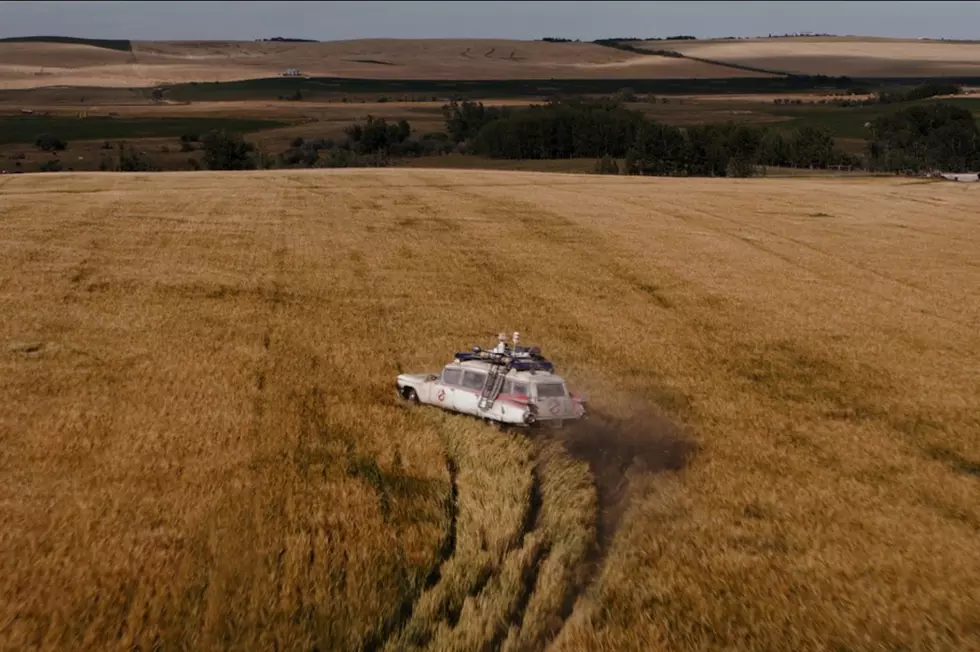 First Images and Plot Details For Next Summer's 'Ghostbusters' Emerge Online
Sony
First things first: The speculation and random Ecto Cooler ads were correct. The next Ghostbusters movie is titled Ghostbusters: Afterlife. That's been officially confirmed by a new article in Vanity Fair, which includes the first concrete plot details for the movie, along with a bunch of new images of the movie — including the one above of the Ghostbusters' signature vehicle, the Ecto-1, tearing through a cornfield.
Here are more of the images from the article:
The official Ghostbusters Twitter account also unveiled the first poster for the film:
While a cornfield seems like a strange setting for a distinctly New York franchise, the new film apparently takes place in "a small town in Oklahoma," on a farm that the main characters — Callie, played by Carrie Coon, and her two kids Phoebe (Mckenna Grace) and Trevor (Finn Wolfhard) — inherit from Callie's mysterious father.
Reitman told Vanity Fair that...
As the family arrives at an old farm, they begin to discover their connection to the original Ghostbusters. Trevor and Phoebe are about to find out who their grandfather was and whether they're ready to pick up the proton pack themselves.
It seems safe to assume their grandfather was one of the original Ghostbusters — and it's probably not too far of a leap to guess it's Egon, played by the late Harold Ramis in the first two Ghostbusters. That would help explain why he's not in this film; the other original Ghostbusters, played by Bill Murray, Dan Aykroyd, and Ernie Hudson, are supposed to appear in some form, along with Sigourney Weaver and Annie Potts. (Rick Moranis appears to be the lone holdout of the surviving original cast who won't return.)
The other key new role is Paul Rudd's "Mr. Grooberson," who was a kid at the time of the events of the original Ghostbusters and "remembers it obsessively and is excited to pass on what he knows." So basically, he's the stand-in for fans of the old movie (and maybe for director Jason Reitman, taking over for his dad Ivan) in bringing this series to a new generation of fans.
Ghostbusters: Afterlife will open in theaters on July 10, 2020. The first trailer for the film debuts online next Monday.
Gallery — Great Movies That Became Horrible Franchises: