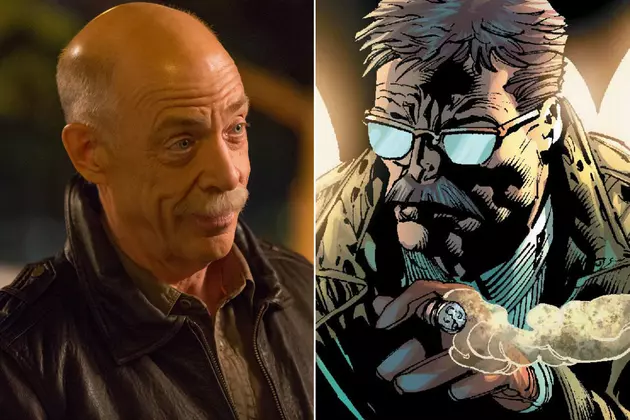 Commissioner Gordon Looks Hard-Boiled in His First 'Justice League' Photo
Sony Pictures Classics / DC Comics
Warner Bros. has made plenty of decisions with its DC Cinematic Universe that don't sit quite right with fans, but credit where credit is due, the casting of J.K. Simmons as Commissioner Gordon is not one of them. Simmons  —  now available in a bulked up version 2.0  —  is one of our generation's great character actors, the rare talent who can switch from utterly terrifying to kindly paternal in the blink of an eye. Since Batman looks to Gordon as both a hard-boiled police officer and a surrogate father figure, Simmons is the perfect addition to both the standalone Batman movie and the Justice League film.
And now we finally have our first look at Simmons in costume. Yesterday, as part of the marketing push surrounding Batman Day, Justice League director Zack Snyder shared the first photo of Simmons as Gordon. The staging  seems ripped directly from the publicity photos that Warner Bros. used to put together for their crime movies of the 1940s. The only thing missing is Humphrey Bogart and Lauren Bacall smoking in the foreground.
The photo also raised an interesting question in my mind: would it help or hurt Zack Snyder's reputation at this point if the director released a black and white take on the Batman character? After all, Batman is rooted in the pulp detective novels and crime films of the 1930s and 1940s; returning Batman to his noir-steeped roots would be a very bold (but not unwelcome) call for Warner Bros. to make. At the very least, a surprise black and white edit of his Justice League movie would allow him to throw a very subtle amount of shade at George Miller, the Mad Max: Fury Road director who has long tried to release a black and white version of that film (and whose initial concept art for his own Justice League movie has been hailed as remarkably more creative than Snyder's take on the franchise).
One way or the other, Snyder's Justice League will hit theaters on November 17, 2017.