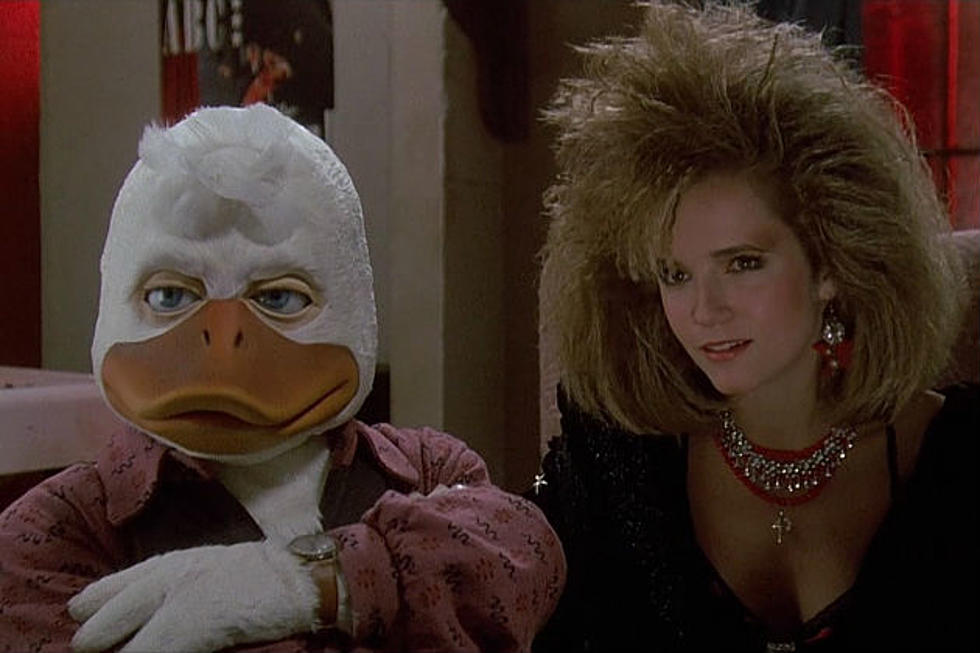 See the Cast of 'Howard the Duck' Then and Now
Universal Pictures
Way back before Marvel dominated the box office with superhero films like 'Iron Man' and 'The Avengers,' they made their big-screen debut with a crazy little film based on one of their quirkier comic book heroes.
'Howard the Duck' hit theaters in 1986, starring Lea Thompson and Tim Robbins in the tale of a humanoid alien duck (uh, yeah) who comes to Earth to help stop an evil alien invasion. Let's take a trip down this very wacky part of memory lane to revisit the cast of the film and see what they're up to these days.
Lea Thompson, Beverly Switzler
Then: The 'Back to the Future' star landed the role of protagonist and female rocker Beverly, and, yes, that was her real singing voice in the film. Before Thompson landed the part, Phoebe Cates and musicians Tori Amos and Belinda Carlisle auditioned for the role.
Now: Thompson went on to star in her own TV series, 'Caroline in the City,' and currently stars on the ABC Family series 'Switched at Birth.' Thompson met her husband, director Howard Deutch, on the set of 'Some Kind of Wonderful' in 1987, and they've been together ever since.
Jeffrey Jones, Dr. Walter Jenning
Then: 1986 was totally the year for Jeffrey Jones -- in addition to starring in 'Howard the Duck,' he also had a memorable role as the evil principal in 'Ferris Bueller's Day Off.'
Now: Jones went on to star in 'Beetlejuice,' 'Mom and Dad Save the World,' 'Stay Tuned' and Tim Burton's 'Sleepy Hollow.' He got himself into a bit of trouble with the law in 2002, and slipped up again in 2010, landing him three years of probation. He hasn't starred in a film since 2007's 'Who's Your Caddy?' and his last high-profile role was as A.W. Merrick on 'Deadwood.'
Tim Robbins, Phil Blumburtt
Then: Late-night talk-show host Jay Leno auditioned for the role of the geeky Phil Blumburtt before it went to Tim Robbins, who had previously starred in 'Toy Soldiers' and 'The Sure Thing.'
Now: Robbins is taken much more seriously as an actor these days, though he has a great sense of humor about himself and has appeared in films like 'Tenacious D in The Pick of Destiny' and 'Anchorman.' Robbins split from longtime girlfriend Susan Sarandon in 2009.
Ed Gale, Howard T. Duck
Then: Though several dwarf actors were hired to wear the Howard T. Duck suit, Ed Gale was the one who served as the "main" actor when producer George Lucas couldn't work out a way to use a child actor. The film served as Gale's big-screen debut -- kind of.
Now: Gale found great success after 'Howard the Duck,' and has appeared in a number of films and TV shows, including 'Bill and Ted's Bogus Journey,' the '90s revamp of 'Land of the Lost' and 'O Brother, Where Art Thou?'
Chip Zien, Howard T. Duck (voice)
Then: For the voice of Howard, the production really wanted an established actor instead of the guy(s) in the suit. Both John Cusack and Martin Short auditioned for the role of Howard's voice before the duties went to Chip Zien, a veteran actor of stage and screen, who starred in the very first run of Stephen Sondheim's Broadway musical 'Into the Woods.'
Now: Zien has had a long and versatile career, with roles on shows like 'Almost Perfect,' 'Now and Again,' 'All My Children' and, more recently, 'The Good Wife.' He continues to act in the theater as well.
Holly Robinson Peete, K.C.
Then: Holly Robinson Peete (then Holly Robinson) made her big-screen debut as K.C., a member of Beverly's band, Cherry Bomb.
Now: Robinson Peete went on to make her mark on TV with '21 Jump Street' and 'Hangin' With Mr. Cooper,' and last year she had a cameo in the '21 Jump Street' movie. She is married to NFL quarterback Rodney Peete.
Thomas Dolby, Bartender in Rock Club
Then: The "She Blinded Me With Science" singer and '80s staple had a cameo in the film as a bartender in a rock club. Dolby also wrote songs for the film's fictional band, Cherry Bomb.
Now: Thomas Dolby is still making music, and released his most recent album, 'A Map of the Floating City,' in 2010. A year later, he released a multiplayer online game to coincide with the music. Dolby has also worked as a producer and has collaborated with cellphone companies like Nokia to create thousands of polyphonic ringtones.