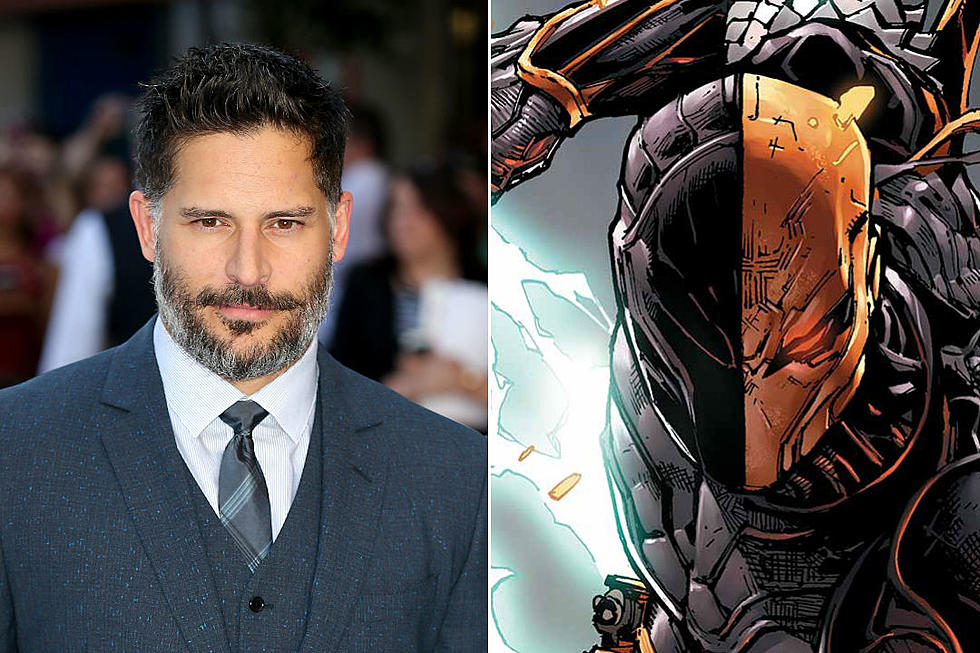 Joe Manganiello Reveals a First Look (Kinda) at His Deathstroke
Tim P. Whitby, Getty Images / DC Comics
When the future of The Batman started looking bleaker and bleaker, we all thought that Joe Manganiello, who was slated to play Deathstroke in the movie, would probably be moving on to other projects. But – spoiler alert for Justice League – a post-credits scene in Justice League has other ideas, introducing Manganiello's Deathstroke and tying him right into the DC universe.
The scene in question, the DCEU's first post-credits scene of that kind, reveals that Deathstroke released Lex Luthor from prison, and he's arrived on his yacht to collect the bounty. Luthor, ever the great manipulator, suggests to Deathstroke that, now that there's a league of superheroes flying around everywhere saving the day, there's no reason there can't be a team of baddies wreaking havoc in their wake. Legion of Doom, anyone? It's possible.
Now, obviously that scene was shot when The Batman still looked like a sure thing and not the maybe-they-will, maybe-they-won't mess it looks like now. But the inclusion of the scene definitely implies that, whatever happens, the DCEU isn't done with Deathstroke yet. Manganiello shared a first look photo over the weekend of himself dressed up in that black and orange suit looking like a still from some post-Apocalyptic Bachelor in Paradise.
Later in the weekend, Zack Snyder revealed with a photo of his own that the Deathstroke sting was his doing.
Matt Reeves' The Batman is supposed to have nothing to do with the wider DCEU, but Deathstroke — the main villain of that movie, supposedly — appearing like this in Justice League to introduce the possibility of a team of supervillains indicates that he, at least, will probably be a little more than a one-shot villain.
Maybe this means Deathstroke will show up again in one of the planned movies following Justice League that's already in production, like Aquaman or Wonder Woman 2, or maybe he's scheduled to show up in a movie that hasn't taken off quite yet, like Flashpoint. Or perhaps in his own movie, courtesy of The Raid's Gareth Evans. Whatever the scheme is, it looks like the DCEU is still keeping Deathstroke in their back pocket.