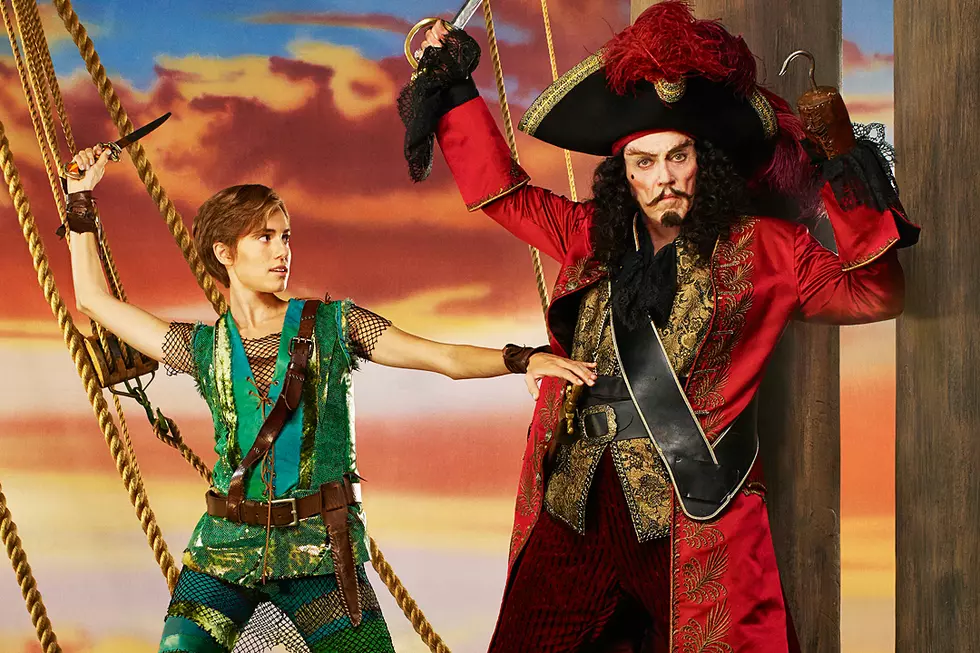 NBC's 'Peter Pan Live!' Trailer: Marnie Sings and Swings, Christopher Walken Hooks Us
NBC
Rapidly becoming our favorite holiday tradition, December 4 will see NBC's latest live-action train wreck as 'Girls' star Allison Williams crosses hooks with Chrisopher Walken for NBC's forth coming 'Peter Pan Live!' stage musical. So, if you ever wanted to see Marnie seducing young women, or hanging from a rope as Christopher Walkens all over the scenery, check out our first look at 'Peter Pan Live!' in action!
We'd seen Allison Williams in her Lost Boy bike shorts before, as well as Christopher Walken's Captain Hook, but never quite with both in action on stage amid the set and cast. Just by virtue of its concept alone, NBC's 'Peter Pan Live!' looks to outdo its 'Sound of Music' predecessor for social media ridicule, but the first full glimpse brings with it a "steaming pot of hot nonsense" quality we just can't help but adore.
In the meantime, the NBC live stage production has added to its cast Minnie Driver in the dual roles of an Adult Wendy and the show's narrator, as well as 'Smash' alum Christian Borle playing both Mr. Smee and George Darling. Taylor Louderman, Jake Lucas and John Allyn will play the Darling Wendy, John and Michael, respectively, while Alanna Saunders will portray Tiger Lily.
Snort your pixie dust and prepare for 'Peter Pan Live!' with the first full trailer sneak peek of NBC's latest live musical, airing on Thursday, December 4!