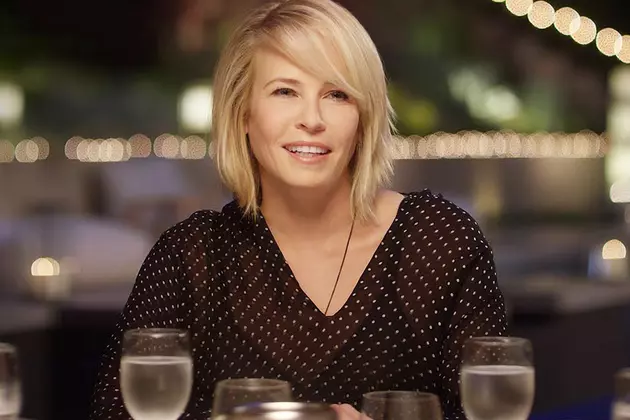 Chelsea Handler Netflix Talk Show Gets Handwritten Premiere Announcement (We Transcribed It)
Netflix
We've already seen one iteration of Chelsea Handler's Netflix deal in the form of docu-series Chelsea Does, but at last the streaming service's first talk show has a premiere, and format. See for yourself in Handler's hand-written note (that we've painstakingly transcribed for you).
In addition to setting a May 11 premiere for the tri-weekly half-hour show, Handler also announced the ongoing search for a title, which will be announced in a live press conference, taking questions  on Thursday, March 17 at 9:00 A.M., Pacific time.
You can read Handler's notes, or the transcription we've lovingly provided:
Dear You,

This is your new show schedule, so if you're thinking about having a baby - DON'T. Your new show will be on every WEDNESDAY, THURSDAY, + FRIDAY on NETFLIX

30 MINUTES / 3X a week / NO COMMERCIALS

- I know it's hard for you, but waking up is a great way to start the day.

- You'll be traveling around the world and learning new things, all courtesy of NETFLIX. Treat this as an opportunity to get the college education you forgot to get.

- Sign up for Netflix.

- When interviewing respected public figures, ask yourself "What would Byron Allen do?" Then, do the opposite.

- Once an episode is up and streaming on Netflix, it will be available until the end of time, so put a little more thought into what you say this time around.

- Never give up on your dream guest list:

Michelle Obama.
The Pope.
Arnold Schwarzenegger's maid.

- You'll be streaming in 190 countries, So remember to keep a deeper, more culturally sensitive perspective. Especially towards the Germans, they're still touchy about everything they did.

- You wanted a new show, you got it. You wanted to be on Netflix, you are, You wanted to spread your wings, now FLY, BITCH.

PREMIERES MAY 11th

P.S. It's an election year. Good timing, girl.

Chelsea Handler
In addition, you can check out some of the fan-favorite titles thus far, and stay tuned for more from the press conference.