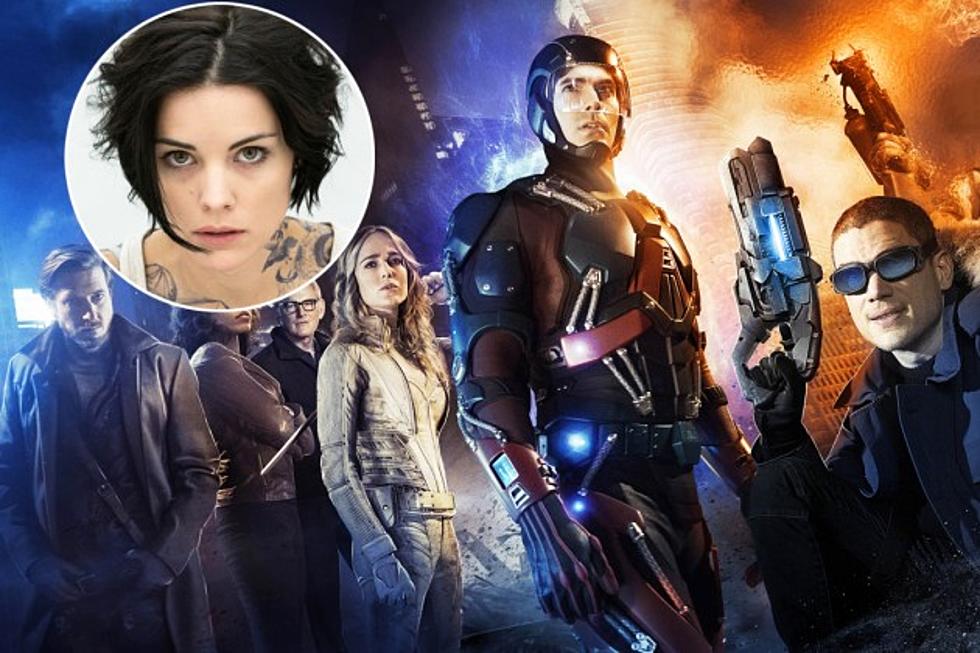 NYCC 2015: Warner Bros. Sets DC's 'Legends,' 'Blindspot' and More
The CW / NBC
Per the studio's official announcement, October 8 will see pilot presentations on the Javits Center main stage from 7:30 P.M. on, including CBS' Supergirl, The CW's Containment and FOX's Lucifer, along with a special presentation from Legends of Tomorrow. Containment will also hold its own panel on Saturday, October 10 at 5:15 P.M. in Room 1A06, while the lion's share of presentations will take place on Sunday, October 11:
12:15-1:15 p.m. (Room 1A10) Wabbit – A Looney Tunes Production Special Video Presentation and Q&A: Get ready for an afternoon of hilarity and hijinks as the looniest animation studio in the world, Warner Bros. Animation, showcases the hilarious, heroic and mischievous Bugs Bunny that everyone loves in Wabbit – A Looney Tunes Production. Join producer Gary Hartle (The Mask) and members of the voice cast, Jeff Bergman and Bob Bergen (The Looney Tunes Show), for a look at this new animated series featuring Bugs in all-new shorts that find the iconic carrot-loving rabbit matching wits against — and getting the best of — classic characters like Yosemite Sam and Wile E. Coyote. Wabbit – A Looney Tunes Production premieres Monday, October 5th at 8/7c on Boomerang.

1:30 p.m. (Empire Stage) Warner Bros. Television Takeover: Join stars and producers from five Warner Bros. Television series — Gotham, Supergirl, Blindspot, Person of Interest and DC's Legends of Tomorrow — for exclusive footage, a pilot screening and a Q&A on the Empire Stage.

Gotham: Special Video Presentation and Q&A —The hit series returns to New York Comic-Con for its second year as Jim Gordon continues his quest to clean up Gotham City, but the stakes are higher than ever in season two as we witness the Rise of the Villains.  Join series stars Ben McKenzie (Southland), Robin Lord Taylor (The Walking Dead), Cory Michael Smith (Olive Kitteridge), James Frain (True Blood) and Jessica Lucas (Cloverfield) with executive producer John Stephens (Gossip Girl) for a special Q&A.

Supergirl Pilot Screening and Q&A – Born on the planet Krypton, Kara Zor-El escaped its destruction years ago. Since arriving on Earth, she's been hiding the powers she shares with her famous cousin. But now at age 24, she decides to embrace her superhuman abilities and be the hero she was always meant to be. Attendees will see a screening of the complete pilot, followed by a Q&A with series stars and executive producer Ali Adler (Chuck).


Blindspot: Special Video Presentation and Q&A — Sullivan Stapleton (300: Rise of an Empire) and Jaimie Alexander (Thor films) star in Blindspot, a one-hour action thriller from Berlanti Productions (The Flash, Arrow, Pan) and writer/executive producer Martin Gero (Stargate: Atlantis). Stapleton stars as hardened FBI agent Kurt Weller, who is drawn into a complex conspiracy when a naked amnesiac, Jane Doe (Alexander), is found in Times Square covered in a series of cryptic tattoos … including his name on her back. As Weller and his teammates at the FBI begin to investigate the veritable treasure map that is Jane Doe's tattoos, they are drawn into a high-stakes underworld that twists and turns through a labyrinth of secrets and revelations — and the information they uncover might ultimately change the world. Join series stars Sullivan Stapleton, Jaimie Alexander, Rob Brown (Treme), Audrey Esparza (Public Morals), Ashley Johnson (The Killing), Marianne Jean-Baptiste (Without a Trace) and executive producer Martin Gero for a revealing Q&A.

Person of Interest: Special Video Presentation and Q&A — Person of Interest returns to New York for the fifth year!  Join the discussion with stars Jim Caviezel, Michael Emerson, Kevin Chapman, Amy Acker and Sarah Shahi as the science "fiction" of Person of Interest stays one step ahead of real-world events.  John Reese (Jim Caviezel) and Harold Finch (Michael Emerson) have saved countless lives thanks to the omniscience of their supercomputer and their crack team of brave misfits — NYPD detective Lionel Fusco (Kevin Chapman), the unpredictable cyber-hacker Root (Amy Acker), and missing-in-action operative Sameen Shaw (Sarah Shahi) — but a new threat puts their mission in jeopardy and their lives in even more danger.  Samaritan, the rival AI, has initiated its lethal "correction."  Finch's Machine is essentially dead.  Shaw is still missing.  And the team is once again hiding in plain sight.  But with Samaritan's invisible grip tightening everywhere, will Finch be able to rebuild and resurrect The Machine?  And if he does, will it be the same Machine when it comes back online?
DC's Legends of Tomorrow Special Video Presentation and Q&A – When heroes alone are not enough … the world needs legends. Having seen the future, one he will desperately try to prevent from happening, time-traveling rogue Rip Hunter is tasked with assembling a disparate group of both heroes and villains to confront the immortal threat of Vandal Savage. Attendees will be treated to a sneak peek at upcoming footage from the show, followed and Q&A with series stars Brandon Routh (Superman Returns), Arthur Darvill (Doctor Who), Caity Lotz (Arrow), Ciara Renéeand executive producers Phil Klemmer (The Tomorrow People) and Glen Winter (Arrow).
We'll be on hand to see what Warner Bros. has to offer, but between Legends, Blindspot, Person of Interest, Supergirl, Containment, Lucifer and Looney Tunes, which are we most looking forward to this fall?
Check Out 100 TV Facts You May Not Know!