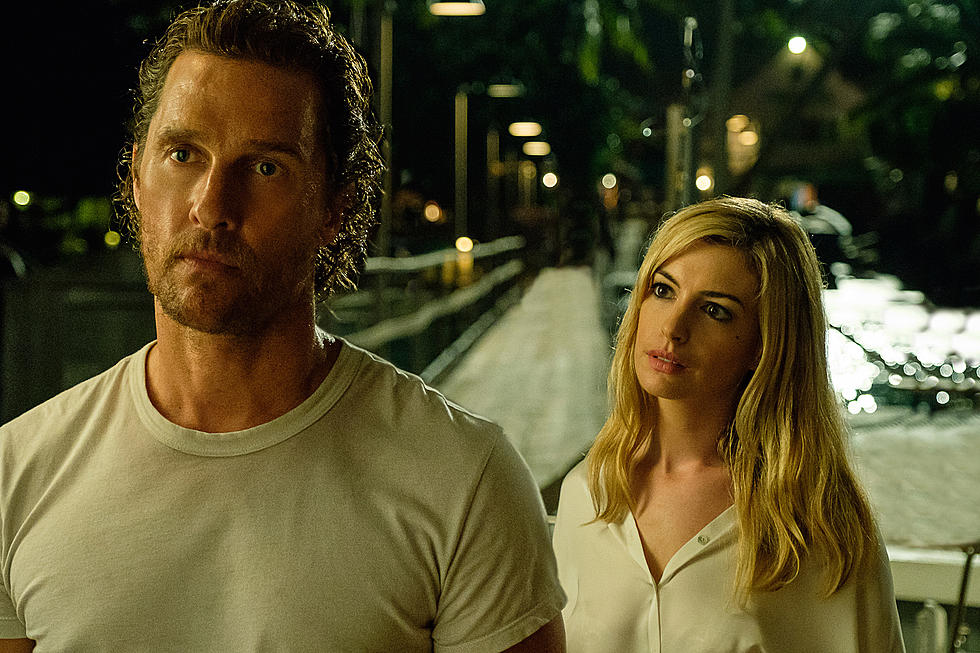 Anne Hathaway Wants Matthew McConaughey To Feed Her Husband To the Sharks in 'Serenity' Trailer
GRAHAM BARTHOLOMEW
In Serenity – no, not the Joss Whedon Firefly sci-fi movie – Anne Hathaway has a simple proposal for Matthew McConaughey: to feed her dirtbag husband to the sharks. It's a task McConaughey's fishing captain Dill seems suited to pull off, but then there's the whole morality issue of murder. If you're hoping to see McConaughey mull over philosophical questions of right and wrong while behind the wheel of a vehicle – so on brand, McConaughey! – then you're in luck.
The film comes from screenwriter and director Steven Knight (Locke, Eastern Promises), and is described as a "sexy, stylized thriller." (Oh hey, this plot of killing off abusive men sounds a lot like that other Knight-penned movie coming out this fall!) Hathaway's Karen plays the ex-wife of her Interstellar costar, while Jason Clarke is her vicious abusive husband. Diane Lane is also around to curiously peer through windows and once again wear gorgeous summer attire beside exotic vacation homes. Let's bet she's a part of some wild third act twist.
From the creative mind of Oscar nominee Steven Knight comes a daringly original, sexy, stylized thriller. Baker Dill (Academy Award winner Matthew McConaughey) is a fishing boat captain leading tours off a tranquil, tropical enclave called Plymouth Island. His quiet life is shattered, however, when his ex-wife Karen (Academy Award winner Anne Hathaway) tracks him down with a desperate plea for help. She begs Dill to save her – and their young son – from her new, violent husband (Jason Clarke) by taking him out to sea on a fishing excursion, only to throw him to the sharks and leave him for dead. Karen's appearance thrusts Dill back into a life he'd tried to forget, and as he struggles between right and wrong, his world is plunged into a new reality that may not be all that it seems.
Serenity also stars Djimon Hounsou and Jeremy Strong. See McConaughey feed bad husbands to the fishes when the film hits theaters October 19.