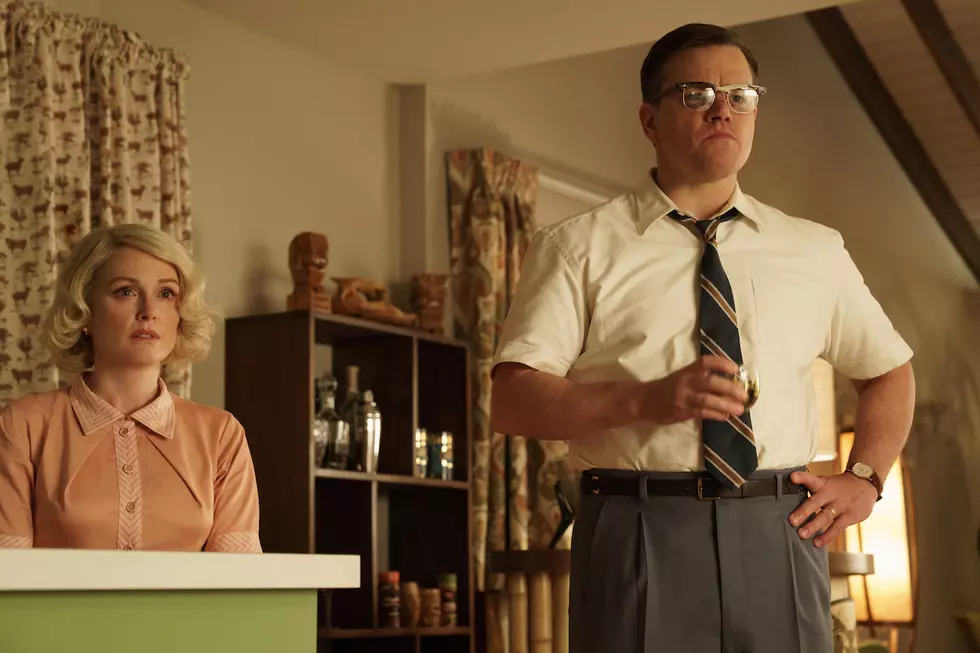 Get Your First Look at George Clooney and the Coens' 'Suburbicon'
Paramount
The first wave of Toronto Film Festival movies has been announced. The Book of Oscar has been unsealed. Let fly the awards contenders!
It wasn't hours after the early stages of the TIFF 2017 lineup was revealed than we got our first look at one of the festival's biggest titles: Suburbicon, from director George Clooney. (You know him, he was Batman that one time.) Clooney doesn't star in the film; instead Matt Damon is the lead, along with Julianne Moore, Oscar Isaac, and Josh Brolin. Here's another picture from the film:
If the cast and Clooney as director wasn't enticing enough, the screenplay was written by the Coen brothers, marking one of their rare efforts as writers that have then been directed by other filmmakers. And Clooney, who appeared in the Coens' Burn After Reading, O Brother, Where Art Thou?, Intolerable Cruelty, and most recently the wonderful Hollywood satire Hail, Caesar!, understands their work like few others. So this could be a great pairing.
Here's the official plot synopsis:
Suburbicon is a peaceful, idyllic suburban community with affordable homes and manicured lawns…the perfect place to raise a family, and in the summer of 1959, the Lodge family is doing just that. But the tranquil surface masks a disturbing reality, as husband and father Gardner Lodge (Matt Damon) must navigate the town's dark underbelly of betrayal, deceit, and violence. This is a tale of very flawed people making very bad choices. This is Suburbicon.
Suburbicon opens in theaters on October 27, 2017, but, again, it'll play at TIFF the month before that.