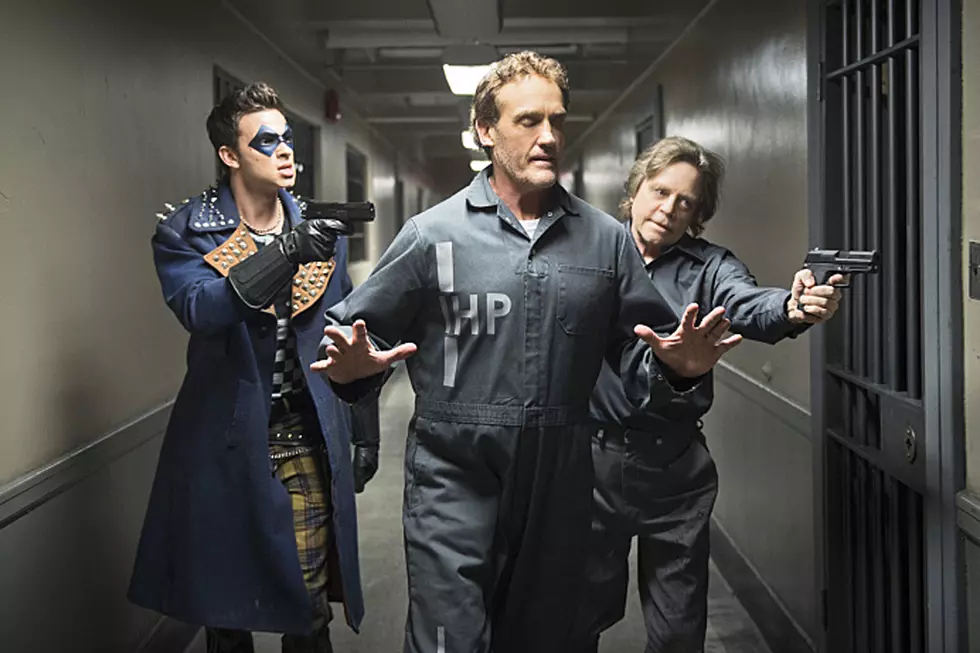 New 'Flash' Photos Go Back in Time With Mark Hamill's 'Tricksters'
The CW
The terror of a second-generation Trickster sees Barry and Joe headed to Iron Heights to interrogate the original villain James Jesse (Hamill), though The Flash wouldn't be The Flash without teaming both villains for some added escapee fun. In particular, both Tricksters seem to have it out for Barry's dad (whom Hamill originally faced as Flash in the 1990 CBS series), while Barry's somber expression in later photos could spell grim news to come.
So reads The Flash's official synopsis for March 31 outing "Tricksters":
MARK HAMILL ("STAR WARS") REPRISES HIS ROLE AS THE TRICKSTER

A copycat killer who goes by the name "The Trickster" (guest star Devon Graye) starts setting off bombs in Central City. In order to stop the villain, Barry (Grant Gustin) and Joe (Jesse L. Martin) meet with the original Trickster, a criminal mastermind named James Jesse (guest star Mark Hamill), who has been imprisoned for 20 years. Things quickly go from bad to worse when the Tricksters unite and take Henry (John Wesley Shipp) prisoner.

Meanwhile, Iris (Candice Patton) asks Eddie (Rick Cosnett) for help with a case, and flashbacks show how Harrison Wells (Tom Cavanagh) came up with the idea for the particle accelerator.
You can check out Mark Hamill's Flash-y return in the "Tricksters" photos above (cannot unsee the one that looks like Gary Busey), while Captain Cold will return to menace Barry once more in Tuesday's "Rogue Time." Who will be the next major villain to cross The Flash before Season 1 ends?