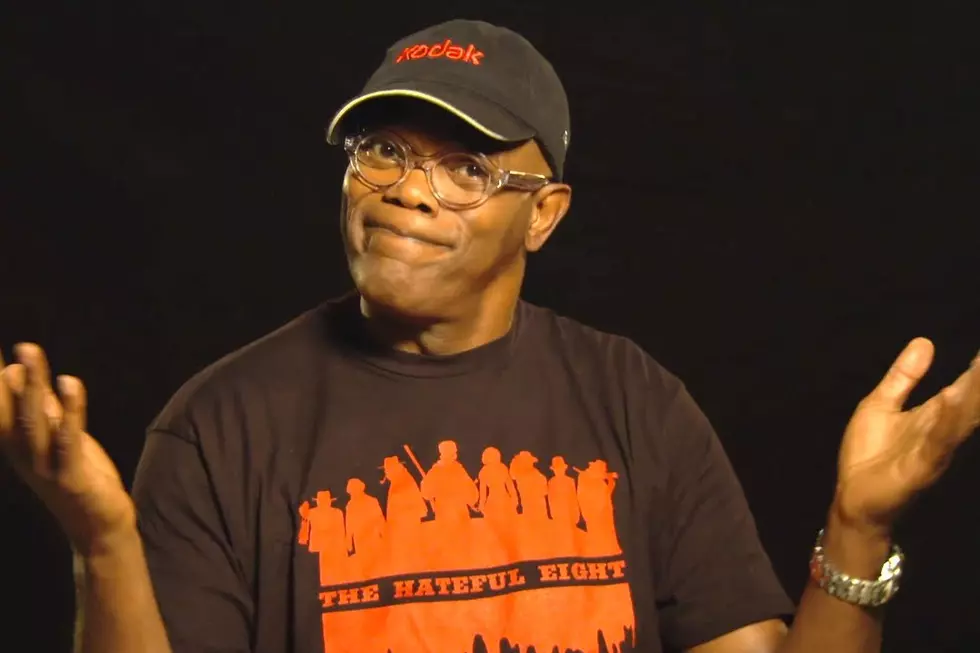 It Just Got a Lot Harder to See 'The Hateful Eight' in 70mm
YouTube
As someone who has seen The Hateful Eight 70mm roadshow, the 70mm roadshow is definitely how you want to see The Hateful Eight. From the gorgeous extra-wide, Ultra Panavision visuals to the six extra minutes of footage, the 70mm version is as "glorious" as the trailers would have you believe. So, why did it just become a lot harder for most moviegoers to see it this way?
The plan, as ambitious as it may have been, was to open The Hateful Eight in 70mm on 100 screens in North America (96 in the U.S. and four in Canada) on Christmas Day. But, according to The Hollywood Reporter, that number has been slashed to "roughly 50 U.S. theaters" with no word on the four Canadian theaters. This may explain why a full list of theaters running the 70mm roadshow still hasn't arrived, despite word in the New York Times in early November that it would be published later that week. (An unofficial list compiled by fans has been published here.)
UPDATE: A Weinstein Co. rep responded to our story with this correction from The Hollywood Reporter's original article: "The previous version of this story incorrectly reported the theater location count for The Hateful Eight's exclusive film run. THR regrets the error." Our original story continues below.
Since mid-2014 The Weinstein Co. has spent untold dollars (rumored to be over $80,000 per theater) acquiring and refurbishing projectors capable of playing the 11 reels of 70mm film shot by Quentin Tarantino. It was an expensive and onerous process made even more difficult by the fact that these new projectors need staff trained on 70mm film to properly run the reel, which weighs upwards of 350 pounds. Most theaters have shifted to digital projection, which requires little in terms of a trained and experienced projectionist, and finding a capable projectionist can be difficult and costly. (The Weinstein Co. is reportedly assisting some theaters with the costs of hiring a Union projectionist.)
The difficulties in converting existing theaters to 70mm have already been felt as a recent advance screening at Los Angeles' Crest Theater was abandoned halfway through after multiple technical difficulties (a copy of the DCP was played in its stead). It didn't help that this screening was attended by many members of the press, who called the fiasco "a serious disaster." Isolated technical glitch aside (additional Los Angeles screenings and multiple New York City screenings have gone off without a hitch), it's indicative of the types of problems that can occur when mounting such an aggressive campaign. It's possible that issues like this have plagued venues across the country, which have backed out of their initial plans to partake in the roadshow. It's also possible that, as costs continue to rise, The Weinstein Co. has decided to cut their losses. We reached out to The Weinstein Co. for comment, but did not receive a response.
This is not the first time The Weinstein Co. has run into issues with 70mm distribution. Back in 2012, Paul Thomas Anderson wanted as many theaters as possible to run The Master, the majority of which was shot on 65mm, in 70mm. But the studio had difficulties booking in many equipped 70mm theaters (like Chicago's The Music Box) before the planned release date. The film wound up screening in 70mm in only 14 U.S. theaters.
The Hateful Eight is very, very good movie that is worth your time whether it's in 70mm, digital or on your iPad in a few months, but with a considerable amount of attention and money spent so far on the unique spectacle of the 70mm release, hopefully as many people will be able to see it that way as possible. If not, it may be one of the last times audiences will ever get to see anything like this again.