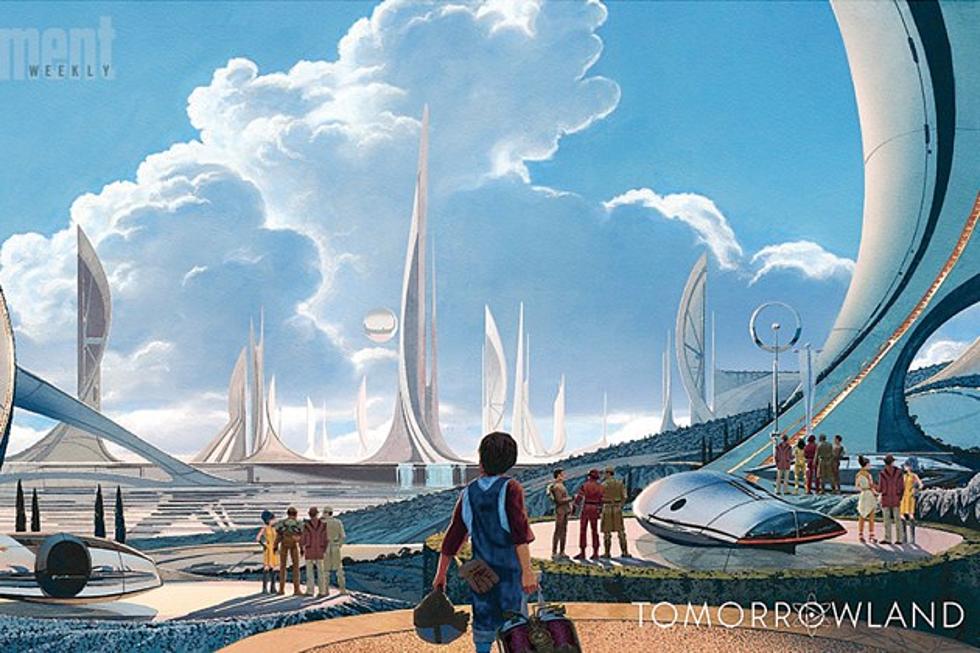 'Tomorrowland' First Look Reveals a Sci-Fi Hogwarts of Sorts
Disney, EW
After being cloaked in secrecy for much of its production, Disney's 'Tomorrowland' has finally revealed some true details about what this ambitious film is all about ... and it sounds a bit like a science-fiction version of 'Harry Potter.' In other words, it sounds like a license to print money.
EW has the exclusive first look, which includes three images and intel from director Brad Bird ('The Incredibles,' 'Mission: Impossible - Ghost Protocol') and screenwriter Damon Lindelof ('Lost' and 'Prometheus'). They also describe the basic set-up of the film thusly:
A Florida girl who dreams of the future while watching the launchpads of Cape Canaveral being disassembled goes exploring one day and, after landing in a bit of trouble, finds herself in possession of a mysterious pin. Touching it reveals a vision of a place that may not be a different world but simply a better one. Then it's gone ... and the quest to discover the real Tomorrowland begins.
That Florida girl is played by 'Under the Dome' star Casey Newton, whose quest involves teaming up with a bitter former child genius played by George Clooney. Yes, theme park fans, this movie is most definitely an adaptation of sorts of the futuristic themed "land" found in Disneyland and Disney World. If bringing individual rides to the big screen has proven successful, why not try it with entire sections of their parks?
Interestingly, Bird's description of the film and its themes of hope for the future make it sound like an interesting companion piece with this year's 'Interstellar,' which tackles similar ideas in a more realistic way. Could "hope for the future in a dark present" be the next big theme in blockbuster cinema? Said Bird:
We begin our movie asking what did [the future] used to be? What's good about the future and what's scary about it? And we wrestle with those things in a slightly mythical way.
And Lindelof is the first to make a direct comparison to J.K. Rowling's beloved 'Harry Potter' series, which he continues to do his talk with EW. Hey, if you're going to compare your new movie/potential franchise to anything else, it might as well be the one everyone in the world loves.
What Hogwarts is to magic, Tomorrowland is to science: They are both easy to find if you are a wizard and very difficult to find if you're a Muggle. Walt Disney is not a character in our movie, but he is referenced as having some involvement in this mysterious place called Tomorrowland, as a huge futurist and aficionado of space travel, rocketry, cities of the future, and space travel.
And that brings us to the images themselves. The first of them is a piece of concept art showing off the title location itself. The basic aesthetics are similar to the retro-futuristic designs seen in Disney parks, but a whole lot bigger. The other two are slightly more standard images, showing off Newton and Clooney.
'Tomorrowland' will open on May 22, 2015. We will probably see a trailer of some kind very soon.