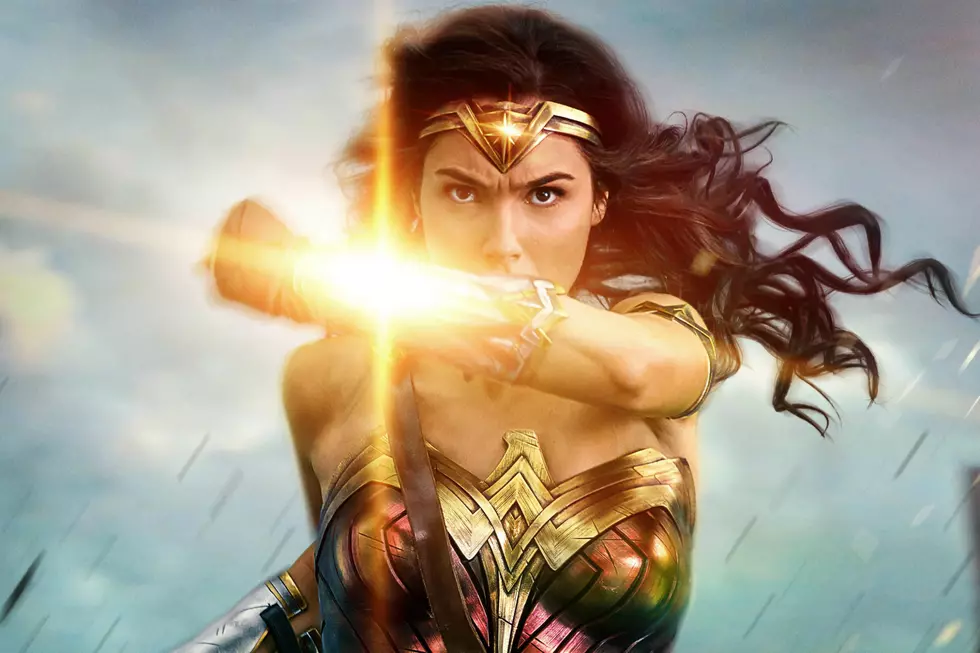 Weekend Box Office Report: Tom Cruise Is No Match for 'Wonder Woman'
Warner Bros.
If you only look at the surface numbers, this was a pretty predictable week at the box office. Wonder Woman did well, The Mummy did not, and everything else shook out about as expected. That being said, there's some pretty interesting narratives emerging in the how and why of this weekend's box office report. Let's take a look at the rankings as of Sunday afternoon and dive into some of the specifics:
Film
Weekend
Per Screen
1
Wonder Woman
$57,180,000 (-44%)
$13,729
$205,002,503
2
The Mummy
$32,246,120
$7,992
$32,246,120
3
Captain Underpants: The First Epic Movie
$12,300,000 (-48%)
$3,485
$44,562,512
4
Pirates of the Caribbean: Dead Men Tell No Tales
$10,713,000 (-51%)
$2,912
$135,839,294
5
Guardians of the Galaxy Vol. 2
$6,242,000 (-36%)
$2,144
$366,361,172
6
It Comes At Night
$6,000,788
$2,369
$6,000,788
7
Baywatch
$4,600,000 (-47%)
$1,624
$51,065,135
8
Megan Leavey
$3,767,722
$1,926
$3,767,722
9
Alien: Covenant
$1,800,000 (-56%)
$992
$71,212,212
10
Everything, Everything
$1,620,000 (-50%)
$1,048
$31,731,952
Typically, I like to start the Weekend Box Office Reports with the new releases, but I'm going to make an exception this week to talk about Wonder Woman. I've mentioned before that a 50% drop between Week 1 and Week 2 is pretty much the industry standard for blockbuster summer movies, so it's important that you realize why Wonder Woman's 44.6% drop in its second weekend is such a big deal. For comparison's sake, Man of Steel (-64.6%), Batman v Superman: Dawn of Justice (-69.1%), and Suicide Squad (-67.4%) all suffered from disappointing drops in Week 2, a trend that Wonder Woman seems to have reversed. If you're looking for proof that comic book fans are willing to trust the DC Cinematic Universe again, look no further than how many of them went back to theaters for another round with Diana Prince and company. This is a big step in the right direction for Warner Bros.
This week's new releases were a considerably more mixed bag. In second place with $32 million was Universal's The Mummy remake, the hopeful launch  —  or re-launch, if you count Dracula Untold  —  of the studio's Dark Universe of monster movies. That's a pretty low domestic gross for a movie with a $125 million budget and Tom Cruise in a leading role, but I'd be remiss if I didn't point out the $141 million the film has made worldwide as well. In fact, that $141 million almost matches the $160 million that Dracula Untold made during its entire theatrical run. Will that be enough to encourage another movie in the Dark Universe? Studios have shown a willingness to figure out their franchises as they go; perhaps Hollywood has learned a thing or two from the video game industry, which has conditioned fans to purchase new releases despite knowing there will be plenty of patches in the first few weeks. I'm guessing we'll go another round with Cruise and company.
In sixth place with $6 million is It Comes At Night, the rare prestige horror film for the summer blockbuster season. That $6 million is important to A24 for two reasons: one, the studio has already made back its budget ($5 million) on the film, and two, It Comes At Night is now the second-biggest opening in the studio's short history, sitting behind only 2016's The Witch among its various releases. The Witch seems like a pretty good comparison for the Joel Edgerton thriller; while It Comes At Night has been revered by critics thus far, there is some evidence that audiences have been turned of by the film's rejection of familiar genre tropes in favor of character work (its CinemaScore grade, for whatever weight you put into that, currently has the film at a solid 'D'). I can't help but wonder if the movie will struggle in its second weekend.
The final ranking new release of the week is Megan Leavey, which finished in eighth place with $3.7 million. While the budget for the film is not currently available, it's probably fair to describe Megan Leavey as a bit of a disappointment; the last movie to target military families and pet lovers, 2015's Max, opened to $12 million that June. There's also this January's A Dog's Purpose, which opened to $18 million despite a controversy surrounding the treatment of its canine stars. This combination of dogs and American values has been a stealth winner at the box office these past few years, but Megan Leavey seems to have left audiences a little cold.
That does it for the new releases, so let's see how the repeat contenders fared this weekend. In third place is Captain Underpants: The First Epic Movie, which grossed $12.3 million in Week 2. While that $44 million total isn't too impressive when compared to some of the DreamWorks Animation heavy hitters, as we discussed last week, the stakes for Captain Underpants are a little smaller: it's the first film in the past few years to go the inexpensive route, only costing $38 million instead of the $125 million+ normally reserved for DreamWorks Animation features. That gentle decline in Week 2 is a good indicator of future success for the Captain Underpants franchise. In fourth place is Pirates of the Caribbean: Dead Men Tell No Tales, which pulled in $10.7 million with North American audiences. That $135 million domestic gross would be disappointing if not for the film's $392 million gross worldwide; yet-another film that fails to live up to expectations at home but won't miss a beat due to its global popularity.
Guardians of the Galaxy Vol. 2 continues to hold strong in fifth place, grossing $6.2 million in its sixth weekend and hitting $828 million worldwide. The split between the film's domestic and international grosses  —  44.2% and 55.8% respectively  —  also makes it easier for Disney to predict future success for this franchise as well. With another good week, Guardians of the Galaxy Vol. 2 will push past Spider-Man 2 for the sixth spot on the all-time Marvel rankings at the North American box office. Baywatch is the next non-new release in seventh place, earning $4.6 million for a $51 million total. The international numbers have buoyed this movie slightly, with the total gross now up to $86 million worldwide, but we've discussed the disappointing numbers of this film ad naseum the past few weeks. These aren't the kind of box office numbers you look for when you cast Dwayne Johnson as your leading man in a comedy.
Alien: Covenant enjoys what will probably be its last weekend on the Top 10 in ninth place, grossing $1.8 million. If you pay attention to the Hollywood rumor mill, you've probably heard Ridley Scott sharing some of his ideas for the next movie in his Prometheus franchise, so it sounds like that $178 million global box office hasn't deterred 20th Century Fox from letting Scott finish out his planned trilogy. Finally, in 10th place with $1.6 million is Everything, Everything, the big screen adaptation of a YA romance novel which has now tripled its budget at the box office. It's not exactly the kind of numbers that make box office prognosticators swoon, but if I guaranteed you a 300% return on your investment as a movie producer, wouldn't you sign up for that? Smaller movies still deserve their seat at the table.