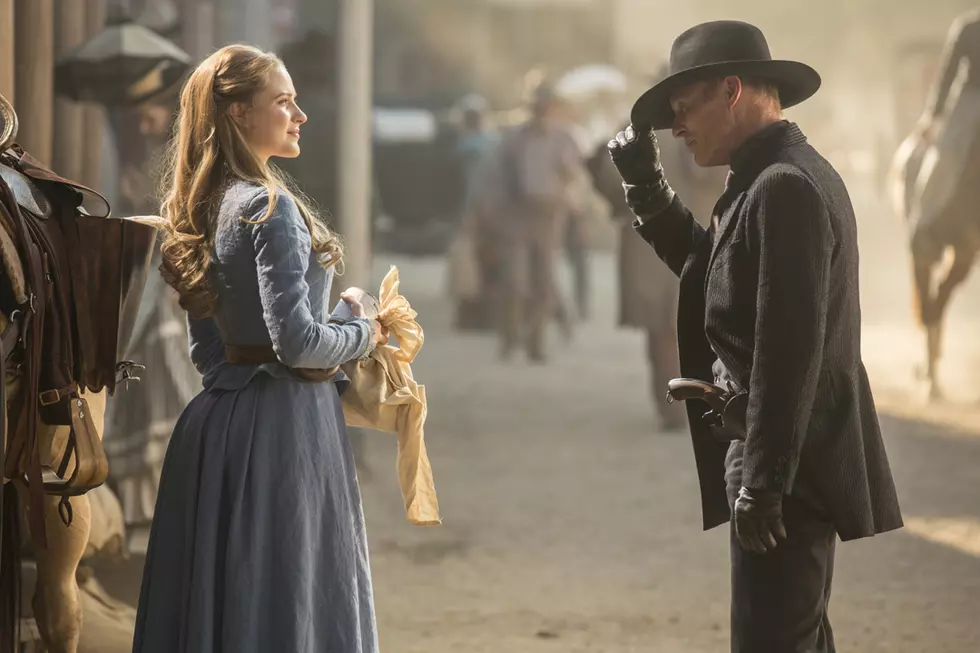 Man in Black Menaces 'Westworld' in New Premiere Clips and Photos
HBO
You've waited long enough for HBO's Westworld, and believe us, it was worth the wait. No longer, however, as new clips and photos from Sunday's premiere should keep you satisfied over the weekend. Meet the Man in Black, and the man behind Westworld!
HBO debuted even more photos from this Sunday's coming premiere "The Original," while IGN debuted not one, but three new clips. They'll give you the lay of the land for all the major characters, but be wary of that shifty gunslinger in black. Something off about him.
In the meantime, so reads the synopsis for October 2 premiere "The Original":
As another day of fantasy plays out in Westworld – a vast, remote park where guests pay top dollar to share wild-west adventures with android "hosts" – top programmer Bernard Lowe (Jeffrey Wright) alerts park founder Dr. Robert Ford (Anthony Hopkins) about incidents of aberrant behavior cropping up in some recently re-coded hosts. Meanwhile, in the Westworld town of Sweetwater, a rancher's daughter named Dolores (Evan Rachel Wood) encounters a gunslinger named Teddy (James Marsden) in the street – but their predictable narrative is upended by the appearance of a ruthless Man in Black (Ed Harris) and, later, by a supporting host's unscripted encounter with an artifact of the outside world.
The new series features among its cast Anthony Hopkins, Evan Rachel Wood, Ed Harris, X-Men star James Marsden, The Hunger Games and Boardwalk Empire star Jeffrey Wright, Thandie Newton, Raising Hope lead Shannon Woodward, 300 star Rodrigo Santoro, Angela Sarafyan, Simon Quarterman, Sidse Babett Knudsen, Ingrid Bolsø Berdal, Ben Barnes, Jimmi Simpson, Lili Simmons and Clifton Collins, Jr.
For those unfamiliar with the original 1973 Yul Brynner-James Brolin film, Westworld told the story of a future resort wherein guests pay to live out time period fantasies brought to life by sophisticated human-like androids, before the robots began malfunctioning and killing the resort's crew. The film spawned the sequel Futureworld, and eventually the short-lived '80s TV series Beyond Westworld.
Check out the trailer again below, while we wait for the October 2 premiere.