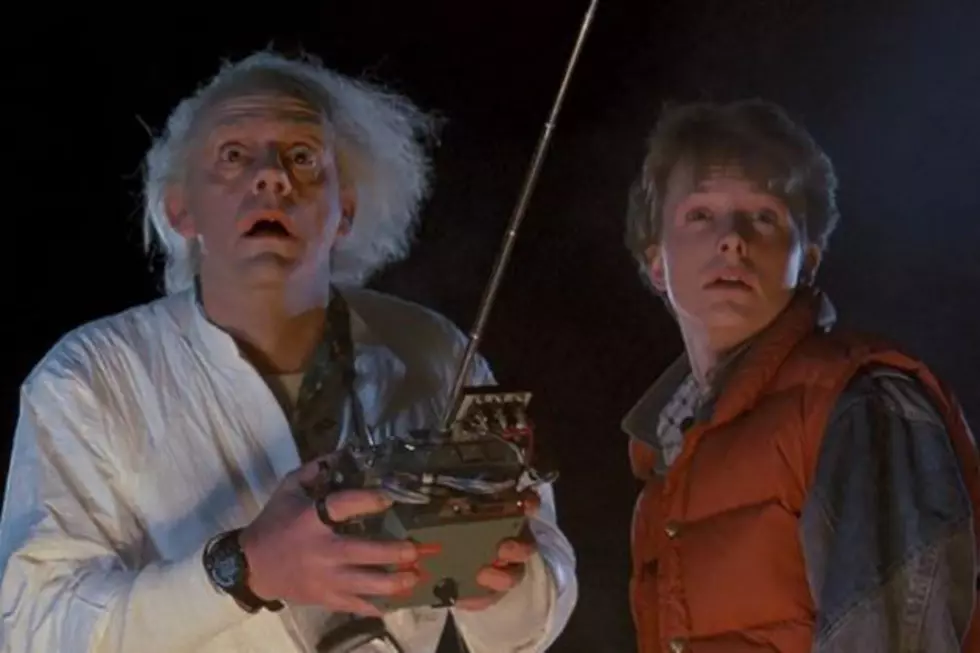 See the Cast of 'Back to the Future' Then and Now
Universal
While Michael J. Fox had been the first choice to play Marty McFly in 'Back to the Future,' 'Family Ties' wouldn't release him from his sitcom obligations so the shooting began with Eric Stoltz in the lead role.
Director Robert Zemeckis concluded Stoltz's performance was too "dramatic" for a movie that was supposed to be lighthearted and fun so he decided to take another shot at convincing 'Family Ties' to let Fox also do his movie. Luckily they agreed, because it's hard to imagine anyone besides Fox portraying the skateboarding time-traveler.
See what the cast of 'Back to the Future' are up to these days below.
Michael. J. Fox, Marty McFly
Then: Thanks to his role as Alex P. Keaton on 'Family Ties,' Michael J. Fox was already quite well known when 'Back to the Future' came out. But the time travel film made him one of the biggest celebrities in the world and he went on to star in films like 'The Secret of My Success' and 'Doc Hollywood.'
Now: In 1999, Michael J. Fox went public with his diagnosis of Parkinson's Disease. Since then he's dedicated much of his time and resources to fighting and raising awareness of the neurological disorder through the Michael J. Fox Foundation for Parkinson's Research. But the 52-year-old is returning to sitcoms this fall with NBC's 'The Michael J. Fox Show,' which follows a news anchor balancing work and family after being diagnosed with Parkinson's.
Christopher Lloyd, Dr. Emmett Brown
Then: Christopher Lloyd wasn't the first choice to play his now-iconic 'Back to the Future' character. But when John Lithgow couldn't make time in his schedule to play mad scientist Dr. Emmett Brown, producers turned to the former 'Taxi' star who definitely grabbed the role and ran with it.
Now: Lloyd recently popped up on 'Raising Hope' and 'Psych' and starred in an Off-Broadway production of 'The Caucasian Chalk Circle.' A famously private man, he provides the voice for Doc Brown in the franchise's video games.
Lea Thompson, Lorraine Baines-McFly
Then: Things almost got really weird between Marty and his mom Lorraine, who was played by Lea Thompson. But luckily they didn't and the present was saved. Thompson, a former ballet dancer, had burst onto the scene in 1983, starring both in 'Jaws 3D' and opposite Tom Cruise in 'All The Right Moves.' She went on to films like 'Space Camp' 'Some Kind of Wonderful' and the legendary flop 'Howard The Duck.'
Now: Thompson stars on the ABC Family show 'Switched At Birth.' She has been married to director Howard Deutch since 1989 and they have two daughters.
Crispin Glover, George McFly
Then: You surely remember Crispin Glover as Marty's nebbish weakling of a dad George McFly. The son of actor Bruce Glover was then famously (and somewhat digitally) replaced in the two 'Back to the Future' sequels because of a contractual disagreement. He is also known for his roles in '80s films 'River's Edge' and 'At Close Range.'
Now: In addition to appearing in movies like 'Hot Tub Time Machine' and 'Freaky Deaky,' Glover has written between 15 and 20 books, which are described more as visual art than traditional manuscripts. He is also known for being one unusual dude and appears to have barely aged since being in 'Back to the Future' almost 30 years ago.
Thomas F. Wilson, Biff Tannen
Then: Thomas F. Wilson was an unknown actor when he was cast as bully Biff Tannen in 'Back to the Future.' Originally a stand-up comic, he improvised the famous line "Make like a tree and get out of here."
Claudia Wells, Jennifer Parker
Then: The role of Marty's girlfriend Jennifer Parker went to Claudia Wells. The next year Wells starred in 'Fast Times,' the short-lived 'Fast Times At Ridgemont High' TV adaptation. But after that she took a break from acting to care for her cancer stricken mother, and the Jennifer role was recast with Elisabeth Shue in the 'Back to the Future' sequels.
Now: More or less out of the acting game for 25 years, Wells has been inching back in with an episode of 'The Mentalist' and a few movies on the horizon. She also owns and manages the Los Angeles area men's clothing store Armani Wells.
Marc McClure, Dave McFly
Then: Marc McClure played Marty's older brother Dave in 'Back to the Future.' He was already well-known for playing Jimmy Olsen in the 'Superman' films.
Now: McClure recently played a supporting role in the Lacey Chabert Lifetime movie 'Imaginary Friend' and had a role in the wonderfully titled 'Hercules Saves Christmas.'
Wendie Jo Sperber, Linda McFly
Then: That was Wendie Jo Sperber as Marty's sister Linda, who finally gets a date thanks to her bro's time travel. She had been known for playing Amy Cassidy on the Tom Hanks sitcom 'Bosom Buddies.'
Now: Sadly Sperber passed away of breast cancer in 2005. She was 47. Among her last roles was the recurring character Louise on '8 Simple Rules.'
Jason Hervey, Milton Baines
Then: If you last watched 'Back to the Future' after about 1988 you would've surely recognized the coonskin-hatted boy at the Baines' dinner table. Yup, that was Jason Hervey, who famously played mean older brother Wayne on 'The Wonder Years.'
Now: Harvey hasn't acted on screen since the 1999 movie 'The Last Ride.' But he is still quite involved in the entertainment industry, and produces reality shows such as 'See Dad Run' and 'Beverly Hills Fabulous'