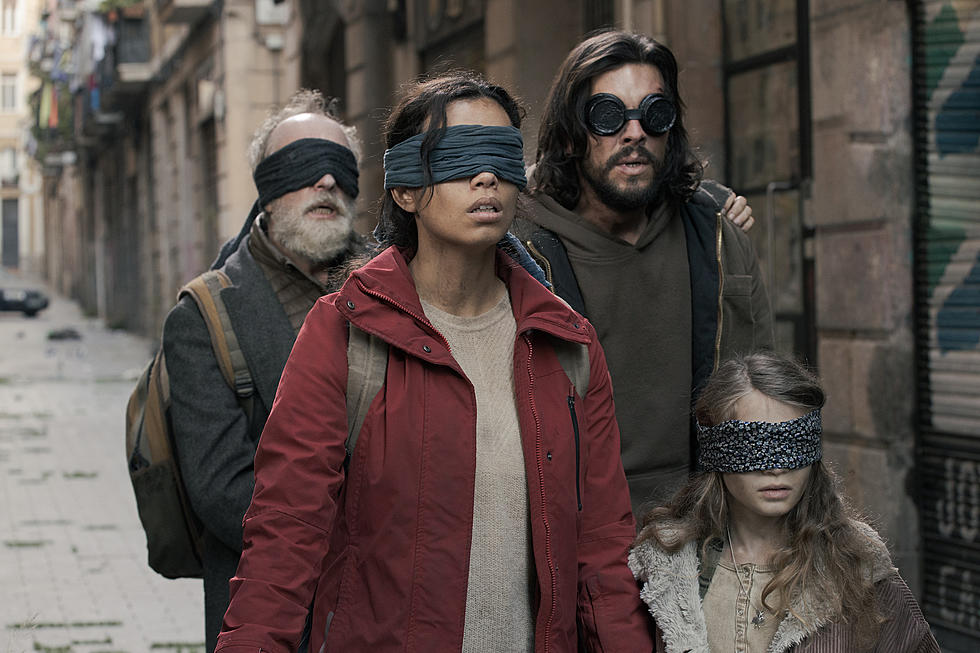 'Bird Box' Gets a Spinoff Film on Netflix
Netflix
Now five years removed from its debut on Netflix, Bird Box remains one of the biggest movies the streaming service has ever released. The post-apocalyptic horror story based on the novel by Josh Malerman starred Sandra Bullock — who at the time was one of the first A-list stars to make the jump to Netflix — as a survivor in a world where people are compelled to kill themselves after seeing ... something.
Even today, Bird Box remains #3 on Netflix's list of the top ten most popular movies of all time on the site, behind only the Dwayne Johnson action thriller Red Notice and the Adam McKay apocalyptic comedy Don't Look Up. (Both of which cost a lot more to make than Bird Box.) Subscribers watched more hours of Bird Box on Netflix than popular titles like Glass Onion or The Gray Man or The Adam Project or Extraction. 
Normally you'd assume such a smash would get a sequel. (A lot of the other movies on the list above already have sequels in production, like Extraction 2, which will premiere later this summer.) Instead, Bird Box is getting a kind of spinoff, a new film titled Bird Box Barcelona, set in Spain during the same apocalyptic events. The first teaser for the film is below:
READ MORE: Everything New on Netflix in May 2023
Although this is a new approach for continuing a movie franchise, it's not uncommon for Netflix's television output, where they often create international spinoffs for popular series that can stream around the world. Money Heist begat Money Heist: Korea - Joint Security Area, while the popular baking series Nailed It! has gotten spinoffs featuring Mexican, Spanish, French, and German contestants. That's proven to be a winning formula for Netflix on TV; it will be interesting to see how the same approach fares with films.
Here is the Bird Box Barcelona official synopsis:
From the producers of the global phenomenon, Bird Box, comes BIRD BOX BARCELONA, an expansion of the film that riveted audiences in 2018. After a mysterious force decimates the world's population, Sebastian must navigate his own survival journey through the desolate streets of Barcelona. As he forms uneasy alliances with other survivors and they try to escape the city, an unexpected and even more sinister threat grows.
Bird Box Barcelona is scheduled to debut on Netflix on July 14.
The Random Movies That Are Inexplicable Hits On Netflix Around the World
These old, random, or flat-out bad films appear in the Netflix Top 10 most-watched movies in many countries around the world.