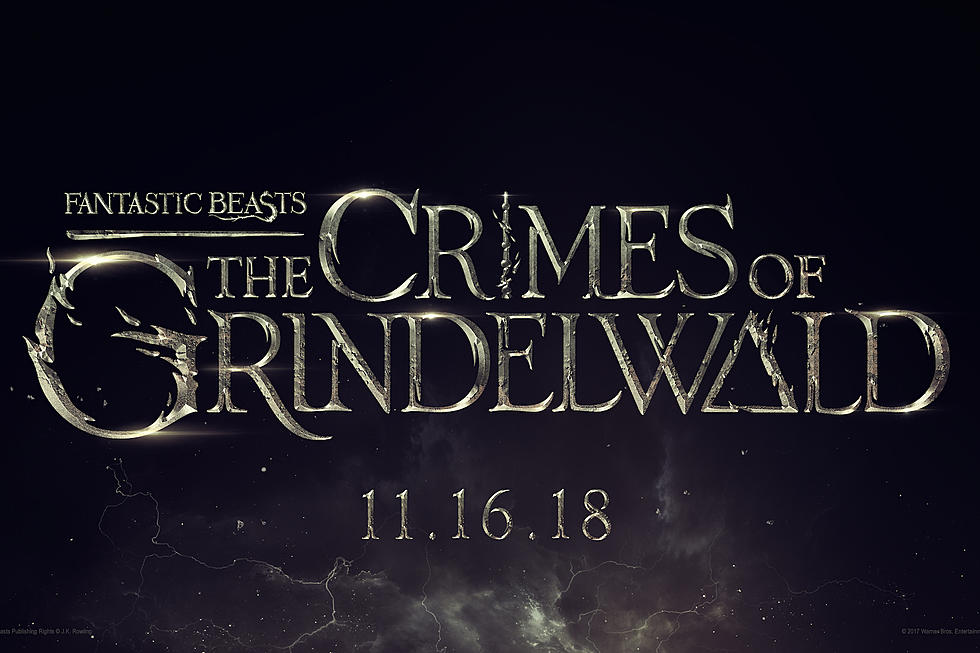 'Fantastic Beasts 2' Announces Title With First Cast Photo Including, Yes, Jude Law's Dumbledore
Warner Bros.
It's a good week for Harry Potter fans. Just yesterday, on the 15th anniversary of The Chamber of Secrets, we got a major tease for the sequel to Fantastic Beasts and Where to Find Them that hinted at a upcoming epic duel. But today, marking one year until the second Potter spinoff hits theaters, Warner Bros. announced the official title of the second Newt Scamander adventure, along with a new cast photo and new character details.
We knew Fantastic Beasts 2 was going to be all about Grindelwald after Johnny Depp's Dark wizard escaped at the end of last year's film, so the sequel title matches up: Fantastic Beasts: The Crimes of Grindelwald. The new movie, directed by David Yates and written by J.K. Rowling, will follow Eddie Redmayne's Newt on a hunt to capture Grindelwald upon Dumbledore's request. But before we get into any plot details or theories, let's take a look at this new cast photo, which, yes, includes the very first look at Jude Law's beloved wizard pre-grey beard.
Look at young Albus! All smug and handsome with his dapper blue – is that velvet?! – coat. Of course there's also Redmayne's Newt and Katherine Waterston's Tina Goldstein, who has now been reinstated as an Auror at MACUSA (America's Ministry of Magic). Dan Fogler is back as fan favorite Jacob the No-Maj, assuring anyone concerned his memory wipe would wipe him from the sequel as well, alongside Alison Sudol's Queenie. Ezra Miller's Credence is also back and clearly didn't die at the end of the first movie, and yes, there's Johnny Depp.
Let's take a look at those newcomers though. Beside Miller is Age of Ultron actress Claudia Kim who will play Maledictus, intriguingly described as "the carrier of a blood curse that destines her ultimately to transform into a beast." Zoe Kravitz makes her 3D appearance as Lela Lestrange (she was previously only seen in a photo), who we know had some type of romantic history with Newt, but is now engaged to his brother, Theseus Scamander (Callum Turner), a "celebrated war hero and the Head of the Auror Office at the British Ministry of Magic" – that the description clarifies "British" must mean we're going to meet some other foreign ministries, most likely France in the Paris-set sequel. Here's the official synopsis:
At the end of the first film, the powerful Dark wizard Gellert Grindelwald (Depp) was captured by MACUSA (Magical Congress of the United States of America), with the help of Newt Scamander (Redmayne). But, making good on his threat, Grindelwald escaped custody and has set about gathering followers, most unsuspecting of his true agenda: to raise pure-blood wizards up to rule over all non-magical beings.
In an effort to thwart Grindelwald's plans, Albus Dumbledore (Law) enlists his former student Newt Scamander, who agrees to help, unaware of the dangers that lie ahead. Lines are drawn as love and loyalty are tested, even among the truest friends and family, in an increasingly divided wizarding world.
The official Twitter account also shared a motion title reveal, which is mostly just a Potter moving photo (the original GIF), but also has a nice little Deathly Hallows tease hidden in the title:
As the title reveals, the sequel will be all about Grindelwald, and we know there's plenty of good storytelling to mine there. First off, we may actually get to see Grindelwald hunt for the Deathly Hallows and steal the Elder Wand from its maker, Gregorovich, as described in the books. If you take a closer look at the above photo, you'll notice Depp is indeed holding the Elder Wand while Law is holding one that looks like the second wand teased in yesterday's photo, a black wand with a brownish head and gold trim. We know Dumbledore will defeat Grindelwald and win ownership of the Elder Wand eventually, but based on the timeline – this movie opens in 1927 and that historic duel took place in 1945 – it's hard to know if that will happen in the sequel or be saved for the third or fourth movie. Either way, if we do flash back to see the wizards even younger, fingers crossed the movie brings back Jamie Campbell Bower's Grindelwald.
Fantastic Beasts: The Crimes of Grindelwald hits theaters November 16, 2018.
Gallery – The 25 Best 'Harry Potter' Characters, Ranked: