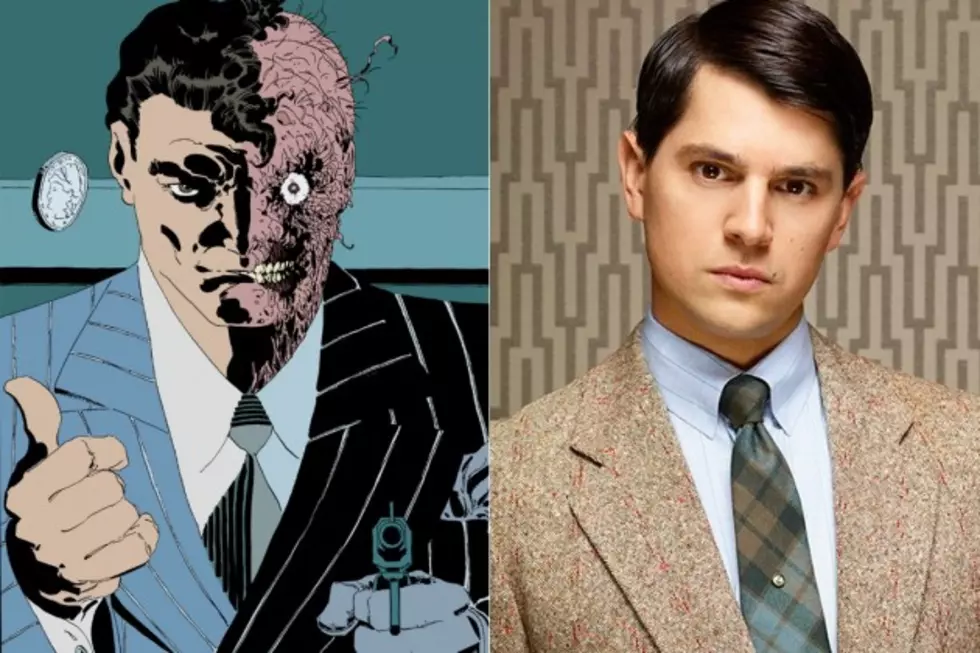 FOX's 'Gotham' Faces First Two Photos of Harvey Dent
DC Comics / Showtime
FOX Batman prequel 'Gotham' has well-established its precedent that the iconic Bat-characters of DC comics won't don their colorful costumes just yet, but they still have faces! In some cases, more than one! See what Nicholas D'Agosto's face looks like as Harvey Dent in the first official 'Gotham' photos of a pre-face Two-Face!
As with earlier looks at the character, there isn't terribly much to see by Entertainment Weekly's photos of 'Gotham''s ninth installment, at least beyond actor Nicholas D'Agosto in a suit. We know at least that the young assistant district attorney will assist Gordon (Ben McKenzie) in closing the Wayne murder case, while FOX has already released a description of the November 17 installment:
GORDON GOES TO ARKHAM ON AN ALL-NEW "GOTHAM" MONDAY, NOVEMBER 17, ON FOX

Trying to close the Wayne murder case, a young Harvey Dent (guest star Nicholas D' Agosto) and Gordon team up, much to Mayor James' (guest star Richard Kind) chagrin. Meanwhile, Penguin makes contact with Mooney's (Jada Pinkett Smith) secret weapon, Liza (guest star Mackenzie Leigh) in the all-new "Harvey Dent" episode of GOTHAM.
For the moment at least, D'Agosto's role will only prove recurring, but like the recent addition of 'Firefly' star Morena Baccarin as Dr. Leslie Thompkins, D'Agosto's Harvey Dent has the option to become a regular role in the inevitable second season.
We've included the first photos of 'Gotham''s Harvey Dent below, but what say you? Are you looking forward to another youthful Bat-character brought to life on the small screen?