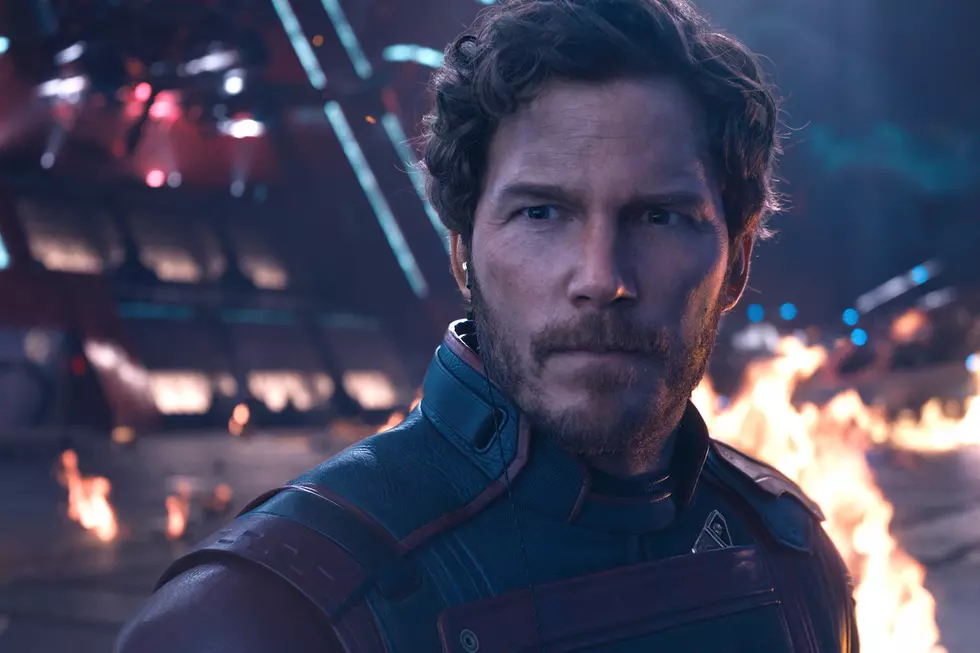 'Guardians 3' Post-Credits Scene: What It Means For the MCU's Future
Marvel
The following post contains SPOILERS for the post-credits scene of Guardians of the Galaxy Vol. 3. The galaxy's spoilers shall be guarded no one sentence further. My preemptive apologies.
Phew. Guardians of the Galaxy Vol. 3 promised to give us one last ride with the title characters — and when the movie is over, that seems true.
To a point.
The Guardians themselves have splintered, with several characters quitting the group and others joining. We almost certainly won't see this team of Guardians onscreen again. But the trailers for Guardians Vol. 3 really hammered home the idea that one or more of the Guardians might die in the film. Dave Bautista, who plays Drax, has already said he's ready to hang up his space knives and, Zoe Saldana, who plays Gamora, has made similar statements about her desire to move on from Marvel movies.
Instead, all the Guardians made it through okay — physically, if not emotionally. That includes Peter Quill, the half-Earthman hero played by actor Chris Pratt, who has led the Guardians since their introduction to the Marvel Cinematic Universe. The first scene in the first Guardians reveals Quill's origin. Shortly after his mother dies of cancer, a pre-teen Peter gets abducted from Earth by Yondu and a group of space pirates known as the Ravagers. He grows up as a member of Yondu's crew and eventually hooks up with Gamora, Drax, Rocket, and Groot while they are all chasing after "The Orb," a magical space MacGuffin that turns out to contain an Infinity Stone.
READ MORE: Every MCU Movie, Ranked From Worst to Best
Orphaned by his mom's death — his dad turns out to be a Celestial god named Ego, and also a major jerk who lives up to his name — Peter Quill never returned home to Earth. But strictly speaking, Peter wasn't alone. When he was taken into space, he left behind a grandfather whom he never saw again. While Peter lost his mom, his grandfather lost his daughter and his grandson on the same day. That's rough.
So at the end of Guardians of the Galaxy Vol. 3, Peter finally returns to Earth for the first time since he was a kid. He finds his grandfather (played by Gregg Henry), who is quite a bit older but still alive, and the two share a tearful embrace. And then, at the end of the closing credits, Peter and his granddad appear in a second scene, a quiet sequence around a breakfast table. Peter mumbles a complaint about doing some yard work for an unappreciative neighbor. And then a final title card reads "The Legendary Star-Lord Will Return."
Which is news to us! As of this writing, Marvel has not announced any sort of Legendary Star-Lord movie or television show. That title comes from a comic of the mid-2000s by writer Sam Humphries and artist Paco Medina. But that comic is largely about Peter Quill in outer space having adventures with Kitty Pryde (who joined the Guardians of the Galaxy during this period, and also got into and out of a relationship with Peter). That Legendary Star-Lord doesn't seem to have an obvious connection to the events of Guardians Vol. 3.
But a later Marvel series from a few years later, simply titled Star-Lord, does feature a premise similar to the one that appears in this Guardians Vol. 3 post-credits scene. That book, which only lasted for six issues, involved a storyline titled "Grounded" by writer Chip Zdarsky and artist Kris Anka, where Peter Quill temporarily leaves the Guardians and becomes stranded on Earth, where he is totally oblivious to the customs, fashions, and technology.
Star-Lord's Earthbound adventures in this comic would need to be heavily altered for any sort of Legendary Star-Lord show or movie that Marvel Studios might produce. For one thing, the comic series involved, among other people, Daredevil and the older version of Wolverine from the alternate future that inspired the movie Logan. The odds of either of those characters hanging out with Chris Pratt and Gregg Henry seems unlikely. But the basic idea of of Peter Quill as this fish out of water on his own planet could easily serve as the focus of a movie or (probably more naturally) as the subject of a one-off MCU Disney+ series or special.
But, again, Marvel has not announced any such project so far, and with Guardians writer/director James Gunn off to make movies for DC Studios, it's possible that title card was meant as a ludicrous joke. On the other hand, Marvel only tends to throw in these "______ Will Return" messages to the ends of movies where they really mean it. So it seems like Chris Pratt will show up somewhere down in the line in his own Star-Lord project.
It could take a while though. Marvel's 2024 film lineup is already set, and likely their 2025 lineup is as well. It's not until you get to 2026 that the company has a lighter schedule, with just a single movie (Avengers: Secret Wars) currently announced. If Legendary Star-Lord is going to be a TV show, it could come sooner — although Marvel has also slowed way down on their TV output; after releasing a combined eight Disney+ shows in 2021 and 2022, they've yet to release a single episode of TV in 2023. (Secret Invasion is currently scheduled to debut on Disney+ next month.)
With Guardians of the Galaxy Vol. 3 now out in theaters, and that title card popping up in thousands of theaters around the country, we expect to hear word one way or another about the project very soon. The Guardians of the Galaxy may be done for now, but it looks like Star-Lord is going to be sticking around.
Sign up for Disney+ here.
The Worst Marvel Comics Ever
Don't expect to ever see these comics turned into MCU movies, that's for sure...