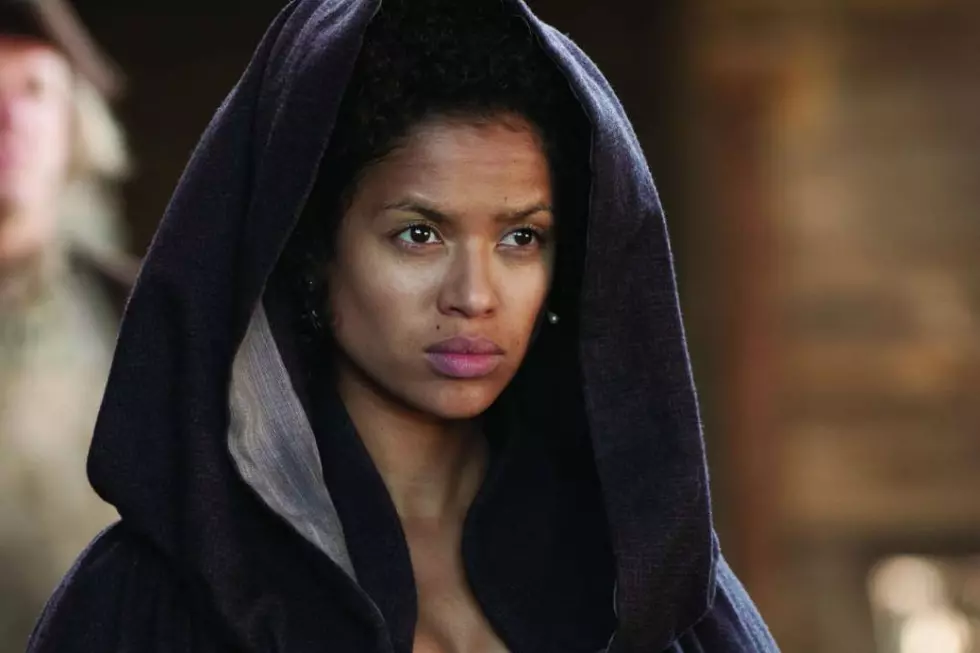 Gugu Mbatha-Raw Had No Idea 'God Particle' Was a 'Cloverfield' Movie
Fox Searchlight Pictures
If anyone can keep a secret in Hollywood, it's J.J. Abrams. His Bad Robot-produced Cloverfield was promoted with a sneaky viral marketing campaign in late 2007, and earlier this year the second film in the franchise remained a complete mystery until weeks before its release. Last week we learned the third Cloverfield film will reportedly be the Abrams-produced God Particle, but that film is so top secret that its lead actress had, and still has no idea about its connection to the Cloverfield universe.
Gugu Mbatha-Raw and David Oyelowo will lead an ensemble cast in the upcoming God Particle, a new Bad Robot sci-fi movie from director Julis Onah (The Girl Is in Trouble). When I caught up with Mbatha-Raw on the phone last week to talk about her upcoming gun-control drama Miss Sloane, I asked how the sci-fi movie will fit into the thread of the Clover-verse. She told me she had, and still has, no idea God Particle is even a Cloverfield movie:
I actually have no idea. That is news to me. When I did the project it was a total standalone sci-fi, space thriller. So I couldn't tell you how it's connected. I don't know if that's just a rumor.
Either Mbatha-Raw is sworn to secrecy about those Cloverfield connections (which are still technically rumored), or she genuinely has no clue. Based on the way things happened with the ultra-secretive 10 Cloverfield Lane, it's likely the latter. Mary Elizabeth Winstead had no idea what the title of 10 Cloverfield Lane was until an hour before the trailer dropped, and earlier this year she told me she was just as in the dark on set as her character was in the film. So it wouldn't surprise me if Mbatha-Raw and her co-stars still haven't been told they actually made a Cloverfield movie.
It seems like news about the connection leaked before Bad Robot planned to announce it, so we probably won't hear more about the project until a surprise trailer sneaks up on us before its February 24 release. It's also likely God Particle is just the working title to throw fans off, like Trachtenberg's film, which was known under the titles The Cellar and Valencia while in production.
What the Black Mirror actress did tell me about God Particle (or whatever Clover-friendly title it gets) is that it will be a "character-driven sci-fi movie." The film, which she described as an "intense experience" to make, will feature an ensemble cast including Chris O'Dowd, John Krasinski, Elizabeth Debicki and Daniel Bruhl, Zhang Ziyi, Aksel Hennie, and John Ortiz. It'll be written by Star Trek Beyond's Doug Jung and 22 Jump Street scribe Oren Uzie and follow a crew of astronauts on an American space station. According to reports, when they believe they've unwittingly destroyed Earth by activating a Hadron accelerator, a foreign space team appears and invites the Americans on board, leading to a fight for survival that's being described as an altered reality.
That certainly sounds like a story with some freaky Cloverfield twists up its sleeve. The connections are likely to be slight, though. My best guess is the film's viral marketing will include some mention of Tagruto, the Japanese oil company from Cloverfield, or Bold Futura, the subsidiary contractor John Goodman's character worked for in 10 Cloverfield Lane, and have similar thematic similarities to the previous movies. Until we know more, keep your eyes peeled for sneaky viral marketing and eater eggs.
Miss Sloane hits theaters on December 9.