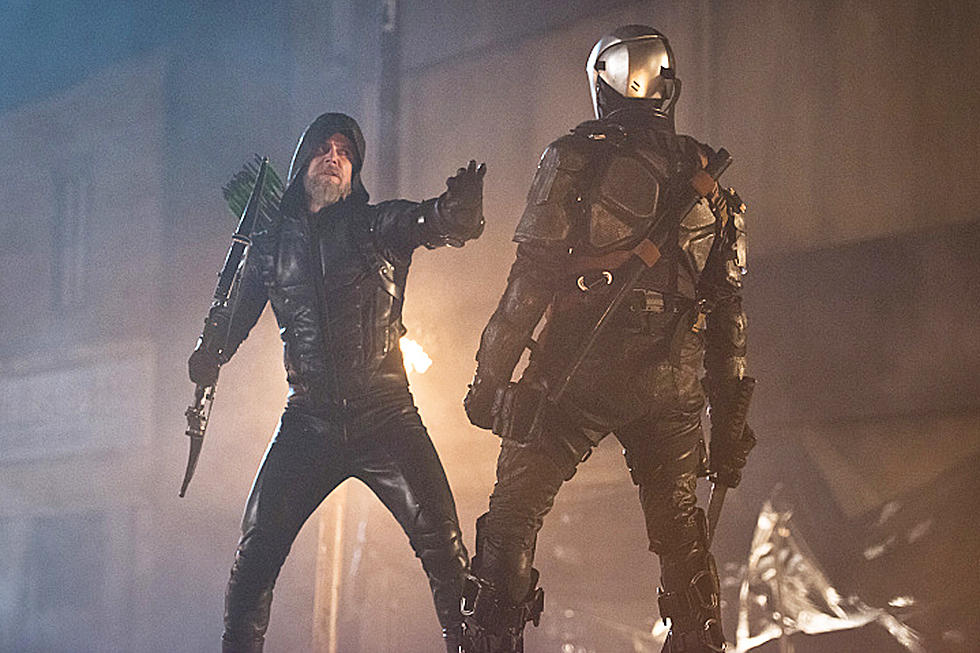 'Legends' 'Star City 2046' Photos Reveal New Deathstroke, Connor Hawke and More
The CW
Some heroes may choose to team up in the light, but there's nothing wrong with a bit of darkness now and again. The Legends of Tomorrow will learn that the hard way, teaming up with not one, but two future Arrow archers for "Star City 2046," the full photo set of which also reveal the man under the mask of our new Deathstroke.
In the meantime, so reads the full synopsis for February 25 outing "Star City 2046":
THE TEAM ENCOUNTERS A VERY DIFFERENT OLIVER QUEEN

When a malfunction sends the Waverider crashing into 2046 Star City, our heroes face a startling version of their own future where they never stop Savage (guest star Casper Crump) and never return home. The city is in ruins and overrun by criminals, which thrills Rory (Dominic Purcell). Sara (Caity Lotz) is despondent over the destruction of her home and stunned when she learns what happened to her old friend, Oliver Queen (guest star Stephen Amell).
We've still a few days away from heading to 2046, but what else might arise from the Arrow-verse version of Days of Future Past? Check out the latest Legends of Tomorrow trailer below.
Check Out 100 TV Facts You May Not Know!