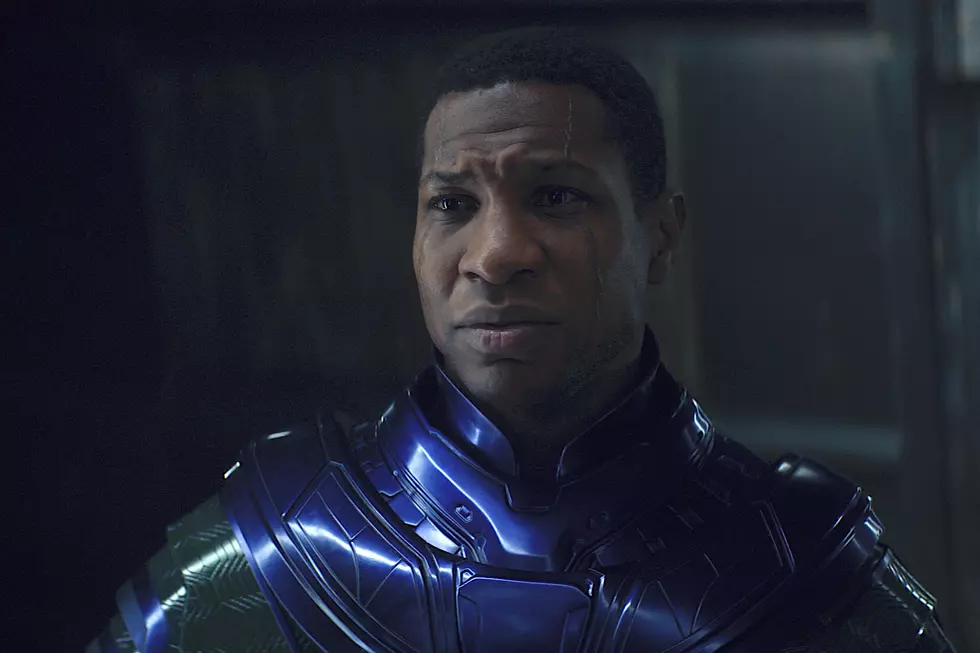 Marvel Has a Kang Problem – Here's How to Fix It
Marvel
The new big villain of the Marvel Cinematic Universe is supposedly Kang, played by Jonathan Majors. Previewed in Loki and officially debuted in Ant-Man and the Wasp: Quantumania, Kang allegedly poses such an enormous threat to Marvel's heroes that he is going to endanger the entire multiverse, and lead to the next two Avengers movies: The Kang Dynasty and Secret Wars.
But if you watched Quantumania, you know that Marvel has a problem. For all the talk of Kang conquering everything and everyone, the guy has already been beaten several times. A variant of Kang was easily defeated in Loki, and then another Kang — supposedly the one true Kang! — was pretty easily tricked and stranded in the Quantum Realm by Janet van Dyne. Then at the end of Quantumania, Kang was dispatched by Ant-Man, Wasp, and a couple of oversized ants. That's right: The guy who will supposedly conquer the multiverse got taken down by a handful of bugs.
That's not great! So where do we go from here? That's the subject of our latest Marvel video. In it, we'll break down all our issues with Kang, and we'll offer some potential solutions to the problem he poses to the rest of Marvel's Multiverse Saga. Watch it below:
READ MORE: Guardians Vol. 3: All the Easter Eggs You Missed in Theaters
If you liked that video on Marvel's big problem with Kang and how to fix it, check out more of our videos below, including what Guardians of the Galaxy Vol. 3 is secretly is all about, one on the new lineup of the Guardians of the Galaxy, and our look at where Adam Warlock will show up next in the Marvel Cinematic Universe. Plus, there's tons more videos over at ScreenCrush's YouTube channel. Be sure to subscribe to catch all our future episodes. The latest Marvel movie, Guardians of the Galaxy Vol. 3, is now playing in theaters everywhere.
Sign up for Disney+ here.
Black Panther: Wakanda Forever: All the Coolest Marvel Easter Eggs
Here are all the best callbacks to Black Panther (and to decades of Marvel Comics) in Black Panther: Wakanda Forever.