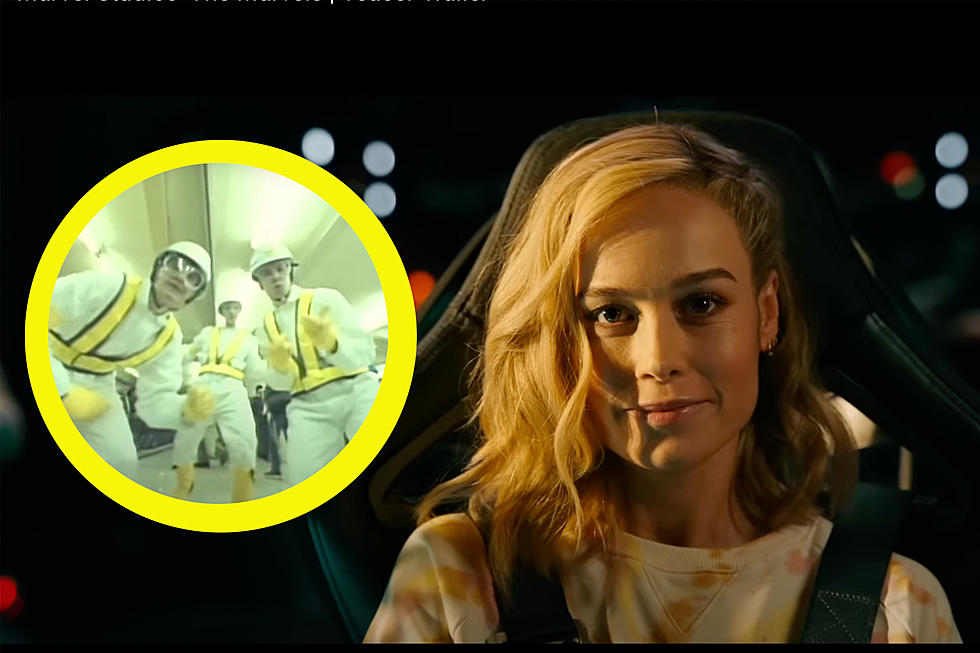 Marvel Trolls Fans With Beastie Boys Lyrics in First 'The Marvels' Trailer
YouTube: Beastie Boys / YouTube: Marvel Entertainment
Marvel are probably cracking a sly smile at the moment with the release of the new trailer for The Marvels. For those who've followed a bit of the controversy surrounding Brie Larson's titular Captain Marvel character and the critics saying that she should smile more, you'll likely get a chuckle at the use of song to soundtrack the new trailer - the Beastie Boys' "Intergalactic."
Perfectly synched up are the Beastie Boys lyrics, "Well, now, don't you tell me to smile," which many are taking to be a trolling of those who've taken shots at the character's not so chipper demeanor.
Sure, the trailer finds characters from the film in outer space at the open of the action, so the use of "Intergalactic" could easily just be clever placement, but the lyric usage seems to indicate a rather well-played comeback at the critics of Larson's Captain Marvel.
READ MORE: Every Marvel Cinematic Universe Film, Ranked From Worst to First
What Is the Smiling Controversy All About?
This dates back to 2018 when the first trailer for the original Captain Marvel film came out. As expected with many Marvel properties, fans were extra vigilant in dissecting the live action look, behavior and many minute details of how the character related to what fans had known of the the comics. But one of the common critiques was that Larson's character didn't smile much.
Per Polygon.com, that in turn led Tatyana Fazlalizadeh to launch a social media campaign dedicated to phrases that women often hear in a derogatory sense against women. Larson then publicly responded to the criticism on social media, utilizing reimagined movie posters of Iron Man, Doctor Strange and Captain America from HeyMermaid to reflect the silly nature of superheroes smiling, in particular male superheroes.
What People Are Saying About the New Marvels Trailer Using the Beastie Boys Song?
While many are just plain thrilled to see the Beastie Boys used with The Marvels trailer, there are a few that have commented on the sly trolling. One fan noted, "They opened the teaser trailer for #themarvels #captainmarvel2 with the beastie boys lyrics 'well, now, don't you tell me to smile' ????!!!!! Friggin genius." "That's actually pretty good if it was intentional," added another fan. "Love it, so smart," added another.
See some of the commentary, as well as the trailer below. The Marvels is due in theaters Nov. 10.
You can watch the full The Marvels trailer below:
The film is scheduled to open in theaters on November 10.
Marvel Actors Who Took Home Props From Set
These actors commemorated their time playing a Marvel superhero or villain by taking home a piece of the production with them.