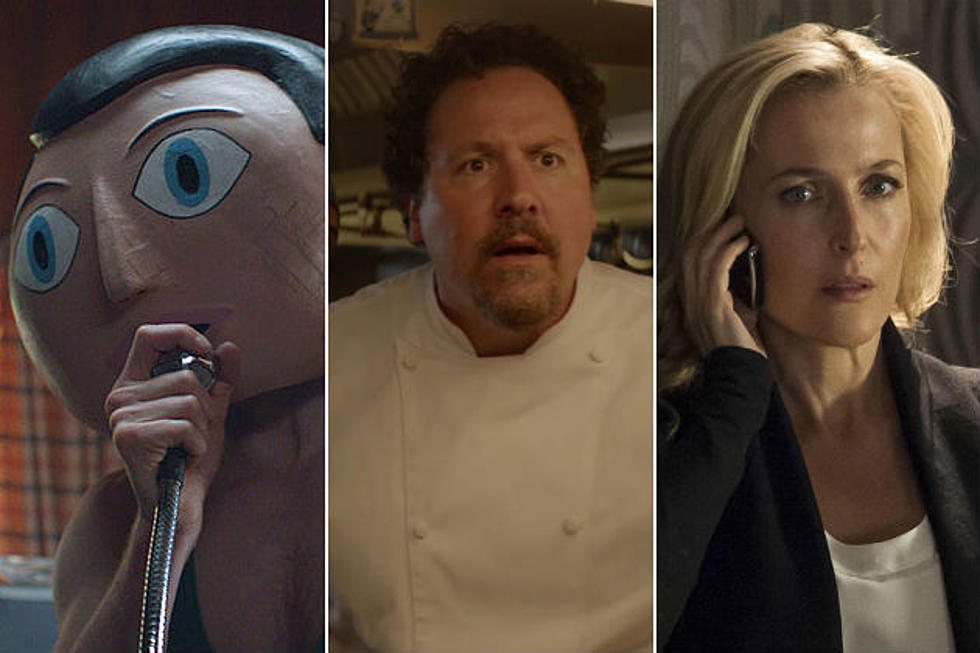 New Netflix Instant Releases: January 2015
Magnolia/Open Road Films/Netflix
It's the start of a new year and the start of a new month of Netflix Instant releases. January brings all 10 seasons of 'Friends' to the streaming service, as well as some old classics and new favorites, and several new seasons of television for you to binge-watch as needed. Ready your queues and read on for our guide to the newest releases hitting Netflix Instant in January 2015. [And you can also read our list of all the titles that will be disappearing from Netflix Instant at the end of this month.]
'101 Dalmatians' (1996): Starring Glenn Close, Jeff Daniels, and Joely Richardson. A woman kidnaps puppies to kill them for their fur, but various animals then gang up against her and get their revenge in slapstick fashion.
'The Agony and the Ecstasy' (1965): Starring Charlton Heston, Rex Harrison, and Diane Cilento. The biographical story of Michelangelo's troubles while painting the Sistine Chapel at the urging of Pope Julius II.
'The Amityville Horror' (1979): Starring James Brolin, Margot Kidder, and Rod Steiger. Newlyweds move into a house where a murder was committed, and experience strange manifestations which drive them away.
'Amityville 2: The Possession' (1982): Starring James Olson, Burt Young, and Rutanya Alda. A family moves into their new home, which proves to be evil, resulting in the demonic possession of the teenage son. Only the local priest can save him.
'Amityville 3' (1983): Starring Tony Roberts, Tess Harper, and Robert Joy. A reporter moves into the ominous Long Island house to debunk it of the recent supernatural events and becomes besieged by the evil manifestations which are connected to a hell-spawn demon lurking in the basement.
'The Apartment' (1960): Starring Jack Lemmon, Shirley MacLaine, and Fred MacMurray. A man tries to rise in his company by letting its executives use his apartment for trysts, but complications and a romance of his own ensue.
'April Fool's Day' (1986): Starring Jay Baker, Pat Barlow, and Lloyd Berry. A group of nine college students staying at a friend's remote island mansion begin to fall victim to an unseen murderer over the April Fool's day weekend.
'Bad Boys II' (2003): Starring Will Smith, Martin Lawrence, and Gabrielle Union. Two loose-cannon narcotics cops investigate the flow of Ecstacy into Florida.
'Basic' (2003): Starring John Travolta, Connie Nielsen, and Samuel L. Jackson. A DEA agent investigates the disappearance of a legendary Army ranger drill sergeant and several of his cadets during a training exercise gone severely awry.
'Batman and Robin' (1997): Starring George Clooney, Chris O'Donnell, and Arnold Schwarzenegger. Batman and Robin try to keep their relationship together even as they must stop Mr. Freeze and Poison Ivy from freezing Gotham City.
'Beauty Shop' (2005): Starring Queen Latifah, Alicia Silverstone, and Andie MacDowell. Gina is a hairstylist who opens up a beauty shop full of employees and customers more interested in speaking their minds than getting a cut.
'Better Living Through Chemistry' (2014): Starring Sam Rockwell, Olivia Wilde, and Michelle Monaghan. A straight-laced pharmacist's uneventful life spirals out of control when he starts an affair with a trophy-wife customer who takes him on a joyride involving sex, drugs and possibly murder.
'Big Fish' (2003): Starring Ewan McGregor, Alison Lohman, and Billy Crudup. A son learns the truth about his father.
'Bless the Child' (2000): Starring Kim Basinger, Jimmy Smits, and Rufus Sewell. Psychiatric nurse Maggie gets involved in a murder mystery when her sister shows up to reclaim the autistic daughter she abandoned six years prior.
'Blink' (1994): Starring Madeleine Stowe, Aidan Quinn, and James Remar. After a 20-something blind woman has surgery to restore her sight, she begins seeing bizarre and eerie things.
'Blue Car' (2002): Starring David Strathairn, Agnes Bruckner, and Margaret Colin. A troubled young woman is encouraged by a teacher to enter a poetry contest.
'Bowling for Columbine' (2002): Filmmaker Michael Moore explores the roots of America's predilection for gun violence.
'Brasslands' (2013): This documentary examines a trumpet festival in a tiny Serbian village that attracts half a million attendees each year.
'Bright Lights, Big City' (1988): Starring Michael J. Fox, Kiefer Sutherland, and Phoebe Cates. A disillusioned young writer living in New York City turns to drugs and drinking to block out the memories of his dead mother and estranged wife.
'The Brothers' (2001): Starring Morris Chestnut, Shemar Moore, and D.L. Hughley. Four friends begin to question women and relationships when one of them announces impending nuptials.
'Bruce Almighty' (2003): Starring Jim Carrey, Jennifer Aniston, and Morgan Freeman. A guy who complains about God too often is given almighty powers to teach him how difficult it is to run the world.
'The Butcher's Wife' (1991): Starring Demi Moore, Jeff Daniels, and George Dzundza. A clairvoyant woman meets and marries a man because she believes he's literally the man of her dreams.
'Candyman 2: Farewell to the Flesh' (1995): Starring Tony Todd, Kelly Rowan, and William O'Leary. The Candyman arrives in New Orleans and sets his sights on a young woman whose family was ruined by the immortal killer years before.
'Cast Away' (2000): Starring Tom Hanks, Helen Hunt, and Paul Sanchez. A FedEx executive must transform himself physically and emotionally to survive a crash landing on a deserted island.
'Cheech and Chong's Next Movie' (1980): Starring Cheech Marin, Tommy Chong, and Evelyn Guerrero. The two stoners and their friends go through another series of crazy, drug-influenced misadventures.
'Chinatown' (1974): Starring Jack Nicholson, Faye Dunaway, and John Huston. A private detective hired to expose an adulterer finds himself caught up in a web of deceit, corruption and murder.
'Chinese Zodiac' (2012): Starring Jackie Chan, Sang-woo Kwone, and Xingtong Yao. A man searches the world for a set of mystic artifacts—12 bronze heads of the animals from the Chinese zodiac.
'D.A.R.Y.L.' (1985): Starring Beth Hurt, Michael McKean, and Kathryn Walker. A family takes in a young, lost boy who has no memories of who he is or where he came from. Soon they begin to realize he has some very special abilities.
'Deep Impact' (1998): Starring Robert Duvall, Tea Leoni, and Elijah Wood. Unless a comet can be destroyed before colliding with Earth, only those allowed into shelters will survive. Which people will survive?
'Dirty Dancing' (1987): Starring Patrick Swayze, Jennifer Grey, and Jerry Orbach. Spending the summer in a holiday camp with her family, Frances "Baby" Houseman falls in love with the camp's dance instructor Johnny Castle.
'Dirty Dancing: Havana Nights' (2004): Starring Diego Luna, Romola Garai, and Sela Ward. In 1958, American teenager Katey moves to Havana, Cuba with her family, where she meets and falls for Javier, a local teenager and hotel waiter. Javier and Katey develop a friendship as he teaches her how to dance.
'Election' (1999): Starring Matthew Broderick, Reese Witherspoon, and Chris Klein. A high school teacher's personal life becomes complicated as he works with students during the school elections.
'Enough' (2002): Starring Jennifer Lopez, Billy Campbell, and Tessa Allen. On the run from an abusive husband, a young mother begins to train herself to fight back.
'The Evening Star' (1996): Starring Shirley MacLaine, Bill Paxton, and Juliette Lewis. After the death of her daughter, Aurora struggles to keep her family together.
'Fear and Loathing in Las Vegas' (1998): Starring Johnny Depp, Benicio Del Toro, and Tobey Maguire. An oddball journalist and his psychopathic lawyer travel to Las Vegas for a series of psychedelic escapades.
'Footloose' (1984): Starring Kevin Bacon, John Lithgow, and Lori Singer. A city teenager moves to a small town where rock music and dancing have been banned, and his rebellious spirit shakes up the populace.
'Fort Bliss' (2014): Starring Michelle Monaghan, Emmanuelle Chriqui, and Pablo Schreiber. After returning home from an extended tour in Afghanistan, a decorated U.S. Army medic and single mother struggles to rebuild her relationship with her young son.
'Four Weddings and a Funeral' (1994): Starring Hugh Grant, Andie MacDowell, and James Fleet. Over the course of five social occasions, a committed bachelor must consider the notion that he may have discovered love.
'Frankenstein and the Monster From Hell' (1974): Starring Peter Cushing, Shane Briant, and Madeline Smith. In the last of Hammer's original Frankenstein films, the Baron seeks refuge in an insane asylum where he may continue his experiments.
'The French Connection' (1971): Starring Gene Hackman, Roy Scheider, and Fernando Rey. A pair of NYC cops in the Narcotics Bureau stumble onto a drug smuggling job with a French connection.
'Fried Green Tomatoes' (1991): Starring Jessica Tandy, Kathy Bates, and Mary Stuart Masterson. A housewife who is unhappy with her life befriends an old lady in a nursing home and is enthralled by the tales she tells of people she used to know.
'Friends' Complete Series: Starring Jennifer Aniston, Courteney Cox, and Lisa Kudrow. The lives, loves, and misadventures of six friends living in New York City are traced over the course of 10 hilarious seasons.
'From the Rough' (2013): Starring Taraji P. Henson, Tom Felton, and Michael Clarke Duncan. Dr. Catana Starks made history as the first woman and the first African American woman to coach a men's college golf team.
'Get Low' (2009): Starring Robert Duvall, Bill Murray, and Sissy Spacek. A movie spun out of equal parts folk tale, fable and real-life legend about the mysterious 1930s Tennessee hermit who famously threw his own rollicking funeral party … while he was still alive.
'Get Shorty' (1995): Starring John Travolta, Danny DeVito, and Gene Hackman. A mobster travels to Hollywood to collect a debt and discovers that the movie business is much the same as his current job.
'Ghost' (1990): Starring Patrick Swayze, Demi Moore, and Whoopi Goldberg. After being killed during a botched mugging, a man's love for his partner enables him to remain on earth as a ghost.
'The Hero of Color City' (2014): Starring Christina Ricci, Craig Ferguson, and Rosie Perez. A diverse band of crayons strive to protect not only their magical multihued homeland but the imagination of children everywhere from a terrifying monster.
'I.Q.' (1994): Starring Tim Robbins, Meg Ryan, and Walter Matthau. Albert Einstein helps a young man who's in love with Einstein's niece to catch her attention by pretending temporarily to be a great physicist.
'Identity' (2003): Starring John Cusack, Ray Liotta, and Amanda Peet. Stranded at a desolate Nevada motel during a nasty rain-storm, ten strangers become acquainted with each other when they realize that they're being killed off one by one.
'In Harm's Way' (1965): Starring John Wayne, Kirk Douglas, and Patricia Neal. A naval officer reprimanded after Pearl Harbor is later promoted to rear admiral and gets a second chance to prove himself against the Japanese.
'Insomnia' (2002): Starring Al Pacino, Robin Williams, and Hilary Swank. Two Los Angeles homicide detectives are dispatched to a northern town where the sun doesn't set to investigate the methodical murder of a local teen.
'Jarhead 2: Field of Fire' (2014): Starring Daniel Coetzer, Amr El-Bayoumi, and Jesse Garcia. A disillusioned Corporal is sent on a mission to lead troops to resupply an outpost on the outskirts of Taliban-controlled territory.
'Jeepers Creepers' (2001): Starring Justin Long, Gina Philips, and Jonathan Breck. A brother and sister driving home for spring break encounter a flesh-eating creature in the isolated countryside that is on the last day of its ritualistic eating spree.
'Jeepers Creepers 2' (2003): Starring Jonathan Breck, Ray Wise, and Nicki Aycox. Set a few days after the original, a championship basketball team's bus is attacked by The Creeper, the winged, flesh-eating terror, on the last day of his 23-day feeding frenzy.
'Kangaroo Jack' (2003): Starring Jerry O'Connell, Anthony Anderson, and Estella Warren. Two childhood friends, a New York hairstylist and a would-be musician, get caught up with the mob and are forced to deliver $50,000 to Australia, but things go haywire when the money is lost to a wild kangaroo.
'The Kite Runner' (2007): Starring Shaun Toub, Khalid Abdalla, and Atossa Leoni. After spending years in California, Amir returns to his homeland in Afghanistan to help his old friend Hassan, whose son is in trouble.
'The Ladies Man' (2000): Starring Tim Meadows, Karyn Parsons, and Billy Dee Williams. The Saturday Night Live character gets a big screen treatment.
'Lassie' (2005): Starring Peter O'Toole, Samantha Morton, and John Lynch. A family in financial crisis is forced to sell Lassie, their beloved dog. Hundreds of miles away from her true family, Lassie escapes and sets out on a journey home.
'The Machinist' (2004): Starring Christian Bale, Jennifer Jason Leigh, and John Sharlan. An industrial worker who hasn't slept in a year begins to doubt his own sanity.
'Marathon Man' (1976): Starring Dustin Hoffman, Laurence Olivier, and Roy Scheider. A graduate history student is unwittingly caught in the middle of an international conspiracy involving stolen diamonds, an exiled Nazi war criminal, and a rogue government agent.
'Marty' (1955): Starring Ernest Borgnine, Betsy Blair, and Esther Minciotti. A middle-aged butcher and a school teacher who have given up on the idea of love, meet at a dance and fall in love.
'Marvel's Hulk and the Agents of S.M.A.S.H.' (2013): Starring Fred Tatasciore, Clancy Brown, and Seth Green. The Incredible Hulk teams up with Red Hulk, She-Hulk, Skaar, and Rick Jones aka A-Bomb to battle the forces of evil in front of cameras for Rick's web-based series to show the Hulk is more hero than monster.
'Mean Girls' (2004): Starring Lindsay Lohan, Rachel McAdams, and Tina Fey. Cady Heron is a hit with The Plastics, the A-list girl clique at her new school, until she makes the mistake of falling for Aaron Samuels, the ex-boyfriend of alpha Plastic Regina George.
'Mental' (2012): Starring Liev Schreiber, Toni Collette, and Caroline Goodall. A charismatic, crazy hothead transforms a family's life when she becomes the nanny of five girls whose mother has cracked from her husband's political ambitions and his infidelity.
'The Mod Squad' (1999): Starring Claire Danes, Giovanni Ribisi, and Omar Epps. Three delinquent minors get recruited by a cop to go undercover and help bust a crime ring.
'Moonstruck' (1987) Starring Nicolas Cage, Cher, and Vincent Gardenia. Loretta Castorini, a book keeper from Brooklyn, New York, finds herself in a difficult situation when she falls for the brother of the man she agreed to marry (the best friend of her late husband who died seven years previously).
'Mr. Deeds' (2002): Starring Adam Sandler, Winona Ryder, and Peter Gallagher. A sweet-natured, small-town guy inherits a controlling stake in a media conglomerate and begins to do business his way.
'Mr. Mom' (1983): Starring Michael Keaton, Teri Garr, and Fred Koehler. After he's laid off, a husband switches roles with his wife. She returns to the workforce and he becomes a stay-at-home dad—a job he has no clue how to do.
'Murder by Numbers' (2002): Starring Sandra Bullock, Ryan Gosling, and Michael Pitt. Two gifted high school students execute a "perfect" murder—then become engaged in an intellectual contest with a seasoned homicide detective.
'Mystic Pizza' (1988): Starring Annabeth Gish, Julia Roberts, and Lili Taylor. Three teenage girls come of age while working at a pizza parlor in the Connecticut town of Mystic.
'Mystic River' (2003): Starring Tim Robbins, Sean Penn, and Kevin Bacon. With a childhood tragedy that overshadowed their lives, three men are reunited by circumstance when one loses a daughter.
'New Hope' (2012): Starring Ben Davies, Samuel Davis, and Dodie Brown. High school senior Michael (the son of a preacher and a Christian) is the new guy in a small town still reeling from a high school basketball star's unforeseen suicide of a year ago.
'Notting Hill' (1999): Starring Hugh Grant, Julia Roberts, and Hugh Bonneville. The life of a simple bookshop owner changes when he meets the most famous film star in the world.
'The Odd Couple' (1968): Starring Jack Lemmon, Walter Matthau, and John Fiedler. Two friends try sharing an apartment, but their ideas of housekeeping and lifestyles are as different as night and day.
'Only the Lonely' (1991): Starring John Candy, Maureen O'Hara, and Ally Sheedy. A Chicago cop must balance loyalty to his overbearing mother and a relationship with a shy funeral home worker.
'Patriot Games' (1992): Starring Harrison Ford, Anne Archer, and Patrick Bergin. When CIA Analyst Jack Ryan interferes with an IRA assassination, a renegade faction targets him and his family for revenge.
'Pee-wee's Big Adventure' (1985): Starring Paul Reubens, Elizabeth Daily, and Mark Holton. When eccentric man-child Pee-wee Herman gets his beloved bike stolen in broad daylight, he sets out across the U.S. on the adventure of his life.
'The Quiet Man' (1952): Starring John Wayne, Maureen O'Hara, and Barry Fitzgerald. A retired American boxer returns to the village where he was born in Ireland, where he finds love.
'The Ref' (1994): Starring Denis Leary, Kevin Spacey, and Judy Davis. A cat burglar is forced to take a bickering, dysfunctional family hostage on Christmas Eve.
'Regarding Henry' (1991): Starring Harrison Ford, Annette Bening, and Bill Nunn. After surviving a shooting, Henry tries to recover his memories, speech, and mobility with the help of his loving wife and daughter.
'The Road to El Dorado' (2000): Starring Kenneth Branagh, Kevin Kline, and Rosie Perez. Two swindlers get their hands on a map to the fabled city of gold, El Dorado.
'RoboCop' (1987): Starring Peter Weller, Nancy Allen, and Dan O'Herlihy. In a dystopic and crime-ridden Detroit, a terminally wounded cop returns to the force as a powerful cyborg haunted by submerged memories.
'RoboCop 2' (1990): Starring Peter Weller, Belinda Bauer, and John Glover. A corrupt businesswoman seeks to disable Robocop in favor of her own model of cyborg.
'The Running Man' (1987): Starring Arnold Schwarzenegger, Maria Conchita Alonso, and Jesse Ventura. A wrongly convicted man must try to survive a public execution gauntlet staged as a game show.
'Sabrina' (1995): Starring Harrison Ford, Julia Ormond, and Greg Kinnear. An ugly duckling having undergone a remarkable change, still harbors feelings for her crush: a carefree playboy, but not before his business-focused brother has something to say about it.
'Shall We Dance?' (2004): Starring Richard Gere, Susan Sarandon, and Jennifer Lopez. A romantic comedy where a bored, overworked Estate Lawyer, upon first sight of a beautiful instructor, signs up for ballroom dancing lessons.
'Shining Through' (1992): Starring Michael Douglas, Melanie Griffith, and Liam Neeson. An American woman of Irish, Jewish-German parentage goes undercover in Nazi Germany.
'Snatch' (2000): Starring Brad Pitt, Jason Statham, and Benicio Del Toro. Unscrupulous boxing promoters, violent bookmakers, a Russian gangster, incompetent amateur robbers, and supposedly Jewish jewelers fight to track down a priceless stolen diamond.
'Son of God' (2014): Starring Diogo Morgado, Greg Hicks, and Adrian Schiller. The life story of Jesus is told from his humble birth through his teachings, crucifixion and ultimate resurrection.
'Soul Plane' (2004): Starring Tom Arnold, Kevin Hart, and Method Man. Things get raucously funny aboard the maiden flight of a black-owned airline, thanks to some last-minute passenger additions.
'Spy Kids' (2001): Starring Antonia Banderas, Carla Gugino, and Alexa Vega. The children of secret-agent parents must save them from danger.
'Stephen King's Thinner' (1996): Starring Robert John Burke, Joe Mantegna, and Lucinda Jenney. A lawyer is cursed by a gypsy to lose weight … and lose weight … and lose weight…
'Sunset Boulevard' (1950): Starring William Holden, Gloria Swanson, and Erich von Stroheim. A hack screenwriter writes a screenplay for a former silent-film star who has faded into Hollywood obscurity.
'Swingers' (1996): Starring Jon Favreau, Vince Vaughn, and Ron Livingston. Wannabe actors become regulars in the stylish neo-lounge scene; Trent teaches his friend Mike the unwritten rules of the scene.
'Taking Lives' (2004): Starring Angelina Jolie, Ethan Hawke, and Kiefer Sutherland. An FBI profiler is called in by French Canadian police to catch a serial killer who takes on the identity of each new victim.
'To Be Takei' (2014): A look at the many roles played by eclectic 77-year-old actor/activist George Takei, whose wit, humor and grace have helped him to become an internationally beloved figure and Internet phenomenon with seven million Facebook fans and counting.
'To Kill a Man' (2014): Starring Daniel Candia, Daniel Antivilo, and Alejandra Yanez. A working class man who, tired of being the victim of criminals, decides to take justice in his own hands.
'Tooth and Nail' (2007): Starring Michael Madsen, Vinnie Jones, and Rider Strong. A group of people in a post-apocalyptic world fight to survive against a band of vicious cannibals.
'Undertow' (2004): Starring Jamie Bell, Josh Lucas, and Dermot Mulroney. Following the death of his wife, a man moves with his two sons to a rural pig farm where they begin leading an increasingly reclusive life.
'Uptown Girls' (2003): Starring Brittany Murphy, Dakota Fanning, and Marley Shelton. A grown-up woman, who kept her childish instincts and behavior, starts working as a nanny of a 8-year-old girl, who actually acts like an adult. But in the end everything turns to its right places.
'Valkyrie' (2008): Starring Tom Cruise, Kenneth Branagh, and Bill Nighy. A dramatization of the July 20 assassination and political coup plot by desperate renegade German Army officers against Hitler during World War II.
'Venom' (2005): Starring Agnes Bruckner, Jonathan Jackson, and Laura Ramsey. A pack of teenagers run for their lives through the swamps of Louisiana, as they are chased by Mr. Jangles, a man possessed by 13 evil souls who is relentless in his pursuit of new victims.
'The War of the Worlds' (1953): Starring Gene Barry, Ann Robinson, and Les Tremayne. The film adaptation of the H.G.Wells story told on radio of the invasion of Earth by Martians.
'Water' (2005): Starring Lisa Ray, Sarala, and Seema Biswas. The film examines the plight of a group of widows forced into poverty at a temple in the holy city of Varanasi. It focuses on a relationship between one of the widows, who wants to escape the social restrictions imposed on widows, and a man who is from the highest caste and a follower of Mahatma Gandhi.
'Wayne's World 2' (1993): Starring Mike Myers, Dana Carvey, and Christopher Walken. The inseparable duo try to organize a rock concert while Wayne must fend off a record producer who has an eye for his girlfriend.
'Welcome to the Jungle' (2013): Starring Adam Brody, Jean-Claude Van Damme, and Rob Huebel. A company retreat on a tropical island goes terribly awry.
'The Whole Nine Yards' (2000): Starring Bruce Willis, Matthew Perry, and Rosanna Arquette. Nick is a struggling dentist in Canada. A new neighbor moves in, and he discovers that it is Jimmy "The Tulip" Teduski. His wife convinces him to go to Chicago and inform the mob boss who wants Jimmy dead.
'The Yes Men' (2003): Anti-corporate activists travel from conference to conference, impersonating member of the World Trade Organization.
'Young Mr. Lincoln' (1939): Starring Henry Fonda, Alice Brady, and Marjorie Weaver. A fictionalized account of the early life of the American president as a young lawyer facing his greatest court case.
'Copenhagen' (2014): Starring Baard Owe, Frederikke Dahl Hansen, and Gethin Anthony. When the girl of your dreams is half your age, it's time to grow up.
'A Five Star Life' (2013): Starring Stefano Accorsi, Henry Arnold, and Eirik Bar. A 40-something luxury hotel inspector pursues fulfilling romance and success as she travels to some of the most beautiful destinations in the world.
'Jack Ryan: Shadow Recruit' (2014): Starring Chris Pine, Keira Knightley, and Kevin Costner. Jack Ryan, as a young covert CIA analyst, uncovers a Russian plot to crash the U.S. economy with a terrorist attack.
'What is Cinema?' (2013): Oscar-winning director Chuck Workman explores what some of the greatest filmmakers in history have accomplished through cinema, using the words of legendary directors from Alfred Hitchcock to David Lynch.
'White Collar' Season 5 (2013): Starring Matt Bomer, Tim DeKay, and Willie Garson. A white collar criminal agrees to help the FBI catch other white collar criminals using his expertise as an art and securities thief, counterfeiter, and conman.
'Falcon Rising' (2014): Starring Neal McDonough, Michael Jai White, and Laila Ali. Chapman is an ex-marine in Brazil's slums, battling the yakuza outfit who attacked his sister and left her for dead.
'Fantasia' (1940): Starring Leopold Stokowski, Deems Taylor, and Corey Burton. A collection of animated interpretations of great works of Western classical music.
'Fantasia 2000' (2000): Starring James Levine, Steve Martin, and Leopold Stokowski. An update of the original film with new interpretations of great works of classical music.
'Flesh for the Beast: Tsukiko's Curse' Season 1 (2013): Starring Patrick Smith, Maho Honda, and Charlotte Pines. Paranormal investigators explore supernatural horrors and mysteries, including zombies and vampires.
'Jack and the Cuckoo-Clock Heart' (2013): Starring Mathias Malzieu, Olivia Ruiz, and Grand Corps Malade. A 19th-century drama about a man whose heart was replaced with a clock when he was born. The situation dictates that he should avoid feeling strong emotions—love, most of all—but he just can't keep his feelings under wraps.
'Lust of the Dead' (2012): Starring Rina Aikawa, Yui Aikawa, and Kazuyoshi Akishima. Following a nuclear attack in Tokyo, men become sex-crazed zombies who attack women. A nurse and her office worker friend team up with a housewife and a school girl to combat the hordes of zombie men.
'Lust of the Dead 2' (2013): Starring Yui Aikawa, Maki Aoyama, and Asami. Following a nuclear attack in Japan, 90% of the male population are now sex-crazed zombies who attack women. Although a small number of men are uninfected, many of them align with the zombies to prey on the women who remain. The female survivors must band together to take a stand.
'Neverlake' (2012): Starring Daisy Keeping, David Brandon, and Joy Tanner. On a trip home to visit her father, Jenny is thrown into a world of mystery, horror and legend when she is called upon by 3000 year-old spirits of the Neverlake to help return their lost artifacts and save the lives of missing children.
'The Ouija Experiment' (2011): Starring Justin Armstrong, Dave Clark, and Belmarie Huynh. A group of friends get together to play with a Ouija board, and decide to document the experience with a video camera, hoping to create the next viral sensation. But when their personal baggage creates drama among them, they become easy prey for evil forces.
'Years of Living Dangerously' Season 1 (2013): From the damage wrought by Hurricane Sandy to the upheaval caused by drought in the Middle East, this groundbreaking documentary event series provides first-hand reports on those affected by, and seeking solutions to, climate change.
'Brick Mansions' (2014): Starring Paul Walker, David Belle, and RZA. An undercover Detroit cop navigates a dangerous neighborhood that's surrounded by a containment wall with the help of an ex-con in order to bring down a crime lord and his plot to devastate the entire city.
'Frank' (2014): Starring Michael Fassbender, Domhnall Gleeson, and Maggie Gyllenhaal. Jon, a young wanna-be musician, discovers he's bitten off more than he can chew when he joins an eccentric pop band led by the mysterious and enigmatic Frank.
'Psych' Season 8 (2014): Starring James Roday, Dule Hill, and Timothy Omundson. A novice sleuth is hired by the police after he cons them into thinking he has psychic powers which help solve crimes. With the assistance of his reluctant best friend, the duo take on a series of complicated cases.
'I Will Follow' (2010): Starring Salli Richardson-Whitfield, Tracie Thoms, and Omari Hardwick. Chronicles a day in the life of a grieving woman, and the 12 visitors who help her move forward.
'Sliding Doors' (1998): Starring Gwyneth Paltrow, John Hannah, and John Lynch. A London woman's love life and career both hinge, unknown to her, on whether or not she catches a train. We see it both ways, in parallel.
'The Winning Season' (2009): Starring Sam Rockwell, Emma Roberts, and Rob Corddry. A comedy centered on a has-been coach who is given a shot at redemption when he's asked to run his local high school's girls basketball team.
'Z Nation' Season 1 (2014): Starring Kellita Smith, DJ Qualls, and Keith Allan. Three years after the zombie virus has gutted the country, a team of everyday heroes must transport the only known survivor of the plague from New York to California, where the last functioning viral lab waits for his blood.
'Ardennes Fury' (2014): Starring Tod Stedham, Bill Voorhees, and Tino Struckman. As the Battle of the Bulge rages on, an American tank unit gets trapped behind Nazi lines. With just hours before the bombs of Operation Ardennes Fury fall, the tank's commander makes the risky decision to rescue an orphanage.
'Automata' (2014): Starring Antonio Banderas, Melanie Griffith, and Dylan McDermott. Jacq Vaucan is an insurance agent of ROC robotics corporation who investigates cases of robots violating their primary protocols against altering themselves. What he discovers will have profound consequences for the future of humanity.
'In the Name of God' (2013): Starring Eric Roberts, Robyn Lively, and Patrick Davis. Bouncing from foster home to home, it seemed that no one wanted Mason around. From battles with his parents, Mason learns the importance of respect. Desperate for forgiveness, Mason tries to make amends with his family.
'Zoom: Academy for Superheroes' (2006): Starring Tim Allen, Courteney Cox, and Chevy Chase. Former superhero Jack is called back to work to transform an unlikely group of ragtag kids into superheroes at a private Academy.
'Being Human' Season 4 (2014): Starring Sam Witwer, Meaghan Rath, and Sam Huntington. Three 20-somethings share a house and try to live a normal life despite being a ghost, a werewolf, and a vampire.
'Bird People' (2014): Starring Josh Charles, Anaïs Demoustier, and Roschdy Zem. In an airport hotel on the outskirts of Paris, a Silicon Valley engineer abruptly chucks his job, breaks things off with his wife, and holes up in his room. Soon, fate draws him and a young French maid together.
'Death Comes to Pemberley' Season 1 (2013): Starring Matthew Rhys, Anna Maxwell Martin, and Jenna Coleman. Elizabeth and Darcy, now six years married, are preparing for their annual ball when festivities are brought to an abrupt halt. An adaptation of PD James's homage to 'Pride and Prejudice.'
'Viktor' (2014): Starring Gerard Depardieu, Elizabeth Hurley, and Eli Danker. After spending seven years in prison for his part in a heist, a Frenchman goes back to Moscow to investigate his son's murder.
'Wetlands' (2013): Starring Carla Juri, Christoph Letkowski, and Marlen Kruse. The adventures of an eccentric girl who has strange attitudes towards hygiene and sexuality longs for the reunion of her divorced parents.
'Abducted: The Carlina White Story' (2012): Starring Aunjanue Ellis, Keke Palmer, and Sherri Shepherd. A baby abducted at birth and raised by the woman who took her, eventually discovers she is a missing child, reconnects with her birth parents, and struggles with choosing between her two identities.
'Amanda Knox: Murder on Trial in Italy' (2011): Starring Hayden Panettiere, Vincent Riotta, and Paolo Romio. Based on the events surrounding the murder of British student Meredith Kercher.
'America Unearthed' Season 1 (2012): A forensic geologist unearths evidence that the history of Earth as we've been taught may not be entirely accurate.
'America's Book of Secrets' Seasons 1 and 2 (2012—2013): From the facts behind the NSA spying scandals ("Big Brother") and the Boston Bombings ("American Terrorists") to America's secret prisons, Scientology, the Gold conspiracy and America's doomsday plans, this series features in-depth interviews with top journalists, law enforcement officials and whistleblowers.
'America: The Story of Us' (2010): A six-part miniseries exploring the history of how the United States came to be.
'And Baby Will Fall' (2011): Starring Anastasia Griffith, Brendan Fehr, and Clea DuVall. Expectant parents become prime suspects in the disappearance of a pregnant woman who was last seen at their garage sale.
'Beyond Scared Straight' Seasons 4 and 5 (2013): A series chronicling young offender intervention programs, and the extreme measures prisons must now go to in order to effectively scare teens into behaving.
'The Bling Ring' (2011): Starring Austin Butler, Yin Chang, and Tom Irwin. Teenagers break into celebrities houses to experience the rich life by stealing their belongings.
'Confucius' (2010): Starring Chow Yun-Fat, Xun Zhou, and Jianbin Chen. The life story of the highly-influential Chinese philosopher, Confucius.
'Dance Moms' Series (2011—Present): Chronicles the lives of the young students at Abby Lee Miller's renowned dance studio.
'Double Wedding' (2010): Starring Tia Mowry-Hardrict, Tamera Mowry, and Ardon Bess. Two sisters, no love lives. Both end up dating the same man, and inviting him to meet the family on December 17th. He doesn't know there are two sisters or that he committed to two different dates on the same day.
'The Eleventh Victim' (2012): Starring Jennie Garth, Colin Cunningham, and Tyron Leitso. Based on the New York Times best-selling novel by Nancy Grace, the Lifetime Original Movie 'The Eleventh Victim' is the ultimate suspense thriller. Atlanta Assistant DA Hailey Dean goes after the really bad guys.
'Fatal Honeymoon' (2012): Starring Billy Miller, Amber Clayton, and Harvey Keitel. Tells the true, shocking story of a newlywed who died on her honeymoon, and the investigation into her husband.
'The First 48' Series (2004—Present): The series follows detectives during the hours immediately following a homicide.
'Gangland' (2007—Present): Chronicles the lives of street gangs across the U.S.
'Gettysburg' (2011): An examination of the Battle of Gettysburg on both the personal and strategic level.
'Hoarders' Series (2009—Present): Real-life hoarders seek help cleaning up their act from professional therapists and organizers.
'How Sex Changed the World' Season 1 (2013): A look at the many ways in which sex has affected our world.
'How the States Got Their Shapes' Seasons 1 and 2 (2011—2012): A reporter travels the U.S. to hear stories about the ways the boundaries between states were formed.
'Ice Road Truckers' Series (2007—Present): During the harsh winter of Canada's Northwest Territory, remote villages and work camps are cut off from the world. To keep them supplied, a tenacious group of long-haul truckers drive their rigs over hundreds of miles on ice roads cut across the surface of frozen lakes.
'Intervention' Series (2005—2013): This deeply affecting reality series follows subjects with various addictions (drugs, alcohol, eating disorders) as their loved ones try to convince them to enter rehab with the help of professionals.
'Jodi Arias: Dirty Little Secret' (2013): Starring Tania Raymonde, Jesse Lee Soffer, and David Zayas. Based on the disturbing murder trial that gripped the nation, this Lifetime Original Movie tells the story of a seductive, aspiring photographer found guilty of killing her former lover.
'Jodi Picoult's Salem Falls' (2011): Starring James Van Der Beek, Sarah Carter, and AJ Michalka. A man with a troubled past tries to settle down in a small town, finds love and then ends up being the target of a witch hunt.
'The Kennedys' (2011): Starring Greg Kinnear, Katie Holmes, and Tom Wilkinson. Explores the lives of one of the most prominent and romanticized political families in history.
'A Killer Among Us' (2012): Starring Tess Atkins, Tom Cavanagh, and Boris Kodjoe. After the shocking murder of her mother, a girl helps a police detective by searching her home for clues that they hope will lead to the perpetrator.
'The Killer Speaks' Season 1 (2013): Gain insight to the minds of killers through prison interviews in this provocative documentary series.
'The Killing Game' (2011): Starring Laura Prepon, Ty Olsson, and Brian Markinson. A forensic sculptor risks her life after receiving clues from her daughter's murderer.
'Liz & Dick' (2012): Starring Lindsay Lohan, Grant Bowler, and Theresa Russell. The torrid relationship between Elizabeth Taylor and Richard Burton.
'Magic Beyond Words: The J.K Rowling Story' (2011): An inspiring look at JK Rowling's rise to become one of the most influential writers-from her humble beginnings as an imaginative young girl and awkward teenager to the loss of her mother and the genesis of the Harry Potter phenomenon.
'Mankind: The Story of All of Us' Season 1 (2012): In this follow-up to 'America: The Story of Us,' the series explores the concept of "Big History," and how the forces of science and nature have combined to create a shared, global experience in the shaping of our history.
'Matters of Life & Dating' (2007): Starring Ricki Lake, Holly Robinson Peete, and Rachael Harris. The true story of Linda Dackman, a woman who tries to begin dating again after her mastectomy.
'Modern Marvels' Series (1994—Present): The History Channel's signature series focuses on the innovations in technology throughout history.
'Mountain Men' Seasons 1 and 2 (2012): Starring Eustace Conway, Marty Meierotto, and Tom Oar. Follows three men who have abandoned modern life to live off of the grid, using only what nature provides them.
'The Murder of Princess Diana' (2007): Starring Jennifer Morrison, Gregori Derangere, and Kevin McNally. A fictionalized account of the events leading up to the tragic car accident that claimed the lives of Princess Diana, her companion Dodi Fayed and their chauffeur in a Paris tunnel.
'Obsessed' Seasons 1 and 2 (2009—2010): Reality series chronicling people with strange, life-consuming addictions.
'Pawn Stars' Series (2009—Present): Rick Harrison and his family own and run a pawn shop on the Las Vegas strip. They buy, sell, and appraise items of historical value.
'Preachers' Daughters' Season 1 (2013): Starring Taylor Coleman, Ken Coleman, and Marie Coleman. Reality series focusing on the daughters of three different families and the typical teenage issues they face, which are exacerbated by the prominence of their preacher fathers.
'The Pregnancy Project' (2012): Starring Alexa Vega, Walter Perez, and Sarah Smyth. A 17-year-old, attending a Washington state high-school, made her senior school project the treatment of pregnant teenagers by pretending to be pregnant.
'Restless Virgins' (2013): Starring Vanessa Marano, Max Lloyd-Jones, and Charlie Carver. A sex scandal that shook Massachusetts prep school, Milton Academy in 2004—2005 school year.
'Reviving Ophelia' (2010): Starring Jane Kaczmarek, Rebecca Williams, and Nick Thurston. The difficulties two sisters face raising their teenage daughters
'Ring of Fire' (2013): Starring Jewel Kilcher, Matt Ross, and John Doe. This is the story of the decades-long love affair between June Carter and her husband, Johnny Cash, a love that was stretched to the breaking point by Johnny's addiction to pills.
'Secrets in the Walls' (2010): Starring Jeri Ryan, Kay Panabaker, and Marianne Jean-Baptiste. A mother and her two teenage daughters move into an ancient house in a suburb of Detroit, when it is offered at a very low price.
'Secrets of Eden' (2012): Starring John Stamos, Anna Gunn, and Sonya Salomaa. A small town pastor becomes the prime suspect in a murder case.
'She Made Them Do It' (2013): Starring Jenna Dewan-Tatum, Mackenzie Phillips, and Steve Bacic. Based on the story of convicted felon Sarah Pender, who was found guilty of masterminding a murder.
'Shipping Wars' Seasons 1—3 (2012—2013): Show revolves around teams of independent heavy-duty moving companies bidding for the chance to transport un-shippable items, from oversized loads to bulky packages and bizarre items.
'Stalkers' (2013): Starring Drea de Matteo, Jodi Lyn O'Keefe, and Mena Suvari. Revolves around a criminal prosecutor who penned the law on stalking in California and is based on the true story of a hot-head cop and polished district attorney who team to bring a stalker obsessed with her former lover to justice.
'Stan Lee's Superhumans' Seasons 1 and 2 (2010—2011): Stan Lee and Daniel Browning Smith travel the world looking for humans that have powers like heroes from comic books.
'Storage Wars' Series (2010—Present): Professional buyers and their teams sift through repossessed storage containers in the pursuit of valuable and rare items.
'Swamp People' Series (2010—Present): Reality series following swampers during alligator season.
'Taken From Me: The Tiffany Rubin Story' (2011): Starring Taraji P. Henson, Terry O'Quinn, and David Haydn-Jones. Based on the true story of a mother's fight to reclaim the seven-year-old son her husband kidnapped and took to South Korea.
'Top Shot' Series (2010—Present): Sharp shooters compete in situations based on historical events.
'True Confessions of a Hollywood Starlet' (2008): Starring JoJo, Valerie Bertinelli, and Shenae Grimes. A young Hollywood starlet has to adjust to her new life as she is sent to live with her aunt after a stint in rehab.
'Twist of Faith' (2013): Starring Toni Braxton, David Julian Hirsh, and Nathaniel J. Potvin. An Orthodox Jewish Cantor and aspiring songwriter witnesses the brutal murder of his wife and three children.
'The Universe' Series (2007—Present): This educational show explores many scientific questions and topics about the universe (Big Bang, the Sun, the planets, black holes, other galaxies, astrobiology etc.) through latest CGI, data and interviews with scientists.
'Vietnam in HD' (2011): Vintage footage from the Vietnam war is presented in high definition.
'Wahlburgers' Season 1 (2014): A look at the personal and professional life of Boston chef Paul Wahlberg and his real-life entourage as he prepares to expand his hamburger restaurant business.
'William and Kate' (2011): Starring Camilla Luddington, Nico Evers-Swindell, and Samantha Whittaker. Following England's Prince William, who seeks to avoid the same press that drove his mother to her death, and his relationship with Kate Middleton.
'WWII in HD' (2009): Vintage footage from World War II is presented in high definition.
'The Adventures of Puss in Boots' Season 1 (2015): The charming Puss in Boots from the 'Shrek' series goes on a series of his own animated adventures in this spinoff series.
'The Bag Man' (2014): Starring John Cusack, Rebecca Da Costa, and Robert De Niro. A criminal bides his time at a seedy motel, waiting for his boss after killing several men and making away with a mystery bag.
'Blood and Ties' (2013): Starring Ye-jin Son, Kim Kap-soo, and Lee Kyoo-han. Da-eun lives a happy life with her single father. However, their relationship is about to take an unexpected turn because she becomes suspicious that her father might be a monstrous kidnapper.
'Crossing Lines' Season 2 (2014): Starring William Fichtner, Donald Sutherland, and Gabriella Pession. A special crime unit investigates serialized crimes that cross over European borders and to hunt down criminals to bring them to justice. A global FBI is born.
'The Elephant Princess' Season 1 (2008): Starring Emily Robins, Miles Szanto, and Maddy Tyers. Alexandra Wilson is a regular suburban girl who suddenly discovers she is a princess of a mystical kingdom.
'The Fall' Season 2 (2015): Starring Gillian Anderson, Jamie Dornan, and John Lynch. A psychological thriller that follows a serial killer in Belfast and a Detective Superintendent from MET who's tasked with catching him.
'House of Last Things' (2013): Starring Lindsey Haun, Blake Berris, and R.J. Mitte. A mind-bending thriller set in Portland, Oregon about an unspoken tragedy and its effects on a house, its temporary caretakers and the owners, a classical music critic and his wife on a recuperative trip to Italy.
'Johnny English Reborn' (2011): Starring Rowan Atkinson, Dominic West, and Gillian Anderson. Johnny English goes up against international assassins hunting down the Chinese premier.
'Kids for Cash' (2013): Beyond the millions paid and high stakes corruption, 'Kids For Cash' exposes a shocking American secret. In the wake of the shootings at Columbine, a small town celebrates a charismatic judge who is hell-bent on keeping kids in line...until one parent dares to question the motives behind his brand of justice.
'Red Hollywood' (1996): A documentary that examines the films made by the victims of the Hollywood Blacklist and offers a radically difference perspective on a key period in the history of American cinema.
'Sirens' Season 1 (2014): Starring Michael Mosley, Kevin Daniels, and Kevin Bigley. A comedy that follows three Chicago EMTs who despite their narcissistic and self-destructive personalities are uniquely qualified to save lives.
'A Small Section of the World' (2014): Documentary following a group of women from a remote farming region in Costa Rica, whose ideas inspired a revolution in the world of coffee-growing.
'Tinker, Tailor, Soldier, Spy' (2011): Starring Gary Oldman, Tom Hardy, and Colin Firth. In the bleak days of the Cold War, espionage veteran George Smiley is forced from semi-retirement to uncover a Soviet agent within MI6.
'Vito' (2011): The story of Vito Russo, founding father of the gay liberation movement, author of "The Celluloid Closet," and vociferous AIDS activist in the 1980s.
'Wolfblood' Season 3 (2014): Starring Bobby Lockwood, Kedar Williams-Stirling, and Louisa Connolly-Burnham. Three teenagers can trust no one as it could reveal their secret.
'Zombies: When the Dead Walk' (2008): Zombies are part of pop culture, but what are they? Where do they come from? To find real zombies we will travel to Haiti where Zombies are an integral part of the island's cultural and religious roots..
'As the Light Goes Out' (2014): Starring Andy On, Nicholas Tse, and Simon Yam. The firefighters of Hong Kong's Pillar Point division battle an out-of-control blaze that threatens to plunge the city into darkness.
'Open Road' (2013): Starring Camilla Belle, Andy Garcia, and Juliette Lewis. Angie, a young Brazilian artist, abandons her old life and embarks on a journey around the country. Running from her past, and searching for her foundation in life, Angie finds not only herself but love in its many forms.
'Ribbit' (2014): Starring Sean Astin, Tim Curry, and Russell Peters. The tale of a frog with an identity crisis.
'Patton Oswalt: Tragedy Plus Comedy Equals Time' (2015): The comedian's latest stand-up special.
'Barefoot' (2014): Starring Evan Rachel Wood, Scott Speedman, and Treat Williams. The "black sheep" son of a wealthy family meets a young psychiatric patient who's been raised in isolation her entire life. He takes the naive young woman home for his brother's wedding.
'The Girl With the Dragon Tattoo' (2009): Starring Noomi Rapace, Michael Nyqvist, and Sven Bertil-Taube. A journalist is aided in his search for a woman who has been missing—or dead—for 40 years by a young female hacker.
'Stonehearst Asylum' (2014): Starring Kate Becksinsale, Jim Sturgess, and David Thewlis. A recent medical school grad who takes a position at a mental institution soon finds himself taken with one of his colleagues—though he has no initial idea of a recent, horrifying staffing change.
'Iliza Shlesinger: Freezing Hot' (2015): The comedian's new stand-up special.
'Beauty and the Beast' Season 2 (2014): Starring Kristin Kreuk, Jay Ryan, and Nina Lisandrello. Detective Catherine Chandler struggles to cope with shocking revelations about her family while navigating her relationship with a Doctor who turns into a beast when he is angered.
'Chef' (2014): Starring Jon Favreau, Robert Downey Jr., and Scarlett Johansson. A chef who loses his restaurant job starts up a food truck in an effort to reclaim his creative promise, while piecing back together his estranged family.