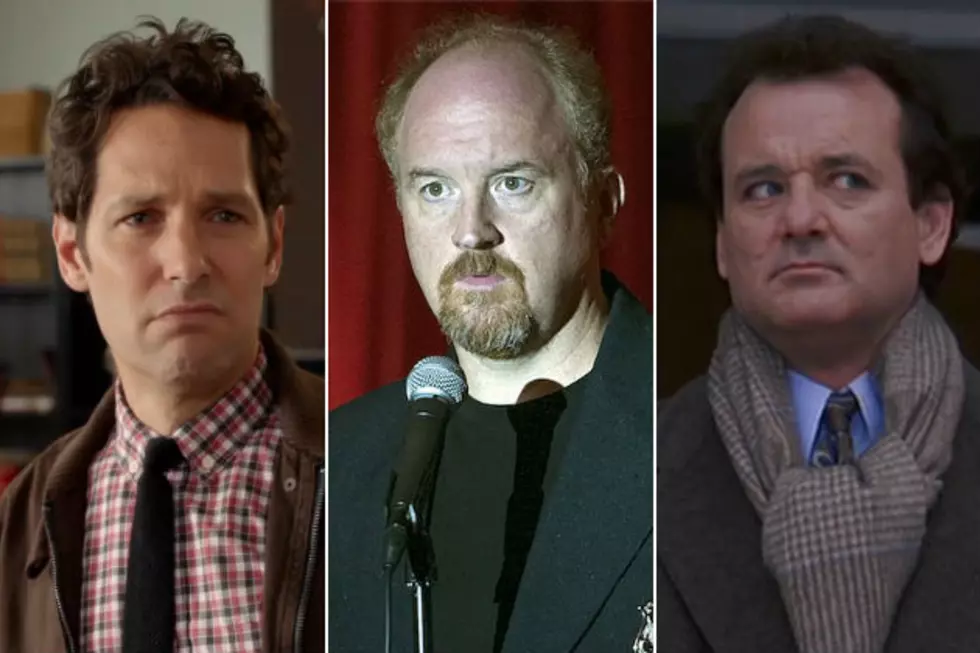 New Amazon Prime Instant Video Releases: April 2015
Lionsgate / FX / Columbia
Here's your monthly reminder to take advantage of that swanky Amazon Prime subscription. In addition to all the great titles hitting Netflix Instant next month, Amazon Prime is also offering up a batch of new viewing options on their Instant Video streaming service. From old favorites to new, read on for our guide to the new Amazon Prime Instant Video releases arriving in April.
Amistad (1997): Starring Djimon Hounsou, Matthew McConaughey and Anthony Hopkins. About a 1839 mutiny aboard a slave ship that is traveling towards the northeastern coast of America. Much of the story involves a courtroom drama about the free man who led the revolt.
Bloody Sunday (2002): Starring James Nesbitt, Tim Pigott-Smith and Nicholas Farrell. A dramatization of the Irish civil rights protest march and subsequent massacre by British troops on January 30, 1972.
The Brothers Grimm (2005): Starring Matt Damon, Heath Ledger and Monica Bellucci. Will and Jake Grimm are traveling con-artists who encounter a genuine fairy-tale curse which requires true courage instead of their usual bogus exorcisms.
Death Wish (1974): Starring Charles Bronson, Hope Lange and Vincent Gardenia. A New York City architect becomes a one-man vigilante squad after his wife is murdered by street punks in which he randomly goes out and kills would-be muggers on the mean streets after dark.
Death Wish 2 (1982): Starring Charles Bronson, Jill Ireland and Vincent Gardenia. Architect Paul Kersey once again becomes a vigilante when he tries to find the five street punks who murdered his daughter and housekeeper, this time on the dark streets of Los Angeles.
Escape From Alcatraz (1979): Starring Clint Eastwood, Patrick McGoohan and Roberts Blossom. A dramatization of the one possibly successful escape from the infamous prison island in 1962.
French Connection 2 (1975): Starring Gene Hackman, Fernando Rey and Bernard Fresson. "Popeye" Doyle travels to Marseille to find Alain Charnier, the drug smuggler who eluded him in New York.
Godzilla (1998): Starring Matthew Broderick, Jean Reno and Maria Pitillo. An enormous, radioactively mutated lizard runs rampant in Manhattan.
Ken Burns: The Roosevelts (2014): A documentary that weaves together the stories of Theodore, Franklin and Eleanor Roosevelt, three members of one of the most prominent and influential families in American politics.
Kicking and Screaming (2005): Starring Will Ferrell, Robert Duvall and Josh Hutcherson. Family man Phil Weston, a lifelong victim of his father's competitive nature, takes on the coaching duties of a kids' soccer team, and soon finds that he's also taking on his father's dysfunctional way of relating…
Leprechaun 2 (1994): Starring Warwick Davis, Charlie Heath and Shevonne Durkin. On his 2000th birthday, the evil and mischievous leprechaun must choose a bride.
Leprechaun 3 (1995): Starring Warwick Davis, John Gatins and Lee Armstrong. The nefarious leprechaun heads to Las Vegas to wreak havoc on whomever is unlucky enough to happen upon his gold.
Leprechaun 5 (2000): Starring Warwick Davis, Ice-T and Anthony Montgomery. The leprechaun heads to the inner city of Compton, California.
Mommie Dearest (1981): Starring Faye Dunaway, Diana Scarwid and Peter Forrest. Mommie Dearest, best selling memoir turned motion picture, depicts the abusive and traumatic adoptive upbringing of Christina Crawford at the hands of her mother…screen queen Joan Crawford.
My Old Lady (Exclusive) (2014): Starring Kristin Scott Thomas, Kevin Kline and Maggie Smith. An American inherits an apartment in Paris that comes with an unexpected resident.
Saved! (2004): Starring Jena Malone, Mandy Moore and Macaulay Culkin. When a girl attending a Christian high school becomes pregnant, she finds herself ostracized and demonized, as all of her former friends turn on her.
Star Trek II: The Wrath of Khan (1982): Starring William Shatner, Leonard Nimoy and DeForest Kelley. With the assistance of the Enterprise crew, Admiral Kirk must stop an old nemesis, Khan Noonien Singh, from using his son's life-generating device, the Genesis Device, as the ultimate weapon.
Star Trek III: The Search for Spock (1984): Starring William Shatner, Leonard Nimoy and DeForest Kelley. Admiral Kirk and his bridge crew risk their careers stealing the decommissioned Enterprise to return to the restricted Genesis planet to recover Spock's body.
Star Trek V: The Voyage Home (1986): Starring William Shatner, Leonard Nimoy and DeForest Kelley. To save Earth from an alien probe, Admiral Kirk and his fugitive crew go back in time to 20th century Earth to retrieve the only beings who can communicate with it, humpback whales.
Suicide Kings (1997): Starring Christopher Walken, Denis Leary and Sean Patrick Flanery. A group of youngsters kidnap a respected Mafia figure.
The Thing Called Love (1993): Starring River Phoenix, Samantha Mathis and Dermot Mulroney. A group of newcomers to the country music business seek love and stardom.
Adaptation (2002): Starring Nicolas Cage, Meryl Streep and Chris Cooper. A lovelorn screenwriter becomes desperate as he tries and fails to adapt The Orchid Thief by Susan Orlean for the screen.
The Better Angels (Exclusive) (2014): Starring Diane Kruger, Jason Clarke and Brit Marling. The story of Abraham Lincoln's childhood in the harsh wilderness of Indiana and the hardships that shaped him, the tragedy that marked him for ever and the two women who guided him to immortality.
Groundhog Day (1993): Starring Bill Murray, Andie MacDowell and Chris Elliott. A weatherman finds himself living the same day over and over again.
Little Women (1994): Starring Susan Sarandon, Winona Ryder and Kirsten Dunst. The March sisters live and grow in post-Civil War America.
Submarine (2010): Starring Craig Roberts, Sally Hawkins and Paddy Considine. 15-year-old Oliver Tate has two objectives: To lose his virginity before his next birthday, and to extinguish the flame between his mother and an ex-lover who has resurfaced in her life.
Tusk (Exclusive) (2014): Starring Justin Long, Michael Parks and Haley Joel Osment. When podcaster Wallace Bryton goes missing in the backwoods of Manitoba while interviewing a mysterious seafarer named Howard Howe, his best friend Teddy and girlfriend Allison team with an ex-cop to look for him.
Lay the Favorite (2012): Starring Bruce Willis, Rebecca Hall and Vince Vaughn. Ex-private dancer Beth aspires to be a Las Vegas cocktail waitress, when she falls in with Dink, a sports gambler. Sparks fly as she proves to be something of a gambling prodigy — much to the ire of Dink's wife, Tulip.
The Quiet Ones (2014): Starring Jared Harris, Olivia Cooke and Sam Claflin. A university professor and a team of students conduct an experiment on a young woman, uncovering terrifyingly dark, unexpected forces in the process.
Louie Season 4 (2014): Starring Louis C.K., Pamela Adlon and Hadley Delany. The life of Louis CK, a divorced comedian with two kids living in New York.
Craig Ferguson: Does This Need to Be Said? (2011): An extended and uncensored stand-up special from the former host of The Late Late Show.
Leprechaun (1993): Starring Warwick Davis, Jennifer Aniston and Ken Olandt. An evil, sadistic Leprechaun goes on a killing rampage in search of his beloved pot of gold.
Ping Pong Summer (2014): Starring Susan Sarandon, Amy Sedaris and Judah Friedlander. A family vacation during the summer of 1985 changes everything for a teenage boy obsessed with ping pong.
Still Life (Exclusive) (2013): Starring Eddie Marsan, Joanne Froggatt and Karen Drury. A council case worker looks for the relatives of those found dead and alone.
They Came Together (2014): Starring Amy Poehler, Paul Rudd and Bill Hader. A small business owner is about to lose her shop to a major corporate development.
Noah (2014): Starring Russell Crowe, Jennifer Connelly and Emma Watson. A man is chosen by his world's creator to undertake a momentous mission before an apocalyptic flood cleanses the world.
Son of a Gun (Exclusive) (2014): Starring Ewan McGregor, Brenton Thwaites and Brendan Kerkvliet. JR busts out of prison with Brendan Lynch, Australia's most notorious criminal, and joins Lynch's gang for a gold heist that soon pits the two men against one another.
Sons of Anarchy Season 7 (2014): Starring Charlie Hunnam, Katey Sagal and Mark Boone Junior. A man in his early 30s struggles to find a balance in his life between being a new dad and his involvement in a motorcycle club.