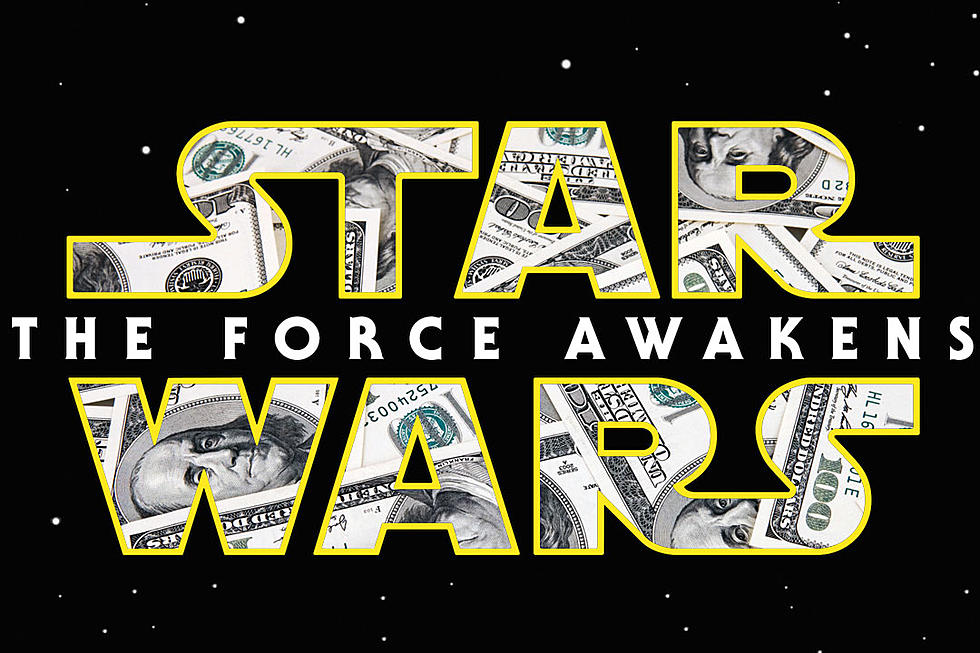 We Talked to the Guy Who Is Trying to Sell 'Star Wars' Tickets for $10,000 on eBay
Lucasfilm/Getty Images
People have been complaining about increasing ticket prices for years. This summer, the average cost of a movie ticket hit an all-time high at $8.61, and frankly, if you can find tickets for $8.61, you're doing pretty well for yourself. I purchased one adult and two child tickets for Star Wars: The Force Awakens last night and it cost me $52.12. Not exactly cheap.
But, it sure beats $10,000.
That's how much one enterprising scalper is selling two tickets for an 8:00pm screening of The Force Awakens in Wilmington, Delaware on eBay.
To be clear, for $10,000, you and a friend could fly to Paris, where the movie opens one day earlier, spend the night at Hôtel Fouquet's Barrière, Paris' most expensive hotel, rent an entire theater at Cinéma Le Paris and watch The Force Awakens on December 16 at 10:00am, a full 39 hours before anyone in the United States…all for less than $10,000. But hey, if you really want to go see Star Wars: The Force Awakens in Wilmington, Delaware on December 17 at 8:00pm, this guy has got you covered.
We caught up with this opportunistic eBay seller, who asked that we not reveal his username or his real name, and when we asked him what he'd say to Star Wars fans who are upset at the somewhat considerable markup, he had a simple message for the haters: "Sorry, dude."
To be clear, the seller (who we'll call "Larry" to help protect his anonymity) himself is a big Star Wars fan, one who saw the original film in theaters back in 1977 and remembers the lines around the building of his local theater. Larry says his teenage son ("Larry Jr.") have bonded over the films. "We've watched all of the movies together over the years. We'll be watching all of the movies again over the coming weeks." Thanks to his dad, Larry Jr. is a "super fan" who, his father says, can't wait to see it on opening night. Lucky for Larry Jr. he knows a guy with a hook-up.
Like many, Larry says he was having trouble "for hours" trying to load Fandango. As a web developer, he even used some of the tricks of the trade to try and gain access but "all of my skills were useless," he admits. Larry claims he had logged on not with the intention to buy tickets to resell, just to buy tickets for him and his son. Once he got through, he says a glitch in the system actually resulted in a duplicate order. "Oh well, now I have two sets of tickets," Larry thought to himself and quickly decided "it would be fun" to put them on eBay. For $10,000.
Larry might be ambitious, but he's not stupid. Even he doesn't think that the tickets, which would normally cost $34.00, will set at the price they have listed. But, if they do? Larry says a "trip to Disney" could be in the works with his $9,966 profit margin. "Who knows?" he asks himself, the world seemingly his oyster.
While Larry has been called both an "idiot" and "awful" (and worse) on social media, don't think he's all bad: if they don't sell, Larry won't be standing out front of the Regal Brandywine Town Center hawking tickets like an old school scalper. "I'll give them to a couple of kids that can't afford to see the movie."
I ask Larry, who says he's getting out of the ticket resale business after his most recent venture, if he has a final word for any Star Wars fans who might be reading this. Larry, sensing yet another opportunity, has one last pitch: "If you're a rich fan that has money to burn, I would say sold."