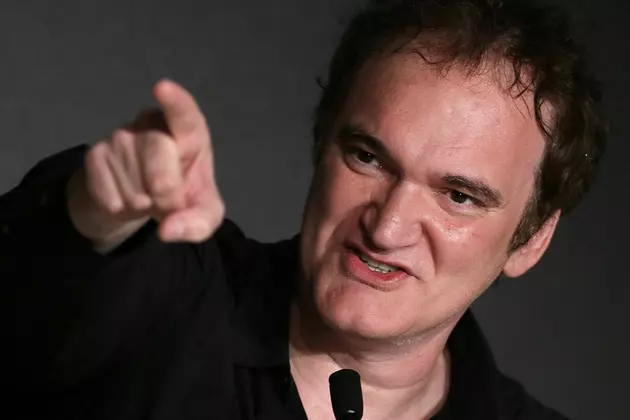 Listen to Quentin Tarantino's Gross Defense of Roman Polanski in 2003
Getty Images
In an extensive interview published last night, Quentin Tarantino addressed Uma Thurman's allegations against Harvey Weinstein, while explaining — in exhaustive detail — his recollection of the car crash involving his longtime friend and muse on the set of Kill Bill. Tarantino is making headlines for yet another unfortunate reason this afternoon — one that's relevant to both his part in Hollywood's reckoning with violent misogyny, as well as his upcoming film.
Update: The audio has been removed from YouTube (though a quick search will turn up several copies). Original quotes remain below:
THR unearthed audio from a 2003 interview on Howard Stern's show, in which Tarantino comes to the defense of Roman Polanski. The disgraced filmmaker has been living in self-imposed exile for many years in an effort to avoid imprisonment for the 1977 statutory rape of a 13-year-old girl. In the audio, Tarantino is asked why Hollywood continues to praise Polanski despite the charges against him, to which the director offers this fairly repulsive explanation:
He didn't rape a 13-year-old. It was statutory rape.... He had sex with a minor. That's not rape. To me, when you use the word rape, you're talking about violent, throwing them down; it's like one of the most violent crimes in the world. You can't throw the word rape around. It's like throwing the word 'racist' around. It doesn't apply to everything people use it for.
When Stern's co-host, Robin Quivers, points out that Polanski's victim was drugged, Tarantino says, "No, that was not the case at all. She wanted to have it and dated the guy." He then trots out the wrong-headed argument of "And by the way, we're talking about America's morals, not talking about the morals in Europe and everything."
That's when Stern steps in with some moral common sense: "Wait a minute. If you have sex with a 13-year-old girl and you're a grown man, you know that that's wrong."
Tarantino disagrees, saying "Look, she was down with this," before describing Polanski's victim as a "party girl."
As Tarantino himself pointed out in his interview with Deadline, times have changed significantly — behaviors that were widely accepted or ignored as recently as the late '90s are justifiably being called out 20 years later. Although Tarantino may have felt this way in 2003, it's entirely possible that he's had a change of heart in the intervening years. Or not. The audio is still quite damning in light of Thurman's recollections of her traumatic experiences, both with Weinstein and on the set of Kill Bill.
There's an additional layer of relevance here, as it was recently revealed that Tarantino's upcoming film — which is set around the time of the Manson murders in late '60s Los Angeles — will feature a fictionalized version of Polanski. Tarantino has been eyeing Margot Robbie for the role of Polanski's late wife, Sharon Tate, who was pregnant with their child when she was brutally murdered by Charles Manson's followers. Though there's been speculation that Tarantino could take the revisionist history route, there's been some concern that his depiction of Tate and Polanski may not be particularly sensitive.
And his remarks to Howard Stern in defense of Polanski have only exacerbated those concerns. We'll keep you updated if and when Tarantino responds.