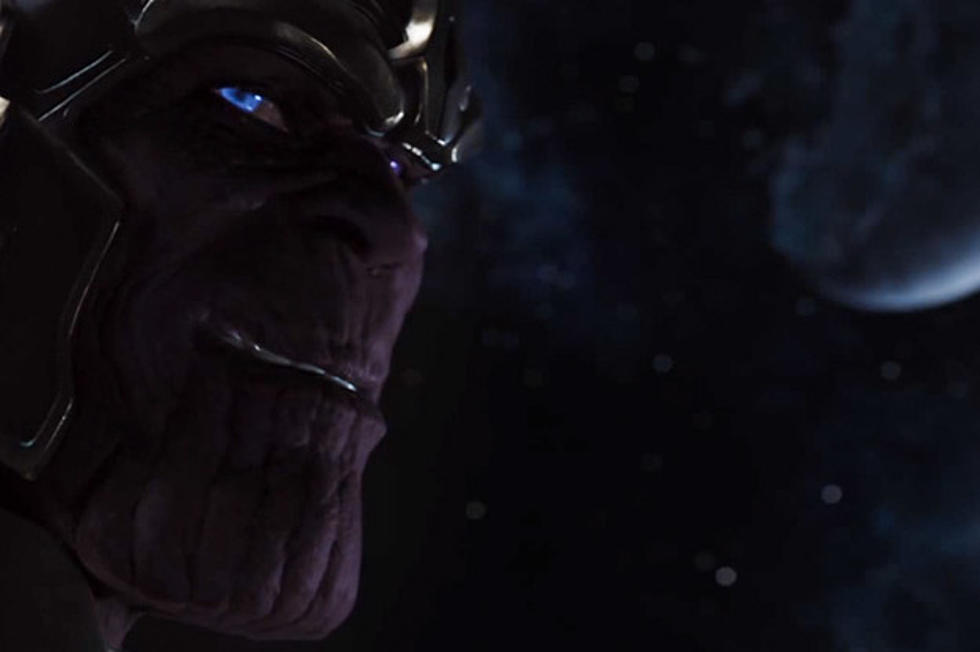 So Who is Playing Thanos in 'Guardians of the Galaxy'?
Marvel Studios
Since the end of 'Avengers,' fans have been teased with the notion that Thanos is the evil mastermind behind the Marvel Cinematic Universe. While he won't serve as the main protagonist in 'Avengers 2' (instead deferring to Ultron), multiple Marvel sources have said that Thanos is a big part of next summer's 'Guardians of the Galaxy.' With that cast announced and the film wrapped, we have to wonder - who exactly is playing Thanos?
In his ever-so-brief appearance in 'Avengers,' Thanos was played by stuntman Damion Poitier and credited only as "Man #1" to protect the post-credits reveal. Poitier obviously won't be returning for the rest of the Marvel films, but to date, no actor has been revealed as playing Thanos in future Marvel movies.
I think someone on the 'Guardians of the Galaxy' panel let loose that Thanos is a part of the movie, which he is. Thanos plays a part in 'Guardians' as a mastermind. He very much exists at nearly another plane than any of the other characters. And we have big plans for him, over the course of a very long, long time.
Those plans began back in the credits of 'The Avengers' and will continue throughout both Phase 2 and Phase 3 of the Marvel Cinematic Universe. And, if he is the "big bad" as we are being led to believe (with 'Avengers 3' likely focusing on the Infinity Gauntlet), there is going to need to be an actor playing him throughout all those films. As Feige told Empire about Thanos in 'Guardians of the Galaxy':
Certainly you'll get more than the one turn-around-and-smirk. You'll get much more than that.
Two of the names most often speculated for Thanos are Benicio Del Toro and Vin Diesel. Both have signed on to star in "multiple Marvel movies" but as separate characters. Del Toro will star as The Collector, while Diesel will provide the voice and motion-capture work for Groot. But, is it possible that one of those actors will pull double duty and also voice/motion-capture Thanos?
In the initial reports, Del Toro's then-unnamed role was described as being "built to be part of future Marvel films." The Collector is a big part of 'Guardians of the Galaxy' and potentially 'The Avengers 3' if we're working toward the Infinity Gauntlet storyline, but beyond that, he doesn't figure much into other Marvel films. It certainly sounded to many at the time that Del Toro was being lined up to play Thanos.
As for Diesel, he's certainly got the vocal register and build to play the Mad Titan, but with his busy 'Fast and Furious 7' schedule, does he have the time to do both Groot and Thanos? On the other hand, Vin Diesel is an A-list actor who commands a heavy salary; why would he opt for just a smaller, supporting role (with one line) in a Marvel movie, when he could be playing the major villain behind a series of films?
Also, Diesel was uncharacteristically public with his Marvel talks considering their penchant for secrecy. Was Groot just a little nugget to throw everyone off the trail of the real news here? Consider this Diesel quote on his discussions with Marvel: "We want to focus on the 2016 but we also want to, if possible, answer this growing request for something now." Groot could very well be just "answering the growing request" for right now, while the 2016 project could be when he finally starts as Thanos.
Or, we could all be barking up the wrong tree and an unknown actor (there is no "Man #1" on the 'Guardians of the Galaxy' IMDB page yet) could perform as Thanos while letting the animators really bring Thanos to life.
Who do you wish could/would play Thanos in the Marvel movies? Leave us your suggestion below.