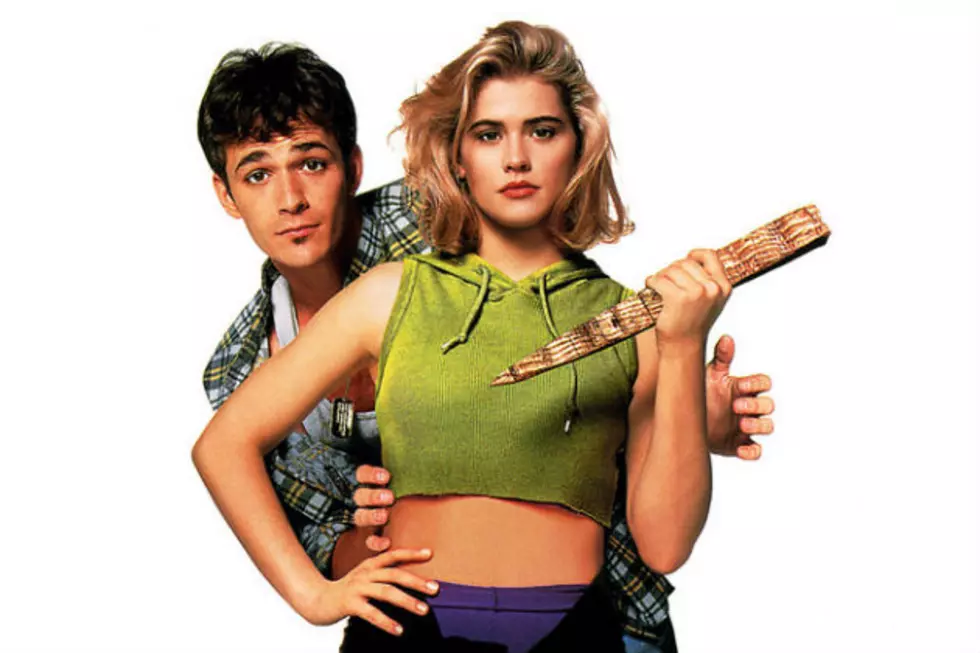 See the Cast of 'Buffy the Vampire Slayer' Then and Now
20th Century Fox
Long before Joss Whedon made the hit TV show 'Buffy the Vampire Slayer,' he wrote the film of the same name -- released in 1992, 'Buffy' follows Kristy Swanson as the titular heroine, a cheerleader who discovers that it is her destiny to hunt and kill vampires. Co-starring Luke Perry and Donald Sutherland, the film was a moderate success, though it's often forgotten in the shadow of Whedon's wildly popular TV show starring Sarah Michelle Gellar. Twenty-two years later, we take a look back at the cast of this '90s classic and see what they're up to now. 
Kristy Swanson, Buffy Summers
Then: Kristy Swanson played Buffy Summers, a shallow cheerleader who discovers she is the Chosen One, destined to hunt and kill vampires. Swanson was known for roles in 'Flowers in the Attic' (which recently got a remake on Lifetime) and 'Hot Shots!'
Now: Swanson went on to reunite with her 'Hot Shots!' co-star Charlie Sheen in 'The Chase,' and also appeared in the films 'Higher Learning,' 'The Phantom,' 'Dude, Where's My Car?' and 'Big Daddy.' She starred on the short-lived late '90s sitcom 'Early Edition,' guest starred on the shows 'CSI: Miami' and 'One Tree Hill,' and had a recurring role on 'Psych.' She's recently appeared in the TV movies 'Mom and Dad Undergrads' and 'Operation Cupcake.'
Donald Sutherland, Merrick Jamison-Smythe
Then: Donald Sutherland, star of classic horror films like 'Invasion of the Body Snatchers' and 'Don't Look Now,' played Merrick Jamison-Smythe, a "watcher," whose job it was to train Buffy and prepare her for battling vampires.
Now: Sutherland's selected filmography includes roles in the films 'Outbreak,' 'Space Cowboys,' 'The Italian Job,' 'Cold Mountain' and 'Lord of War.' He starred on the TV shows 'Commander-in-Chief' and 'Dirty Sexy Money,' and currently stars on the series 'Crossing Lines.' He also plays President Snow in the 'Hunger Games' film franchise, and will reprise his role in the upcoming 'The Hunger Games: Mockingjay - Part 1.'
Rutger Hauer, Lothos
Then: Rutger Hauer played the evil vampire king Lothos, who killed many slayers in the past. Hauer was previously known for roles in films like 'Blade Runner,' 'Ladyhawke' and 'The Hitcher.'
Now: Hauer also appeared in the films 'Confessions of a Dangerous Mind' and 'Sin City,' and in 2004 he reunited with Donald Sutherland for the TV miniseries version of Stephen King's 'Salem's Lot.' He recently appeared in the films 'Hobo with a Shotgun,' 'The Rite' and 'Dracula 3D.' In 2013, Hauer appeared in the sixth season of 'True Blood,' proving that he just can't stay away from vampires.
Paul Reubens, Amilyn
Then: Paul Reubens played Amilyn, Lothos' mischievous vampire minion and primary henchman. Reubens is, of course, better known to audiences as Pee-wee Herman, a character Reubens originated on stage and whom he had played in the films 'Pee-wee's Big Adventure,' 'Big Top Pee-wee' and the TV series 'Pee-wee's Playhouse.'
Now: Reubens also appeared in the films 'Matilda,' 'Mystery Men,' 'Blow,' 'Reno 911!: Miami' and 'Life During Wartime.' He also lent his voice talents to the 'Smurfs' films as Jokey Smurf, and to the animated shows 'Batman: The Brave and the Bold,' 'Adventure Time' and 'Tron: Uprising.' Reubens guest starred on '30 Rock' and 'Pushing Daisies,' and revived his 'Pee-wee' stage show in recent years with talk of a possible new film.
Luke Perry, Oliver Pike
Then: Luke Perry played Oliver Pike, a bad boy and former classmate of Buffy's who becomes her love interest. Perry was best known for playing Dylan McKay on 'Beverly Hills, 90210' from 1990 to 1995.
Now: Perry reprised the role of McKay on '90210' from 1998 until the show ended in 2000. His film career never quite took off, though he had roles in movies like 'The Fifth Element,' 'The Heist' and 'The Sandlot: Heading Home.' He found more success on television with a recurring role on the HBO series 'Oz' and a starring role on David Milch's HBO series 'John From Cincinnati,' the latter of which only ran for one season. He guest starred on a variety of other shows, including 'Leverage,' 'Raising Hope' and 'Community,' and recently had a recurring role on 'Body of Proof.'
Hilary Swank, Kimberly Hannah
Then: Hilary Swank made her film debut in 'Buffy the Vampire Slayer' as Kimberly Hannah, one of Buffy's airhead cheerleader friends. She previously appeared in episodes of 'Harry and the Hendersons' (the TV series based on the film of the same name) and 'Growing Pains.'
Now: Swank landed her breakout role just a couple of years later with 'The Next Karate Kid,' and in 1997 she had a role on 'Beverly Hills, 90210' (though not while Luke Perry was around). But it was her role in the 1999 film 'Boys Don't Cry' that really got people to sit up and take notice, earning Swank the Academy Award for Best Actress. Since then she's appeared in films like 'Million Dollar Baby' (earning her a second Best Actress Oscar), 'P.S. I Love You,' 'Amelia' and 'New Year's Eve.' Up next, you can see Swank in the film 'The Homesman' with Tommy Lee Jones and Meryl Streep.
David Arquette, Benny Jacks
Then: David Arquette, brother of actresses Rosanna and Patricia Arquette, was an up-and-coming actor when he played Benny Jacks, a friend of Oliver Pike's who gets turned into a vampire.
Now: Arquette went on to star in the 'Scream' series of films as Deputy Dewey Riley, and it was through those films that he met Courteney Cox, whom he married and later divorced. Arquette also appeared in the films 'Never Been Kissed,' '3000 Miles to Graceland,' 'Eight Legged Freaks' and 'Hamlet 2.' More recently he guest starred on 'Medium' with his sister Patricia, 'Cougar Town' with his now-ex Courteney Cox, and he lent his voice to the animated series 'Tron: Uprising.'
Thomas Jane, Zeph
Then: Yes, that's a young Thomas Jane as Zeph, the mechanic friend of Oliver Pike's in 'Buffy the Vampire Slayer.' The actor was going by the name Tom Jane back then and had only a couple of small acting credits to his name.
Now: Jane caught a break a few years down the line with roles in 'Face/Off' and 'Boogie Nights,' and went on to star in 'The Punisher.' He also executive produced and co-starred in the 2006 film 'The Tripper,' written and directed by his 'Buffy' co-star David Arquette and starring Arquette and Paul Reubens. Jane starred on the acclaimed HBO series 'Hung,' which ran from 2009 to 2011, and in recent years he appeared in the films 'Scott Pilgrim vs. the World,' 'I Melt With You' and 'Pawn Shop Chronicles.' You can see him next in the films 'Endangered' and 'Reach Me.'
Ben Affleck, Basketball Player #10
Then: As an up-and-coming young actor, Ben Affleck had an uncredited role as a basketball player in 'Buffy the Vampire Slayer' -- "Basketball Player #10," to be exact. He also appeared in 'School Ties' that same year and starred in 'Dazed and Confused' the following year.
Now: Five years after 'Buffy,' Affleck starred in 'Good Will Hunting' with Matt Damon, which the pair also wrote, earning them the Academy Award for Best Original Screenplay and making them the household names they are today. Affleck also appeared in films like 'Armageddon,' 'Boiler Room,' 'Pearl Harbor' and 'Hollywoodland.' These days, he's directing as well as acting, helming the films 'Gone Baby Gone,' 'The Town' and 'Argo' -- starring in the latter two and winning the Academy Award for Best Picture for 'Argo.' Up next, he'll star in David Fincher's 'Gone Girl,' direct and star in 'The Middle Man,' and play Batman/Bruce Wayne in 'Batman vs. Superman,' Zack Snyder's follow-up to 'Man of Steel.'