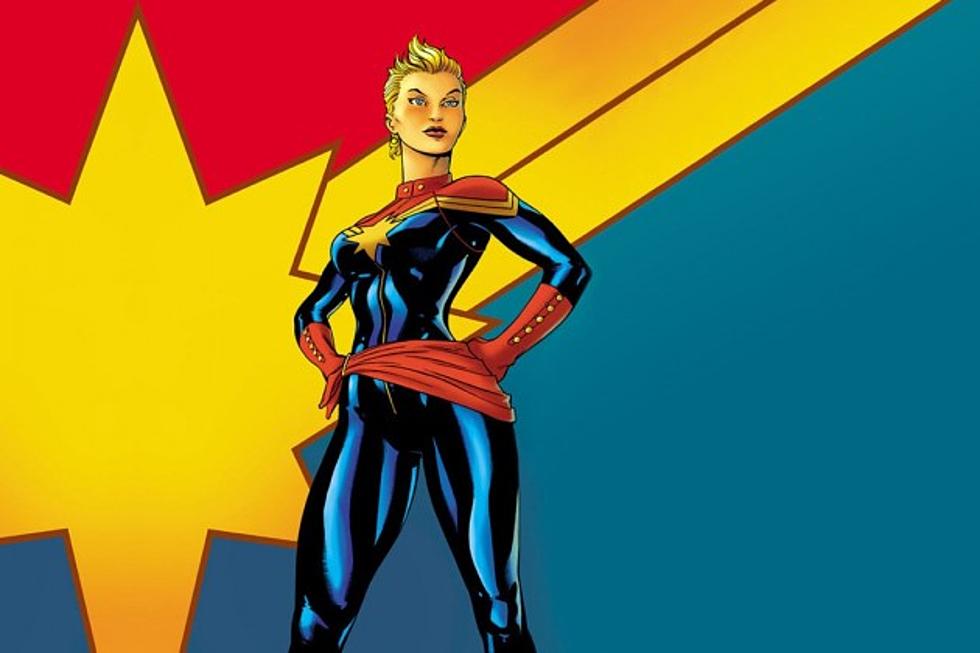 Comic Strip: Ronda Rousey Wants to Play Captain Marvel and Let's Face It, You Can't Stop Her
Marvel
ScreenCrush's Comic Strip is a weekly roundup of the hottest superhero movie / TV news items. From Marvel to DC and points in between, if it pertains to costumed comic book heroes, we're covering it here, bringing you our expert analysis. This week, check out new photos from the set of upcoming comic book movies, ponder the idea of Ronda Rousey playing a superhero, and catch up on the latest Spider-Man movie talk. 
Here Are Some New Superhero Set Photos For You to Over-Analyze
Few directors utilize social media as well as Bryan Singer, who regularly takes to Instagram and Twitter to share images and news from his movies. This means people like us are constantly writing about him and his films, trying to pick apart any potential clues or spoilers that he's hidden away in his posts.
Nothing, really. Well, nothing beyond the fact that the movie will feature a destroyed building that will require extensive visual effects and that Singer will probably populate the movie with X imagery because that's exactly the kind of thing you do when you make an X-Men movie.
If you want some set photos that you can actually speculate about just a little bit, you can head over here and check out a bunch of shots of Chris Evans and Anthony Mackie on the set of Captain America: Civil War. As you can see, both of them are out of uniform and going full casual, which means this scene presumably takes place after that big, violent, international incident that supposedly kicks off the movie. After all, you don't go around dressed like a superhero when Iron Man is trying to hunt you down.
Also, it should be noted that "casual" Evans and Mackie are about one thousand times cooler than we could ever be. Marvel Studios: casting the sexiest people in the world since 2008.
Comic Book Movie Heroines, Unite!
The short version: Bella was Gambit's first love, an assassin who wed the Cajun thief as part of an attempt to bring their warring guilds together. Naturally, things didn't go as planned. More naturally, she turned out to be a Mutant as well. The big question now is whether the movie will focus on the start of their relationship or deal with the aftermath. We'd put money on the latter, since it wouldn't be a Gambit story without a spurned former lover somewhere in the mix.
As for the actresses under consideration, they are all exceptional performers and we'd like to see any of them cast. Except that Ferguson should probably hold out for Captain Marvel because have you seen her in Rogue Nation? Dayum.
Speaking of Captain Marvel, mixed martial arts fighter Ronda Rousey participated in a recent Reddit AMA, where she revealed that she'd love to play the much-talked-about superhero. When asked which superhero she'd like to play, she responded with:
A lot of the good ones have been taken, but I'd like to vie for Miss Marvel!
She means Captain Marvel, of course. She's too busy knocking her opponents out in 34 seconds to know that the character has a new title.
This is pretty much non-news, but at least it's fun non-news. Rousey is an absolutely terrifying fighter and could easily kick the ass of every superhero movie actor in real life. So why not put her in a costume and let her kick butt on screen? She does have a burgeoning film career, after all. You may remember her tiny role in Furious 7, where she was defeated in hand-to-hand combat by Michelle Rodriguez, a scene that's actually more unrealistic than anything else in the movie.
And finally, concept artist Andy Park has revealed an early design for the Scarlet Witch in Avengers: Age of Ultron. He claims that the resemblance to Ellen Page is unintentional, but feel free to scratch your chin and go "Hmmm" anyway.
Superhero Movie Chatter
Chris Miller and Phil Lord have such a magic touch that only they could get us excited about a young Han Solo Star Wars movie. Heck, only they could get us excited about an animated Spider-Man movie that will somehow coexist alongside Tom Holland's new Spidey. These guys are the kings of taking questionable ideas and making them sing (21 Jump Street, The LEGO Movie), so when Miller tells IGN that we should get excited for the duo's take on the legendary wall-crawler, we vigorously nod. Here's the quote:
I will say, it is not just another Peter Parker origin story that you've seen 400 times. It is something totally unique and different and not like anything you've seen. That's all I can say… and you're going to love it!
And while Lord and Miller prep their Spider-Man movie for 2018, director Jon Watts is getting to work on his new live-action take on the character for 2017. Since he's been making the press rounds to promote Cop Car, he's found himself answering a bunch of Spider-Man questions. Speaking with Superhero Hype, he revealed the origins of his Spidey fandom:
I had this learn-to-draw Spider-Man comic book. There were some panels that were blank panels for you to fill in the rest of the story and then some that were just pencils for you to ink and then there were some that were already inked for you to color to decide if you want to be the penciler or the inker or the colorist or the writer. I was obsessed with this book. I would bring it to school every day until I had slowly filled up and colored every panel and then after that, it was the Todd McFarlane era, his run which was so cool. That's when I was really into comics, but now it's just been really great to hang out in an office and read comics all day, catching up on everything that I've missed.
From the safe, known land of Spider-Man, let us journey across dimensions to Doctor Strange. Specifically, let's take a look at this quote from the film's cinematographer, Ben Davis, who says what everyone has been saying about Marvel Studios' upcoming take on the Sorcerer Supreme — it's gonna get weird:
Most of the work within it is about other dimensions. And I described it, I think, when I was talking to Marvel as 'Marvel's Fantasia' in a way, because it's so sort of out there and different to everything else that they've done… There's a lot of previsualisation, and there's a lot of work which is very hard – you look at it and you see the imagery that they've created for it and you think, 'well how the hell do we shoot that!?' because it's all sort of [M.C.] Escher stuff.
Since any Doctor Strange story that doesn't involve the master of mysticism traversing impossible landscapes isn't a proper Doctor Strange story, file this under "things that have been said that don't make us worried about this movie."