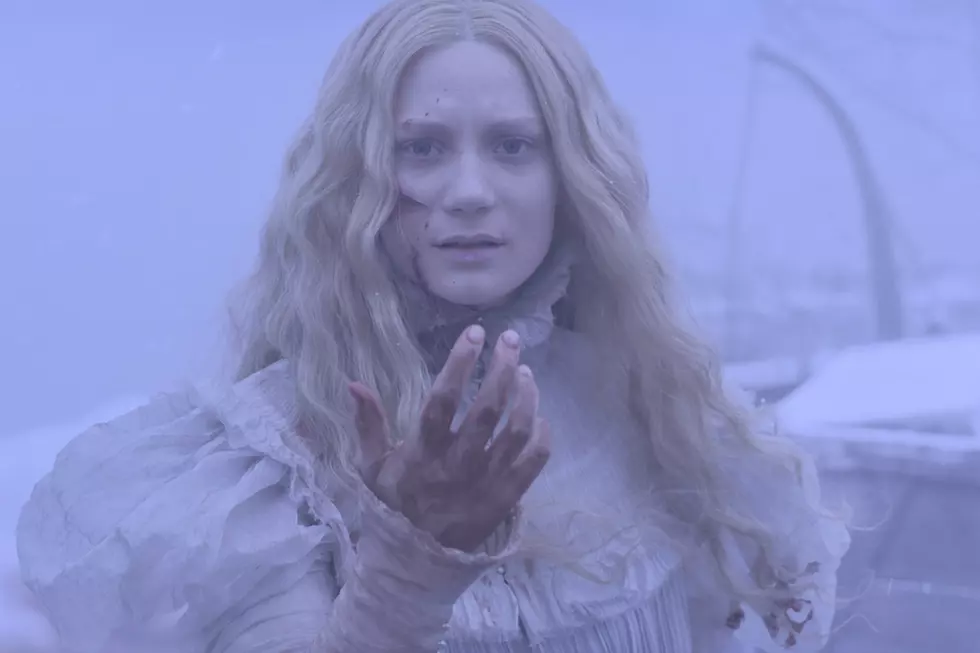 'Crimson Peak' Trailer: Guillermo del Toro Made the Haunted House Epic You've Always Wanted
Universal
The first Crimson Peak trailer is here and it showcases a side of director Guillermo del Toro that we haven't seen in far too long. Before Pacific Rim and Hellboy and even the dark fantasy of Pan's Labyrinth, he made horror movies. Now, del Toro has returned to the genre where he made his name and the first footage from the resulting film looks as gorgeous and creepy as you'd imagine.
The trailer is light on plot, but heavy on atmosphere. Here's what we do know: Mia Wasikowska's Edith is swept off her feet by Sir Thomas Sharpe (Tom Hiddleston), who takes her back to his family's estate. But Edith soon finds plenty of problems beyond the presence of Thomas' creepy sister, Lucille (Jessica Chastain). Crimson Peak is the kind of house where things go bump in the night ... and then try to kill you.
Del Toro famously couldn't get his adaptation of At the Mountains of Madness made because studios balked at financing a massively expensive, epic horror movie. So he seems to have responded by making a different, massively expensive epic horror movie. This is a genre that has spent the past decade living in a land of low budgets and lower expectations. To see a filmmaker as talented and distinguished as del Toro make a horror movie that looks this lavish is a real treat. The last time we got a haunted house movie with this kind of pedigree may have been Stanley Kubrick's The Shining. Hey, no pressure Guillermo.
There is plenty to love in this trailer. The cast of terrific actors. The unsettling tone. The romantic (in the traditional sense of the word) atmosphere. That gothic set design. That creepy cover of "Red Right Hand." The trailer talks a big game by calling this del Toro's "ultimate masterpiece," but there's nothing here to suggest that he won't deliver the goods. If Crimson Peak is half as good as del Toro's The Devil's Backbone, it will still be a major horror event. Here's the official synopsis:
In the aftermath of a family tragedy, an aspiring author is torn between love for her childhood friend and the temptation of a mysterious outsider. Trying to escape the ghosts of her past, she is swept away to a house that breathes, bleeds ... and remembers.
'Crimson Peak' opens on October 16, 2015. Now you all officially have Halloween plans. Until then, here's the official poster, and a few images from the film: