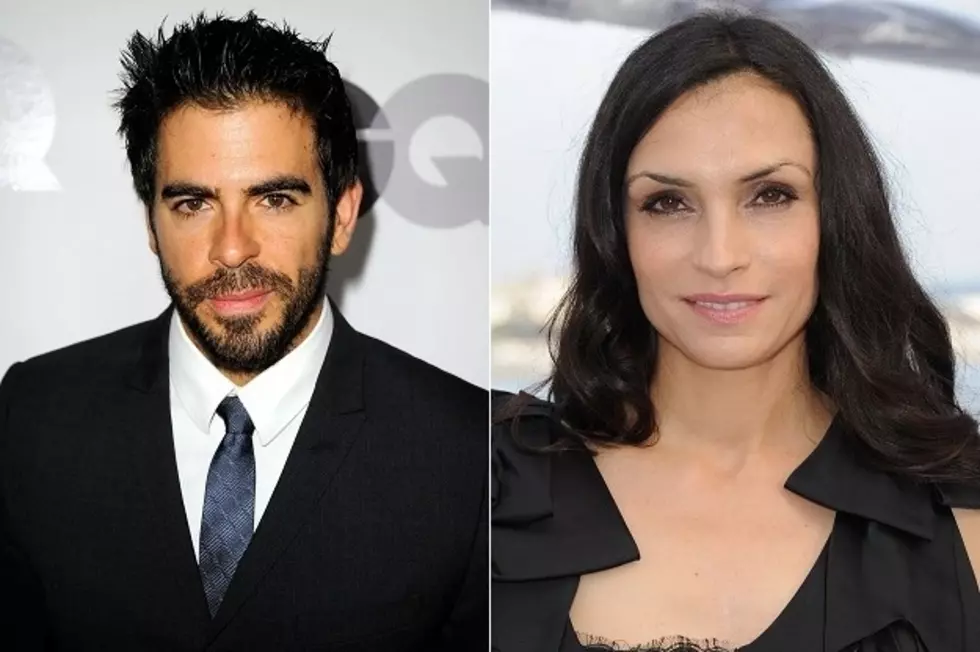 Eli Roth Picks Famke Janssen for Netflix Horror Series 'Hemlock Grove'
Frazer Harrison, Getty Images / Michael Buckner, Getty Images
With Netflix slowly, but steadily marking their evolution into original programming, the video streaming service has just recruited some serious horror talent for their forthcoming 2013 series 'Hemlock Grove.'  Not only will master of horror Eli Roth take the reigns of the series in his first TV effort, but the series will boast plenty of star power as well.
Deadline TV announced that 'Hemlock Grove' has recruited 'X-Men' and 'Taken' star Famke Janssen to take a lead role in the Eli Roth series, alongside relative Swedish newcomer Bill Skarsgard.  'Hemlock Grove marks the first foray for Roth into serialized drama, and the most recent addition to Netflix's growing lineup of original programming, such as the recent Steve Van Zandt-headlined 'Lilyhammer'.
Based on the original novel by Brian McReedy. 'Hemlock Grove' follows the murder of a young Pennsylvania girl near the former Godfrey steel mill. Suspected is an escapee from the "White Tower," a biotech facility owned by the former steel magnates, while others believe the killer to be Peter, a teenage Gypsy boy from the wrong side of the tracks, who freakishly tells his classmates he's a werewolf. Other suspects include Roman (Skarsgard), the arrogant Godfrey scion, whose sister Shelley is disturbingly deformed and whose mother, Olivia (Janssen), the otherworldly beautiful and controlling grand dame of Hemlock Grove.
Says the report, "As the crime goes unsolved and outlandish rumors mount, Peter and Roman decide to find the killer themselves, confronting unspeakable truths about themselves and Hemlock Grove as the mystery unfolds."  Eli Roth had his own virtues to extoll of the project, saying "I've been waiting for years to dive into television, and Eric Newman and I founded Arcade to do elevated genre projects exactly like 'Hemlock Grove'. Brian McGreevy's novel blew me away, and the material lends itself perfectly to long format storytelling. 'Hemlock Grove' is smart, dark, complex, and at times terrifying."
Roth also pointed out the growing brand of Netflix and its foray into original programming, "What's most exciting to me is creating the series for Netflix, which as a feature filmmaker is like telling a story in a new medium. Netflix as a platform is the perfect hybrid of cinema, television, and social networking, with the creative freedom to go as dark as the story needs."
'Hemlock Grove' will shoot for 13 episodes, and make its debut on Netflix Instant sometime in 2013.  Someone say lucky numbers, anyone?  What say you?  Are you excited for Eli Roth to get into serialized horror, with Famke at the center?  Let us know if you'll watch in the comments below!