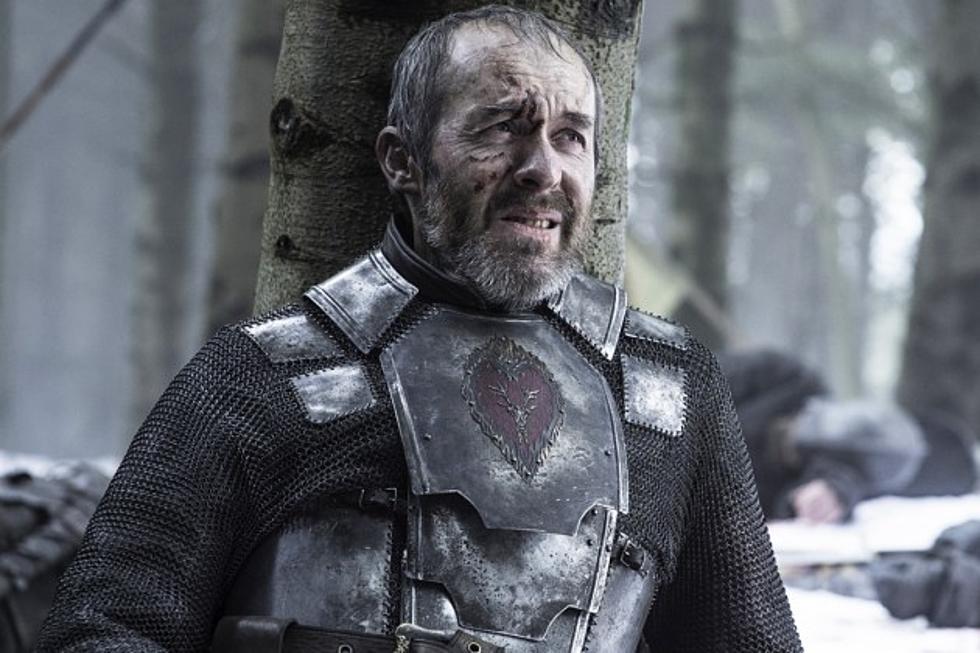 'Game of Thrones' Confirms Season 5 Character Really, Most Sincerely Dead
HBO
Death for Game of Thrones can prove something of a guessing game, each season resurrecting or returning one character after another. Season 5 in particular kept people out in the snow on several major figures, but at least one character we can count as truly, sincerely no more. So sayeth the word of an official book.
You're warned of full Game of Thrones Season 5 spoilers from here on out, but for those clinging to shreds of hope that "Mother's Mercy" deliberately cut away from Brienne's slice into Stannis Baratheon's neck for a reason, your hope is officially lost. Vanity Fair uncovered a passage from HBO's official Game of Thrones: The Noble House of Westeros Seasons 1-5, which rather wryly confirms Stannis' death at the tail end of a character synopsis:
Stannis was killed outside of Winterfell by Brienne of Tarth, who wished to avenge Renly's death.
Were that not enough, the section on Brienne also reads "Knowing that Stannis was responsible for the death of his brother Renly, whom she served and loved, Brienne killed Stannis." Pretty cut and dry, and validated by HBO to boot. It also follows director David Nutter's prior statement on the decision to cut away, "It would have been gratuitous. You really got a sense that Stannis had nothing else to live for. Brienne's lifelong mission had come to an end. It's a situation in which Stannis was ready to die and prepared to die."
Of course, George R.R. Martin hadn't helped matters by wading into the discussion, previously confirming that whatever the case with HBO, Stannis remained alive as of his books. Still, with everything HBO intends to wrap up over the next season or two, one imagines walking back Stannis' death would only add to the overcrowding.
Well, are we ready to move on, now that Stannis' blood has officially stained the snow? Will Game of Thrones Season 6 turn all our speculation moot regardless?