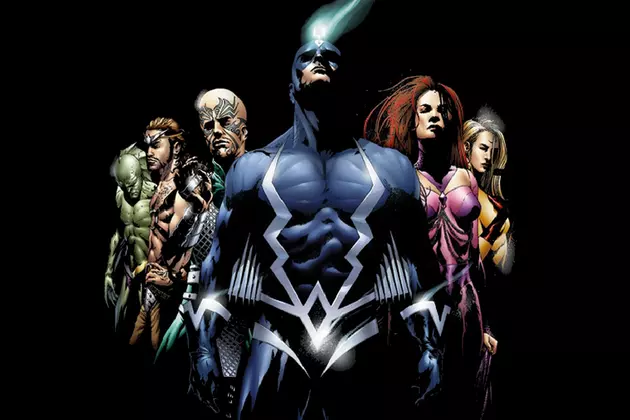 Marvel Officially Pulls 'Inhumans' From Their Phase 3 Schedule
Marvel
Last week, when Marvel's Kevin Feige revealed that Inhumans would be delayed (again) in order to avoid conflict with Disney's release of Indiana Jones 5, it was sort of assumed that the film would probably disappear from Phase 3 altogether. That assumption has proven correct, as the studio has officially removed Inhumans from their 2019 schedule entirely, leaving us with a couple of questions about what Marvel will do next.
Per an official release sent out late yesterday, Marvel has completely removed Inhumans from their 2019 schedule following previous delays and recent comments from Feige regarding the film's future in the MCU. The Inhumans movie was first announced at a Marvel event back in 2014 and subsequently delayed from its initial 2018 date to June 12, 2019. When Disney confirmed plans to release Indiana Jones 5 on June 19, 2019, Feige told Collider:
Since we made our initial phase three announcement, we added Spider-Man, which was a big joyous coup for us. We added Ant-Man and the Wasp, which was a big fun continuation of that story for us. Walt Disney Company has announced an Indiana Jones film for right around that same time. So I think it will shuffle off the current date that it's on right now. How far down it shuffles, I'm not sure yet.
And now the film has been wiped off the schedule. Inhumans was intended to serve as the Phase 3 finale, arriving after Avengers: Infinity War Part 2, which hits theaters on May 3, 2019. It's unclear if Marvel will now use Infinity War to cap off Phase 3, or if they'll rearrange their schedule a bit and possibly replace Inhumans with another project.
The removal of Inhumans is hardly surprising, as there have been rumors since last year that the introduction of the superhuman element on Agents of S.H.I.E.L.D. may have interfered with the MCU's plans for the characters — particularly since the Inhumans are kind of a big deal on the ABC series. Feige himself denied those rumors, explaining that Marvel was simply trying to find the right time for the film on their schedule.