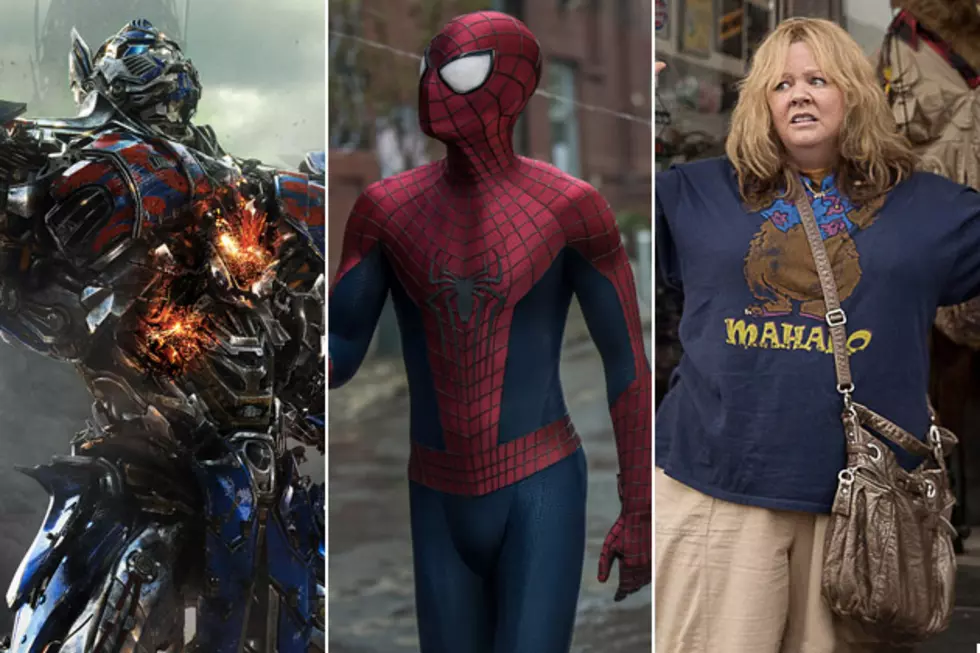 What This Summer's Blockbusters Got Wrong (And Right)
Paramount Pictures/Sony Pictuers/Warner Bros.
As yet another star-studded and box office-busting summer moviegoing season ends this weekend, it's the perfect time to look back at the months that gave us enough entertainment to pad our culture-consuming bellies until it's time for the Oscar contenders to bulk us back up. As ever, this summer saw the release of plenty of films that were all too happy to blow things up, to stick to the status quo, and to put a premium on things that look cool.
Sounds familiar, right? Sounds kind of tired, too? Maybe filled with the kind of mistakes and complaints that round out every summer blockbuster season? Sure, but look a little closer, the truth might change your mind about what this season really looked like. So what did this summer's biggest and baddest blockbusters get wrong? Well, a lot, but for every misstep, there was also a move in the right direction. Take a look:
Point #1: Badass Anti-Heroes Riding Other Badass Things Looks Really Cool
The summer of 2014 probably won't be remembered as "the summer where things rode other things into battle," but it should be, because it happened with startling regularity throughout the season. In May, a tree rode a pig during an early battle in 'Maleficent.' By June, we had graduated to transforming alien robot vehicles saddling up transforming alien robot dinosaurs for 'Transformers: Age of Extinction.' Things ratcheted down (just a touch) in July, when a genetically modified and politically minded ape rode a giant horse into an armed battle with a limited (and horseless) human contingent in 'Dawn of the Planet of the Apes.' Did it look cool? Well, cool enough that both 'Transformers' and 'DOTPOTA' felt the need to include such imagery on their posters – even though it made both of them look like weirdly similar features.
Counterpoint: But It's Kind of Stupid Unless It's Actually Necessary
On one hand, is it ever necessary for a genetically modified raccoon to ride his best tree friend into battle? No, but at least that particular team-up (from this week's new opener, 'Guardians of the Galaxy') made a bit of sense, whereas apes on horses is just madness (madness!) and the Transformers-on-Transformers action of the latest Michael Bay opus seems like an excuse to crunch more metal. If we're going to throw a main character on to the back of a big, cool beasty, can't it actually be in service to plot? Yes, exactly like 'How to Train Your Dragon 2.' That one gets a pass.
Point #2: Female Characters Are Again Relegated to the Background
Both 'Transformers: Age of Extinction' and 'Dawn of the Planet of the Apes' might have made room for awe-inspiring things-on-things riding fun, but neither film seemed too interested in developing actual female characters. Keri Russell and Nicola Peltz both seemed primed to bust out of their boxes in two of summer's biggest films, but their characters were shoved to the side early and often. Pop quiz: do you even remember their character names?
Counterpoint: Unless You're Looking Beyond the Explosion-Heavy Fray
But if you're willing to look past all the films that go kablooey, the summer offered up a bevy of features that put women front and center, from 'Tammy' to 'Lucy' to 'Obvious Child,' there were a number to pick from, with plenty of genre variation to keep things mixed up.
Point #3: Blockbuster Biopics Are Bad
The summer season saw the release of two big-time biopics: Clint Eastwood's 'Jersey Boys,' a spin on Frank Valli and the Four Seasons' rise to fame, and Tate Taylor's James Brown-centric 'Get on Up.' Both biopics boasted danceable jams and a smattering of superb performances, but failed to deliver overall solid gold material.
Counterpoint: So Start Looking for Small Films
But the past few months have also seen the release of a pair of smaller, more straightforward biopics that have the ability to charm crowds, even the kind that don't walk into theater with a preexisting association with or affection for their subjects. Both Jalil Lespert's 'Yves Saint Laurent' and Mike Myers' 'Supermensch: The Legend of Shep Gordon' might chronicle names that are only well-known in smaller circles, but each films presents a compelling and fully fleshed out portrait of an interesting character who deserved their cinematic treatments.
Point #4: Everything Is a Sequel
Yes, this summer was packed with sequels (and prequels and reboots), the bread and butter of the box office's hottest months (both literally and financially). Just a quick glance at some of the top earners presents a landscape filled with second, third, even fourth takes on existing material: 'Transformers: Age of Extinction,' 'X-Men: Days of Future Past,' 'The Amazing Spider-Man 2,' '22 Jump Street,' 'Dawn of the Planet of the Apes,' 'How to Train Your Dragon 2,' 'Think Like a Man Too,' and 'The Purge: Anarchy.' Is everything just more of the same?
Counterpoint: No, Not Everything Is a Sequel
Not to worry, the box office offered plenty of new alternatives for moviegoers burnt out on been-there-done-that fare. From 'Snowpiercer' to 'Obvious Child,' 'Edge of Tomorrow' to 'Lucy,' 'Neighbors' to 'Chef,' if you wanted to see something fresh, the summer of 2014 had a surprising amount of stuff to serve up.
Point #5: These Titles Are Too Long
'Dawn of the Planet of the Apes.' 'X-Men: Days of Future Past.' 'How to Train Your Dragon 2.' 'A Million Ways to Die in the West.' 'Legend of Oz: Dorothy's Return.'
Counterpoint: Only If You're Not Looking At the Short Ones
'Lucy.' 'Tammy.' 'Neighbors.' 'Blended.' 'Belle.' 'Ida.' 'Chef.'
Point #6: Comedies Weren't Funny
In between all those "things go boom" blockbusters, the season offered up a number of comedies that, well, just weren't very funny. Advertised as a laugher, the Melissa McCarthy-starring 'Tammy' took a dark turn early on, while Drew Barrymore and Adam Sandler's much heralded reunion, 'Blended,' didn't offer anything new to round out their decade-spanning oeuvre. Will we ever be able to laugh again?
Counterpoint: Wait, Did You Forget About What Happened Earlier This Summer?
May we direct you to both 'Neighbors' and '22 Jump Street,' a pair of genuinely amusing comedies that hit the summer box office a bit on early side (in May and June, respectively)? Mirth isn't dead, but it's not hitting us as quickly or frequently as it used to.
Point #7: The Monsters Are Stealing the Human Emotion
Godzilla, star of 'Godzilla,' may just be the summer's most relatable anti-hero – he likes swimming! and snacks! and naps! – but all that adorable characterization came at the expense of the film's human stars, two of which were killed off early and two of which didn't do much to appear as compelling and well-rounded humans. Over in 'Transformers' town, the most notable characteristics of the non-alien stars skewed towards the strange and gross, from an interest in underage sex to a desire to invent things. Who were these people? Why were the monsters so much more compelling?
Counterpoint: Not Every Monster Film Sacrifices Its Humans
Just in the nick of time, Matt Reeves' 'Dawn of the Planet of the Apes' pulled an admirable bait and switch. Trailers and commercials for the sequel indicated that we'd witness a world – and a human population – gone mad, utterly bent on destruction, with only Jason Clarke's Malcolm holding tight to both human emotion and human reason. The final film was a shock and a treat, as its cast – both human and ape – displayed relatable emotion and reason. We're all monsters, but we're also all humans (well, kind of).