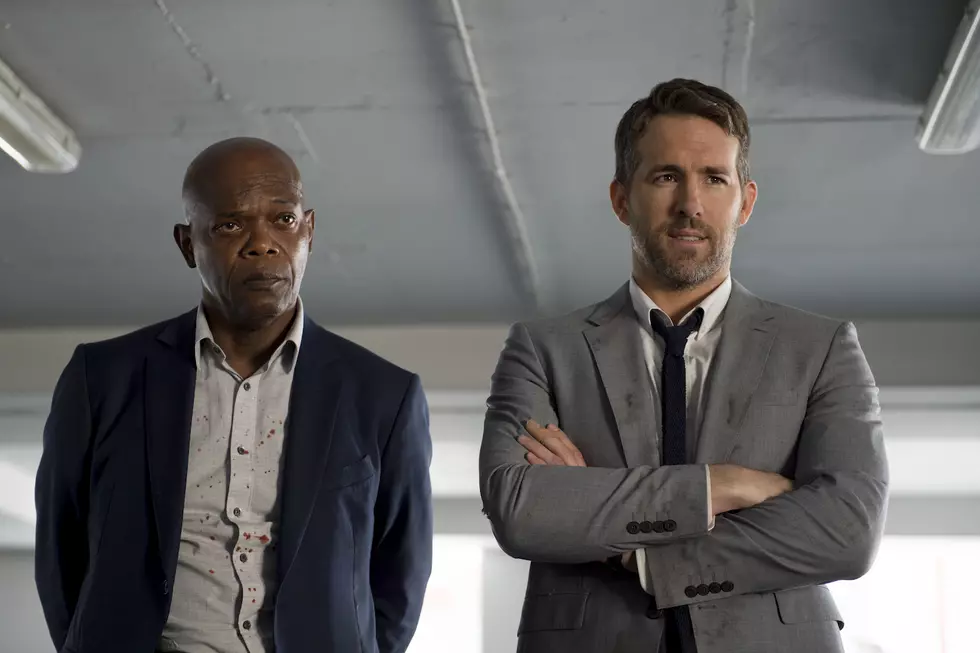 'The Hitman's Bodyguard' Review: A Welcome Throwback to the Glory Days of Buddy Action
Summit
The Hitman's Bodyguard is not the best movie of the summer, but it is easily its most pleasant surprise. An unapologetically violent and vulgar buddy action comedy, it updates the template set forth by Lethal Weapon and particularly Midnight Run for a new era. If that sounds like your cup of tea, The Hitman's Bodyguard will go down like the most refreshing sip of chamomile you've ever tasted. If it doesn't sound like your cup of tea, well, there's always The Nut Job 2.
The title begs an immediate question: Why would a hitman need a bodyguard? The film offers two reasons: First, this hitman, Darius Kincaid (Samuel L. Jackson), is the only man alive who can provide irrefutable evidence against a Belarusian dictator at the International Criminal Court in the Hague. This tyrant has a habit of murdering every possible witness against him; even with his formidable skills, Darius could use some help staying alive as he makes his way from London to the Netherlands. Second, it ain't much of a buddy action comedy without two dudes.
Enter Michael Bryce (Ryan Reynolds), a disgraced security guard whose career fell apart after the death of one of his clients. The Interpol agent (Daredevil's Elodie Yung) assigned to deliver Darius to the Hague realizes her unit is compromised, and cajoles Michael — who also happens to be her ex — to ferry him to this all-important trial. But Darius and Michael have history too; their paths have crossed numerous times in the past when the hitman has tried to kill the bodyguard's clients. The first time they meet face-to-face in the movie they try to kill one another. These guys hate each other so much they make oil and water look like balsamic vinaigrette.
It's an ideal macho rivalry for this sort of movie, and Jackson and Reynolds are ideal actors to play that dynamic. Jackson, in full Bad Mother F—er mode, looks particularly enthused by his role, which gives him license to kill, strut, preen, and pose, not to mention reassert his position as cinema's foremost poet of the profane. Nobody says the words s— or f— with the gusto or frequency of Sam Jackson — except perhaps Salma Hayek, brilliantly cast here as Darius' long-suffering wife. Anyone who sees this film will remember the scene where the two of them fall in love in the middle of a bar fight to the sounds of Lionel Richie's "Hello" for a very long time.
The screenplay by Tom O'Connor features admirably eclectic touches like that one, which could explain how they recruited an overqualified cast that also includes Richard E. Grant, Joaquim de Almeida, and Gary Oldman as the Gary Oldmanesque, heavily accented, prosthetically makeup-ed Eastern European bad guy. Director Patrick Hughes (who has stepped up his game significantly since the disappointing Expendables 3) understands the arc of this kind of film perfectly, with the two mismatched partners trading insults (and even an occasional Ace of Base song), before slowly shifting to begrudging admiration, followed by a climactic miscommunication and then the final bro-it-out hugs. The plentiful action sequences are interspersed with long dialogue scenes and flashbacks that reveal the characters' backstories and complicate their motivations. Darius isn't as bad as he seems, and Michael isn't as much of a hero as he might appear.
To be sure, this stuff ain't new. These kinds of movies were once as ubiquitous as salt and pepper shakers in restaurants, but they've mostly been crowded out of the marketplace by superheroes and toy adaptations. The only thing that makes it clear The Hitman's Bodyguard isn't some lost relic of the late '80s discovered in a dusty film vault are a couple very dodgy green screen effects and the total lack of gratuitous female nudity. Otherwise, this is a welcome throwback to an earlier, grungier era of shoot-'em-ups. It's not fancy or innovative, but it works well on its own terms.
Plus you get to hear Samuel L. Jackson cackle, curse like a sailor, and deliver perhaps the single greatest line in the history of his long career. After Michael agrees to protect Darius, he insists he must go through every door first to make sure the coast is clear. "My job," he tells his client, "is to keep you out of harm's way." "Motherf—er," Jackson replies, "I am harm's way." No man has ever believed in the words he was speaking more than Sam Jackson does in this moment. And his obvious joy is infectious.
-Patrick Hughes still likes shaky, close-up action scenes way more than I do, but there is one long sequence that works well; a boat-and-car chase through Amsterdam that also includes a simultaneous long fight in a kitchen and a hardware store. They throw construction tools!
-The Hitman's Bodyguard contains the funniest example of the clichéd guns-through-the-metal-detector joke since The Matrix.