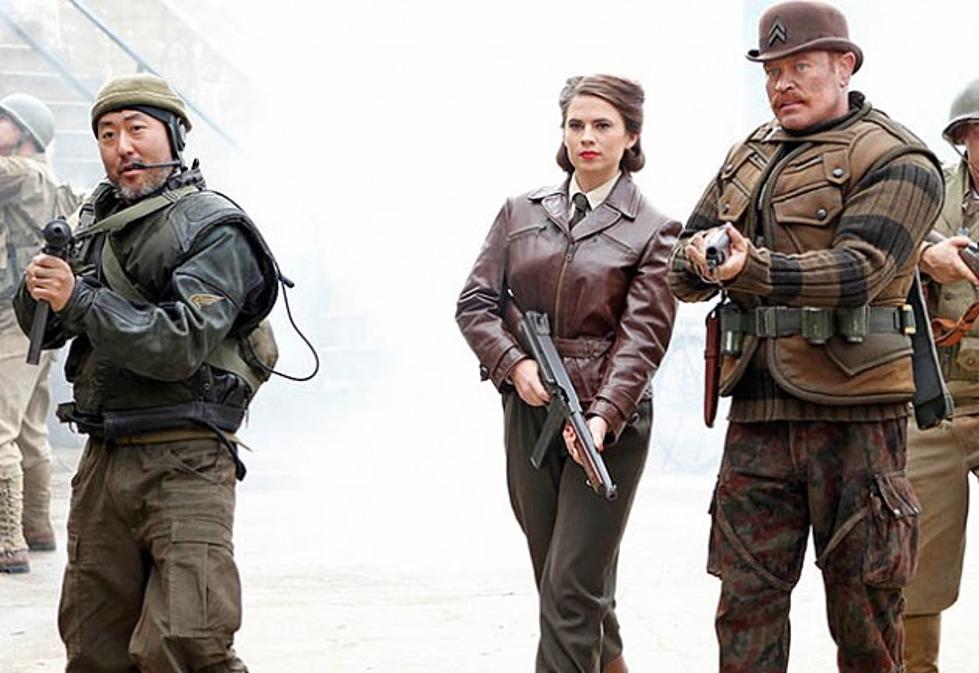 'Agents of S.H.I.E.L.D.' Season 2 Premiere: First Look at Hayley Atwell's 'Agent Carter' Return, Plus Howling Commandos!
ABC / Marvel
Marvel fans were ecstatic to learn that 'Agents of S.H.I.E.L.D.' season 2 would premiere with a return appearance by Hayley Atwell's 'Agent Carter,' but the question remained what time period we'd see Peggy in. Now, the latest photo from September 23 premiere "Shadows" has answered that question with a resounding howl, placing Neal McDonough's Dum Dum Dugan and Kenneth Choi's Jim Morita back in Howling Commando action as well!
TVGuide debuted the latest photo from the premiere, which seemingly suggests that Coulson will dip into a bit of Peggy Carter's history in setting up his new S.H.I.E.L.D. operation, though it remains to be seen if either 'Captain America' stars Choi or McDonough will reprise their Howling Commando roles for 'Agent Carter.' McDonough at least put in a cameo with the 'Agent Carter' one-shot, alongside Dominic Cooper's Howard Stark, who himself remains rumored for a role in the new ABC series.
Says showrunner Jed Whedon of Atwell's return to Peggy for the 'Agents of S.H.I.E.L.D.' season 2 premiere:
Coulson is a big student of history and wants to return to those old ideals of Agent Carter's time. He's, like, 'Let's be the S.H.I.E.L.D. we were meant to be!' He wants to do the job right this time.
Curiously, neither Choi nor McDonough were listed in the "Shadows" press release that revealed Atwell's 'Agent Carter' appearance:
Coulson and his team are now wanted fugitives with limited resources--but that's not stopping them from keeping the world safe from powerful and unseen threats everywhere. However, with new members they hardly know, will S.H.I.E.L.D. ever be trusted again?

Guest starring are B.J. Britt as Agent Antoine Triplett, Nick Blood as Agent Lance Hunter, Adrian Pasdar as Brigadier General Glenn Talbot, Henry Simmons as Alphonso "Mack" Mackenzie, Patton Oswalt as Agent Billy Koenig, Lucy Lawless as Isabelle "Izzy" Hartley, Wilmer Calderon as Idaho, Reed Diamond as Daniel Whitehall, Hayley Atwell as Peggy Carter, Brian Patrick Wade as Carl Creel, Matthew Glave as Roger Browning, Simon Kassianides as Sunil Bakshi, George Stephanopoulos as self, Raquel Gardner as Carla Talbot, Ben Turner Nixon as Hydra Officer, Franco Vega as Military Leader, Rich Ceraulo as Soldier #1, and JB Tadena as Private Tilden.
Excited though we were to have Hayley Atwell in the mix, bringing back Cap's other Howling Commandos has us doubly anticipating a strong start to Marvel's 'Avengers'-adjacent series in 2014! See the full photo and watch the latest trailer below, then tell us what you want to see when Marvel's 'Agents of S.H.I.E.L.D.' returns for a second season on September 23!