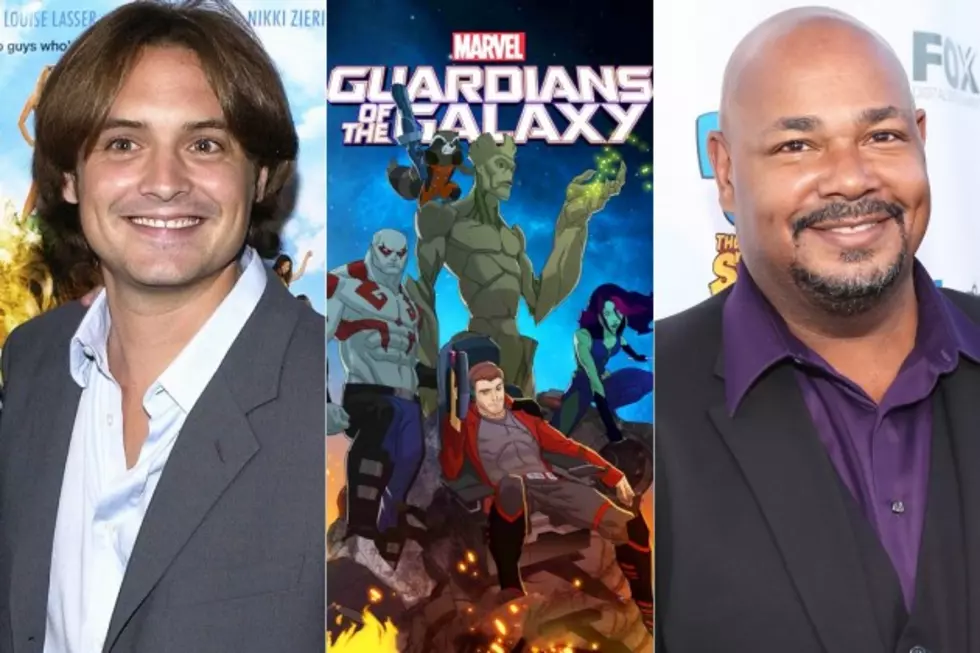 'Guardians of the Galaxy' Animated Series Casts The Full Team – UPDATE
Marvel / Disney XD / Vince Bucci - Jesse Grant, Getty Images
UPDATE 2/19: Voice actor David Sobolov has been cast in the role of Drax, while Star Wars Rebels voice Vanessa Taylor will play Gamora. Both announcements have been added below, while James Arnold Taylor has also been announced to play both Yondu and Cosmo, the astronaut pooch glimpsed in the film.
The breakout success of Marvel's Guardians of the Galaxy all-but assured that the revitalized franchise would next appear in animated form, something Disney XD confirmed at New York Comic-Con. Now, our future Star-Lord, Rocket Raccoon and Groot have arrived, recruiting Boy Meets World alum Will Friedle and more!
As revealed over Disney's official Twitter account, Batman Beyond and ThunderCats voiceover vet Friedle will pipe up as our new Peter Quill, a fitting replacement for Chris Pratt while we wait for Guardians of the Galaxy 2 in 2017. Additionally, The Cleveland Show star Kevin Michael Richardson will make his money repeating "I Am Groot," and Trevor Devall will play Rocket Raccoon, picking up after Bradley Cooper.
No word yet on Drax or Gamora, but announcements might arrive as early as today or tomorrow. The series itself has been booked for a 2016 debut, while it remains unknown if these Guardians of the Galaxy will have any tie-in to the current crop of animated Marvel series, which already included an incarnation of the team not based on the blockbuster movie aesthetic. Friedle even voiced Deadpool during the character's Ultimate Spider-Man, also keeping a Disney connection in reprising his Eric Matthews role for Girl Meets World.
We've included the the original Guardians of the Galaxy animated test footage from NYCC below, as well as the announcements, but who else might join the cast of Marvel's next major cartoon?