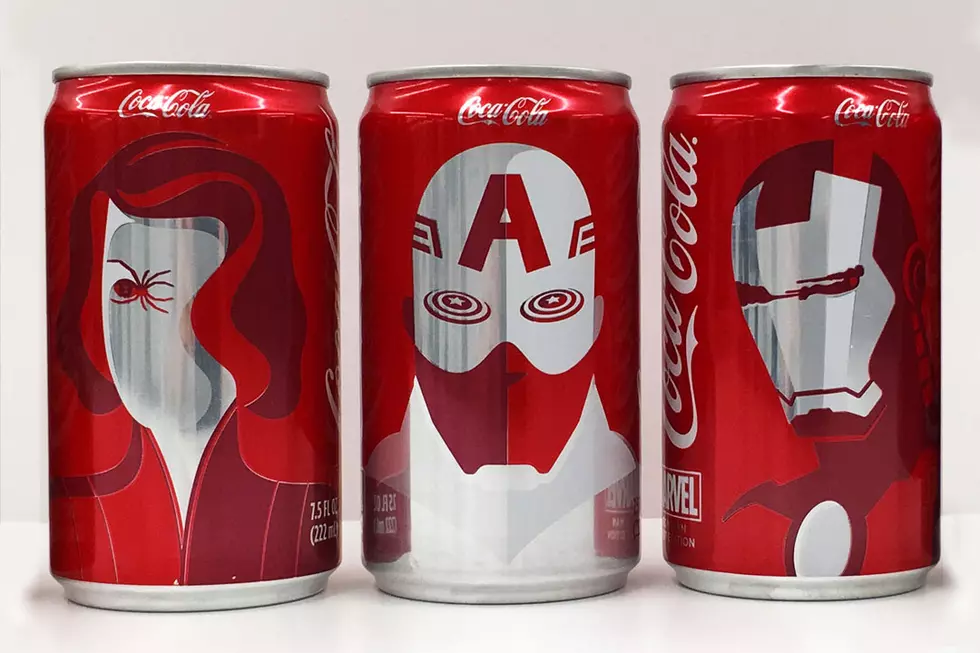 Marvel Teaming Up With Coke For 60-Second Super Bowl Commercial
Coke
This morning we received a mysterious package. One the outside of the all red box were the distinctive logos for both Coca-Cola and Marvel. Inside were six mini-cans of Coke, each with one of the members of The Avengers on the can, along with a note that read the following:
For those who weren't paying attention, the date listed on the card is the date of this Sunday's Super Bowl. Beyond that it was obviously very cryptic. What does it all mean? Is Coke sponsoring the reveal of the Captain America: Civil War trailer during the Super Bowl? Why would Disney and Marvel need to team up with Coke? So far the official Coke Twitter page has not updated with any relevant information.
Since then we've done some digging and it turns out Coke and Marvel are teaming up for a 60-second Super Bowl commercial that will air during the second quarter of this Sunday's game. It will not appear online prior to the Super Bowl, so the first time you see it will be during the game itself. But, is it actually a new trailer?
No. Ad Age is reporting that the Coke/Marvel Super Bowl commercial was put together by famed ad agency Wieden+Kennedy, perhaps best known for some of their Nike spots. Marvel wouldn't need an ad agency's help cutting together a trailer; they've got agencies specifically for that task in Los Angeles. Also, one of the cans used to promote the Super Bowl commercial features The Hulk, who we all know is not in Captain America: Civil War.
It seems as if this may be more of a partnership between the two brands, where some Marvel characters show up to promote their favorite soda. There may be some footage from existing Marvel movies, but don't expect this spot to be the full trailer from the film.
But, now some good news: We have confirmed there will be a new Captain America: Civil War trailer during the Super Bowl, perhaps more specifically before the Super Bowl. Make sure you've got your butt in front of the TV right before kickoff to get your first look at the new footage.
As far as the Coke/Marvel Super Bowl commercial, as soon as it airs during the game, we'll make sure to have it right here, so you won't have to wait long to find out what exactly that is.