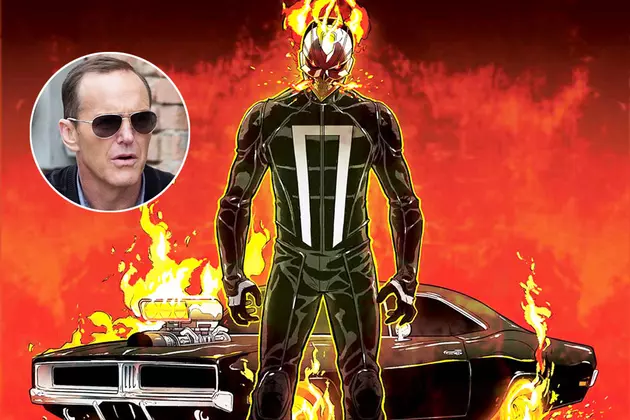 First 'Agents of S.H.I.E.L.D.' Ghost Rider Photo Is Neither Ghost, Nor Riding
Marvel / ABC
Marvel's Agents of S.H.I.E.L.D. has typically stuck with pared-down versions of its most outlandish comic characters, something the upcoming inclusion of Gabriel Luna's Ghost Rider has built-in. As such, our first look at the new spirit of vengeance is neither spirit, nor vengeance-seeking, but sure looks like Gabriel Luna!
Entertainment Weekly shared the first official photo of Luna in character as Marvel NOW! Ghost Rider Robbie Reyes, adorned in the distinctive leather jacket of his comic likeness. The burnt-out engine work behind him is a nice touch, considering we're likely looking at the character pre-transformation.
"Marvel's Agents of S.H.I.E.L.D." returns with a vengeance for the fourth exciting season in an all new time period, Tuesday at 10:00 p.m. ET. In the aftermath of their journey to another planet, Director Phil Coulson (Clark Gregg) and the rest of the team were driven more than ever to put an end to the Hydra organization. Little did they know that they were up against the deadliest threat they've ever faced – an extremely powerful Inhuman, Hive, who was transported back from Maveth in the body of their worst enemy, Grant Ward. The team was able to thwart and kill Hive and take down Hydra, but they are all still mourning the death of fellow agent and Inhuman, Lincoln Campbell.

In light of the Sokovia Accords, and with Hydra obliterated, S.H.I.E.L.D. has been legitimatized again and no longer needs to operate in the shadows. Since the world presumes that Coulson is dead, the organization needed a new Director (Jason O'Mara) to be the face of the organization. Coulson finds himself back in the role as an agent and teamed with Mack (Henry Simmons), and together they are tasked with tracking down and confirming the presence of Enhanced people, aka Inhumans. They have been trying to track down and capture Daisy (Chloe Bennet), aka Quake, who has gone rogue in an attempt to atone for sins from the past. But with the world believing that Daisy is a dangerous outlaw who has taken down banks and bridges, the new Director has no qualms about taking her down for good. Agent May (Ming-Na Wen) is tasked with training specialist strike teams, and Fitz (Iain De Caestecker) and Simmons (Elizabeth Henstridge) have taken a big step forward in their relationship. But with Simmons' new promotion as Special Advisor to the Director in Science and Technology, Fitz, as well as her former team members, finds it hard to confide in or trust her since she's now the Director's confidant.

Robbie Reyes (Gabriel Luna) will roar into the lives of Agent Coulson and the team as a junkyard mechanic who can turn on a dime into the terrifying Ghost Rider. Will Robbie be a friend or foe to S.H.I.E.L.D. – as well as the world, itself? Meanwhile, Fitz discovers that socially awkward genius and friend Dr. Radcliffe (John Hannah) has started putting the finishing touches on a new, secret invention.
Check Out 100 TV Facts You May Not Know!