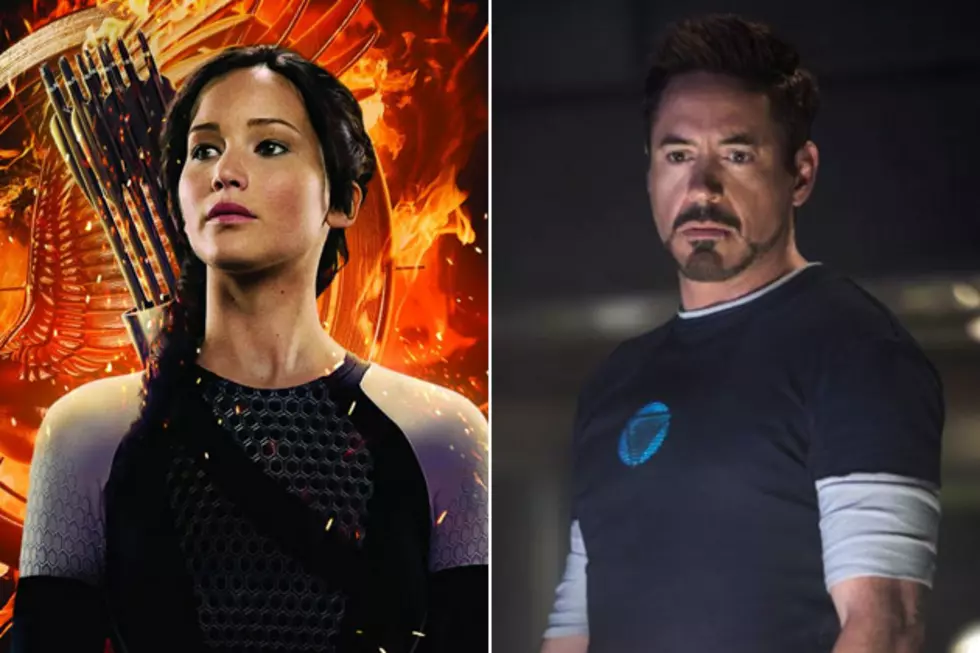 'Catching Fire' to Pass 'Iron Man 3′ as the Biggest Movie of 2013
Lionsgate/Marvel
At some point today, 'The Hunger Games: Catching Fire' will officially pass 'Iron Man 3' at the box-office to become the biggest movie of 2013 with just over $409 million. This may not sound like a huge deal, but this marks the first time a female-led movie has topped the yearly box-office chart in almost 50 years.
As it stood yesterday, 'Iron Man 3' has grossed $409 million domestically with 'Catching Fire' at $407.1 million, but with 'Iron Man 3' out of theaters and 'Catching Fire' still playing in over 2,000 theaters, the latest 'Hunger Games' movie will take the number one spot by the day's end.
It's an impressive win for Lionsgate and their 'Hunger Games' franchise for two reasons.
First, 'Catching Fire' is one of only two movies in the 2013 box-office top 10 that wasn't released in 3D (with 'Fast and Furious 6' being the other). That it was able to catch 'Iron Man 3,' which was released in 3D and IMAX 3D in a prime summer slot, is surprising actually. Is this proof that audiences have had enough of 3D and are more interested in good movies? (We should note that the performance of 'Iron Man 3' overseas was much higher than 'Catching Fire' where 3D returns are often much higher.)
Secondly, and perhaps more important, 'Catching Fire' will be the first female-led movie to top the yearly box-office since Julie Andrews climbed ev'ry mountain in 1959's 'The Sound of Music.' Combined with 'Gravity' (another female-led film in the top 10), movies with strong female leads grossed over $660 million. In a system where we, among others, have openly wondered why it's so hard to make a good female superhero movie, maybe this is the evidence Hollywood needs that women can be just as much the action stars as men. We can all bitch about it until we're blue in the face, but money talks, and this strong performance by Jennifer Lawrence and Sandra Bullock might be too much money to ignore.