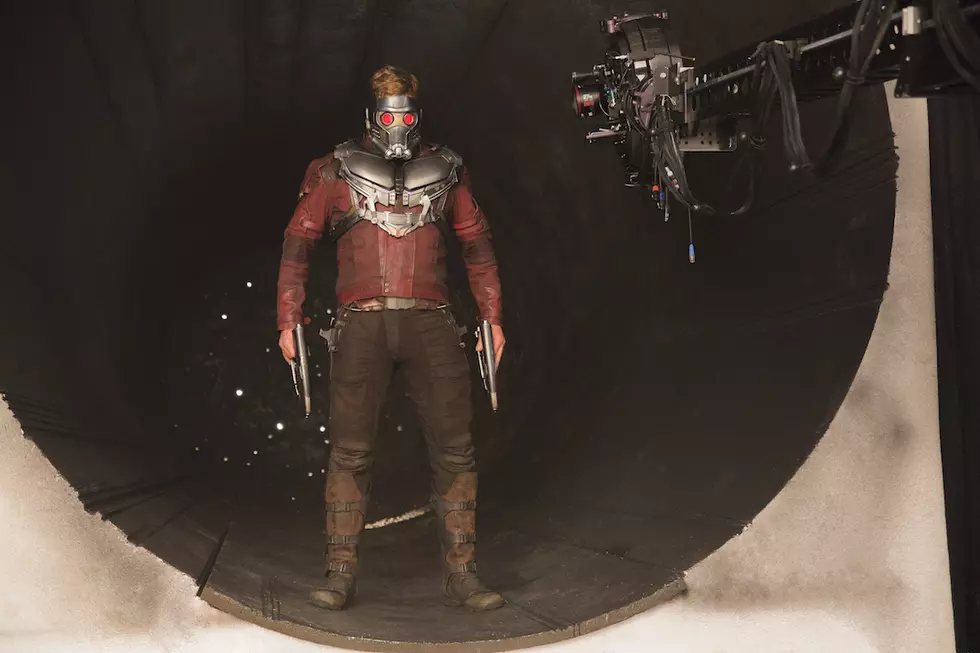 'Guardians of the Galaxy Vol. 2' Set Visit: All the Surprises and Secrets of Marvel's Latest Blockbuster
Marvel Studios
Movie sets. If you've watched La La Land or even Pee-wee's Big Adventure, you know they're supposed to be glamorous. Bright lights, brighter stars, exotic locales ... So, what am I doing here in an abandoned convention center outside Atlanta?
Surrounded by deserted concession stands, dried-up water fountains, and dusty windows, I'm here with some of the biggest stars of the world filming one of the biggest movies of the year. While George Harrison's "My Sweet Lord" blares on the loudspeaker system and Zoe Saldana quietly sits in a chair getting green body paint reapplied, I (ohmygodohmygod) hold the actual Baby Groot in my hands.
As you might expect, Guardians Vol. 2 follows the further adventures of Peter Quill (aka Star Lord), Gamora, Drax, Rocket and Groot. As you might also expect from a Marvel movie, that's about all we knew for most of production.
That's about to change. After visiting the set, here's what I can tell you about the plot of the film. (If you're really afraid of SPOILERS, you might want to skip down to the next behind-the-scenes photo.)
About six months or so after the events of the first Guardians, the team's hired by Ayesha (Elizabeth Debicki), the gold-dipped leader of the planet Sovereign, to stop a monster (that big, many-toothed beast from the trailer) from destroying some very important and very expensive batteries that power their planet. Their payment? Nebula, who the Guardians would like to see imprisoned for her role in Ronan's ill-fated plot to destroy Xandar.
Everything goes according to plan – the Guardians defeat the creature and take Nebula into custody – but, Rocket, who just can't help himself, steals some of those very important batteries for himself because, as Kevin Feige puts it, "They're really expensive and they're not going to notice and who cares, the Sovereign are kind of dicks anyway."
Ayesha is unhappy, to put it mildly, and hires the Ravagers, led by Taserface to track down the Guardians, retrieve their batteries, and make them pay for their insolence.
Oh, and then Peter Quill's dad shows up.
"Attention everyone," a voice crackles loudly from a handheld megaphone. "There is press in the building."
James Gunn's having fun with us. It wouldn't be the last time. Later, I would almost jump out of my seat when I see Kurt Russell sitting in a director's chair with "J'SON" in bright red letters on the back. I quickly take out my phone to do some research and pull up a number of tweets Gunn has sent with the same message: "There is no J'son in the MCU." Nailed him. Busted.
Sitting down with him later, I go in for the kill with the hunger of a political journalist:
"Earlier this year, you said numerous times on Twitter that there is no J'son in the MCU. And you've also said that you would never lie to your fans."
As Gunn leans back in his chair, barely stifling a laugh, I begin to see that I have fallen right into his trap.
"Think we aren't prepared for you guys? Think anything we did today is real?"
About four months later at San Diego Comic-Con, Gunn would reveal that Kurt Russell is playing Ego the Living Planet, further proving that there is no J'son in the MCU and that James Gunn enjoys screwing with you.
(That is about all I can say about Kurt Russell and his role in the film right now. Yes, I spoke with him in full costume for about 20 minutes, and yes it was one of the highlights of my professional career, but Marvel has asked that we save that discussion for another day.)
So now you know a little bit more about the plot of Guardians of the Galaxy, Vol. 2, at least on a surface level. It's a new entry in the Marvel Cinematic Universe, so of course it's going to have larger-than-life villains and heroic battles but as Gunn tells it, "the movie really isn't about that." Nor is it just a set up to reveal Quill's father's identity, which Gunn says is explained fairly early on in the film. Instead, "[Vol. 2] really is about the story between the different characters." Put another way, "the first film is about becoming a family, the second film is about being a family."
Feige says that as the Guardians' mythology has spread throughout the galaxy, the newfound family is making themselves available for do-gooding (like the mission on Sovereign above), but that deep down, they're having trouble accepting the whole group dynamic. It turns out becoming a family might be a lot easier than being one. "They've all grown a bit more pompous," explains Feige. "[It's] like the garage band that then gets a multi-platinum album and has egos to go along with that. [This] is true for all of them frankly. Not Drax as much, but particularly Quill."
Family is a theme that makes up a large part of the film, and not just the bonds between Peter, Gamora, Drax, Rocket, and Groot. Quill is managing the emotions between meeting his real father and his feelings for Yondu, who served as his surrogate father for most of his life. Groot is now a baby, or considering his size and age in the film, more like a toddler, and Rocket is forced into a role he may or may not be entirely comfortable with taking care of him. Gamora and Nebula still have not gotten over their daddy issues. These are a group of flawed outsiders all working to create a community.
Part of this is Gunn working through some of his own personal issues and creating an outlet for other people like him to help cope. "I think outsiders as a whole reacted to the [original film] ... Listen, that's what I am. That's what I feel like … The only reason I would ever put myself through this is to be able to bring people together, and make people feel like maybe they belong a little bit more than they would feel like before they saw the movie."
Gamora herself, Zoe Saldana, describes their dynamic in a way that feels particularly relevant given our current social climate. "So we're living through times right now with so many refugees fleeing from their homelands, trying to better their lives and just survive in other lands. Like [the Guardians] are orphans. They're all orphans. They were all either taken, abused, forced into a life of violence. So once you kind of take away all the comedy and all the special effects and everything, it seems like a group of runaways that try to find ... a reason to stick around ... And they're trying. They're just trying to not be so f---ed up."
One of the scenes being filmed this day is Kurt Russell, as Ego, and Pom Klementieff as Mantis (Ego's trusty sidekick) inviting Peter, Gamora, and Drax onto their spaceship. (Or, as Gunn puts it, Ego's "freaky, creepy, '60s pop-art spaceship.") The interior of the ships sits in the middle of the shooting stage surrounded by giant walls of glowing LED lights. It's right after they've met for the first time and the Guardians board the ship as Stevie Nicks sings, "And if, you don't love me now / You will never love me again..." (Chris Pratt would later say of the shared sentiment between lyric and plot, "The songs, more so in this movie, really helped to tell the story.")
Of their initial meeting, Pratt says, "He realizes there's something special about [his father] that they can't quite identify, and that's pretty much all he knows. You get to find out who he wishes his father is, and you get to find out whether or not that is the reality."
Yes, I held Baby Groot in my arms.
While standing around during a break waiting for the cast to assemble for the next scene, a slightly bored crew member shuffles over. "You wanna see Groot?" and I'm suddenly not sure if this is a euphemism for something else I should be worried about. He picks up a suitcase that looks like it could contain nuclear launch codes and opens it up. Tucked in foam inside is Baby Groot.
Obviously the real Baby Groot ("real") will be added in CGI later during post-production, but this is the incredibly lifelike version they use as a stand-in during filming, and it's just about the most adorable thing I've held in my arms. (Note: I have children.) I debate making a run for it, but perhaps sensing my eyes scanning the room for exits, Groot is soon placed back in his suitcase for safe keeping. But, I'm not the only one who's obsessed.
"[Groot] is funny even in the dailies we're watching," says Gunn. "And we just got the guy on a stick, and people are laughing. There's something really cool about him, and he's funny in the movie."
Pratt puts it more distinctly. "Dammit, he's gonna steal the f---ing movie."
Lest you think he's just there to be cute, reminder: this is a Guardians of the Galaxy movie so, as Gunn reminds us, "he's a little jerk too."
"He can kick some ass," Feige elaborates. "He's also an idiot. He's a baby. He's not very smart."
He's also so damn cute he's going to make Disney millions of dollars.
(At the time, neither Gunn nor Feige would not commit to Vin Diesel returning to provide the voice of Groot, which as you've heard is much different than Diesel's signature rumble in the first film, but the recently released teaser poster officially lists "Vin Diesel as Baby Groot" so that ends that controversy before it even starts.)
Feige recalls when Gunn turned in his original treatment for the film it was met with groans; not because of its content, but because of its length. "We were in the midst of a couple of other projects at the time, a lot of which were not easy. And James delivered a 64-page treatment, and we were dealing with all these other things and all this stuff, and I was like 'A 64 page treatment?! Why can't it just be 4 pages?'"
Despite its length, Feige called Gunn's proposal "amazing" and said that with all the things he has to worry about in his job "maybe I don't have to worry about this one."
Describing the vibe of Vol. 2, Pratt explains: "A lot of times people when they make a sequel, they just play the hits. They're like, 'Let's tell the exact same story, strip it down, replace the jokes with new jokes, replace the bad guy with a new bad guy, tell the same exact story, but just in a different way.' And that totally works fine. But that's not what we're doing at all with this movie."
Marvel was so confident in Gunn's unique vision for Vol. 2 that very little changed from the original treatment. The director notes that the only substantive variation was the removal of one major character from the film. "There was another character that was a major character. Although it kind of worked generally in the story, I got to the place where there were too many characters and I thought it was one character too many." (For those looking to speculate who this is, Gunn suggests it's not necessarily a major player from the comics and indicated it was a male character.)
The success of the first film earned the faith of Marvel execs, even when it came to excluding one of the Marvel Cinematic Universe's most important characters: Thanos. The upcoming villain of the two-part Infinity War will not be making an appearance, for one simple reason: James Gunn said no. "It wasn't the most fun part of the movie last time for me, and I just didn't really want to do it this time." (That's not to say that Guardians doesn't have its share of teases for the future of the MCU. When asked if the film's version of Ayesha is related to Adam Warlock, a potential major player in the Infinity War storyline, as she is in the comics, Gunn said, "Totally possible.")
We can't wrap things up without discussing the film's soundtrack. One of the most distinguishing features of the first film (and an inspiration to almost every superhero movie since), the Guardians soundtrack influenced both the title of the film and its marketing material.
Describing what we can expect from the sequel's needle drops, Gunn says, "I think the first movie was made for a child that was a couple years younger than the child that this music was made for. So it's slightly more complex songs." Though the list of songs this time around was written into that massive treatment, the director wasn't ready to commit to his track list just yet. Gunn did say did say, though, that there are some much bigger songs in Guardians 2. Pratt agreed, adding, "it's probably better because we have more money. [Laughs] You know, we get cooler songs!"
That brings our current soundtrack watch to the following songs: The aforementioned George Harrison song, Fleetwood Mac's "The Chain," Sweet's "Fox on the Run" and "Come a Little Bit Closer" by Jay and the Americans.
And it would not be a report on a Guardians of the Galaxy movie, if we didn't leave you with the one thing hardcore fans really get themselves excited for. With all the hard work on the treatment, the script, the songs, the long days, the makeup, the special effects and so much more, there was one important thing Gunn knew they couldn't forget.
"We have so many incredibly obscure Easter eggs in this movie that it's ridiculous," says Gunn with a laugh. "Yeah, we've been working hard on the Easter eggs."