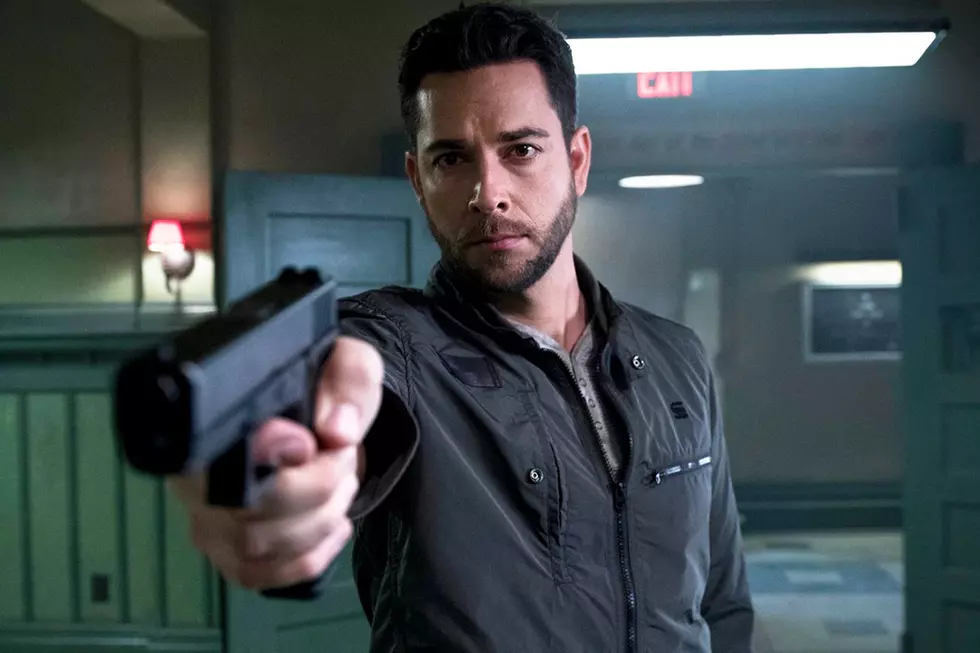 Comic-Con 2015: 'Heroes Reborn' Assures Fans That It's Still Happening With Extended Trailer
NBC
NBC's Heroes Reborn will finally go through with its revival this coming fall, but already the cast and crew are on hand at Comic-Con 2015 to preview an extended trailer and dish on the new Tim Kring superhero saga. We're on hand for the panel, so what can we learn from Heroes Reborn?
Tim Kring came out to remind everyone that it's been nine years since Heroes took the stage at Comic-Con, acknowledging that if anyone found the series tired in its original incarnation, "we had a long rest and a good night's sleep, and we're ready to save the world again."

Kring also spoke to the tablet and console video games that will help fill in the gaps between both series, before launching into the "Dark Matters" digital prequel. The first we saw was a hooded figure laying out in a viral video the years since Claire's public exposure, namely that evolved human "EVO"s face registration and persecution, and calling for those around the world to rise up in defense of their people

Two years later, we saw a girl who "came out" to her brother by showing her ability to manipulate her own shadow, something he enjoys immensely. Things get much darker from there however, as a trip to college allows her time to develop her powers, bringing the attention of the authorities, and leading to a web of intrigue and conspiracy.

After a reading of his lower IMDb credits, Greg Grunberg took the stage to help Kring send his first official tweet, before bringing out the cast to the tune of AC/DC's "Back in Black." Kring previewed that where the original series scarcely left a 45-mile radius of Los Angeles, Heroes Reborn shot in Iceland, Canada, LA, Tokyo and Paris.

Where five years ago discovering your abilities was a wondrous, exciting experience, this time around such revelations are far scarier, given the public's knowledge and persecution of people with powers.

It's since gone online, but the extended trailer brought some great action footage, and notable reveals. Not only did we see a returning Micah, but also HRG, Matt Parkman, Hiro, The Haitian, Mohinder Suresh and even Angela Petrelli. HRG counts himself out of the game for now, but with attacks both from and on powered people filling the globe, the Haitian pulls him out of retirement with his famous glasses. Also, Zachary Levi's Luke Collins killin' a whole lotta folk. Plus, who's masking up?

As we saw in the extended trailer, Robbie Kay's Tommy will have the ability to make others completely disappear, to where he doesn't know. Asked what he'd call himself as a superhero, Kay gave one of the few legitimate answers, "The Magician."

Former Shameless star Danika Yarosh plays "Malina," an ethereal character raised in isolation all her life for a mysterious purpose. From the trailer at least, it looked like she was in the arctic, attempting to stop the spread of a black hole.

Joking about needing to wipe people's memories, Grunberg brought Jimmy Jean-Louis out as the Haitian, while Masi Oka sent in a video saying he was busy elsewhere. Or did he? Oka used his powers to blink out of the video, just before running onstage.

Kring claims that it wasn't a matter of who could, or couldn't return, only who they sought out, based on where the story took them. Kring also spoke to the show going in a darker direction, taking the basic premise of the original and cranking it up. "The way we went off the air was kind of the best pilot possible," says Grunberg of Claire's reveal establishing the new premise.

Zachay Levi won't be doing any singing, unfortunately.

Asked if Heroes Reborn would reveal the fates of Sylar, Claire or Peter, Kring pointed to much of the ancillary material answering that question, though "by episode 13, you'll have a big chunk of that answered for you." Kring also confirmed that unlike Star Wars, any post-Heroes canon would be kept in tact for the new series.

Finally we caught an extended clip of Hiro rescuing Mohinder in a parking garage, using two "Darth Maul-style" swords to fight off an agent with a bomb strapped to his chest. The man mentioned something about Hiro being previously stuck in an "Eternal Fortress," before losing both his arms, and taking two swords to the chest. Hiro unhooks a contraption suppressing Mohinder's powers, before the agent reappears with a double, then a triple, forcing Mohinder and Hiro to take on all three.
So reads the full Heroes Reborn synopsis NBC released:
A year ago, a terrorist attack in Odessa, Texas, left the city decimated. Blamed for the tragic event, those with extraordinary abilities are in hiding or on the run from those with nefarious motives.

Two such vigilantes include Luke (Zachary Levi, Chuck) and Joanne (Judith Shekoni, The Twilight Saga: Breaking Dawn – Part 2), who are seeking to avenge a tragic loss.

Noah Bennet, aka HRG (Jack Coleman, reprising his role from the original), has gone off the grid but conspiracy theorist Quentin Frady (Henry Zebrowski, A to Z) finds him and opens his eyes to the truth behind the Odessa tragedy.

While in hiding, some are discovering their newfound skills. Awkward teen Tommy (Robbie Kay, Once Upon a Time) just wants to be normal and win the girl of his dreams, Emily (Gatlin Green, Criminal Minds), but normalcy is virtually impossible after learning of a new ability that terrifies him. Coming from a very sheltered upbringing, a bold and ethereal teenager, Malina (Danika Yarosh, Shameless), has been told she is destined for greatness. In Tokyo, a quiet and unique young woman, Miko (Kiki Sukezane, Death Yankee 3), is trying to track down her missing father while hiding an extraordinary secret that will make her a force to be reckoned with. Elsewhere, a different type of hero is emerging through former soldier Carlos (Ryan Guzman, The Boy Next Door).

Meanwhile, Erica (Rya Kihlstedt, Masters of Sex), the head of the highly successful tech conglomerate Renautas, has an agenda of her own.

For better or for worse, some are fated to cross paths with assorted heroes of the past, including Hiro Nakamura (Masi Oka), Matt Parkman (Greg Grunberg), Mohinder Suresh (Sendhil Ramamurthy) and the Haitian (Jimmy Jean-Louis), among others. Yet, together, their ultimate destiny is nothing less than saving the world and mankind.
It's hard to exactly say that Heroes Reborn feels like what we remember of Heroes, but do the latest deets have you primed for the September 24 premiere?