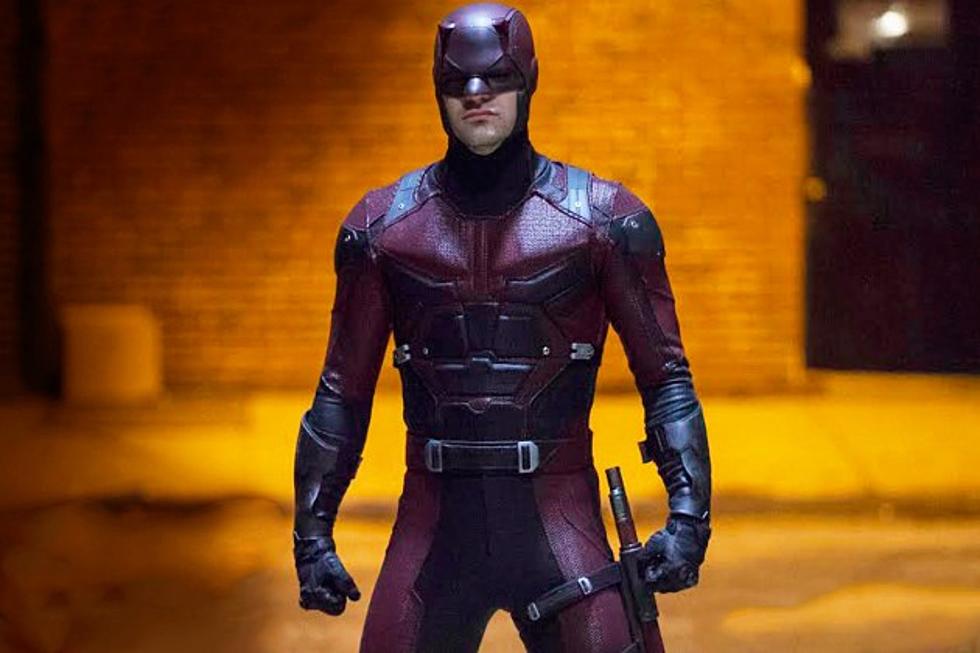 Rumor Buster: Nope, 'Daredevil' Season 2 Isn't Teasing a New Costume
Marvel / Netflix
Daredevil, you've done it again! The Netflix man without fear's Twitter account has issued yet another cryptic tease that has fans in a tizzy, this time inspiring debate over the Daredevil costume itself. Could Matt Murdock suit up with some new duds when Season 2 premieres in 2016? Sure, but not today! Allow us to explain.
Much like the Melvin Potter / Gladiator rumors, confusion began when a tweet from Netflix's Daredevil account surfaced, this time showing the season finale suit tucked away into a box. Outlet after outlet again ran with the potential tease, claiming portions of the suit appeared darker than before, thus signaling a new costume in Season 2. Again, no one appeared to remember that the account has been tweeting teasery images of the first season for months.
At least part of the initial frenzy was spurred on by a much brighter look at the Daredevil suit, taken off a monitor in an unsourced photo, in which the mask portion of Matt's suit appeared notably darker than we're used to seeing in proper light. That said, we managed to trace the photo back to a recent fashion trade show panel, days before the photo started circulating in support of a new suit.
Afterwards, IGN confirmed with Daredevil costume designer Stephanie Maslansky that the suit in question belongs to Season 1, color or otherwise.
That leaves only the aforementioned tweet as "evidence" of a new Season 2 costume, but there's at least a few more hitches. For one, should Marvel or Netflix opt to tweak the coolly-received Daredevil costume for Season 2, they certainly wouldn't reveal it with a vague tweet seven months before the premiere. Even then, any noticeable change to the look would likely require some in-story referencing, given how much was made of the "homemade" approach, supplemented by Potter's work in Season 1.
And hey, even if Daredevil does turn out to upgrade the suit in Season 2, rest assured that you'll find out through the right sources. So, how'd we do on our reporting, Ben?
So, in conclusion? Great power, great responsibility, all that. We should prevent fans, outlets, anyone from misconstruing the Daredevil Twitter account for Season 2 teases. Trust us, you'll know it when you see one! In the meantime, let's look forward to legitimate Season 2 promotion, and Jessica Jones in the meantime. Can we get an actual photo of her already?
Check Out 100 TV Facts You May Not Know!