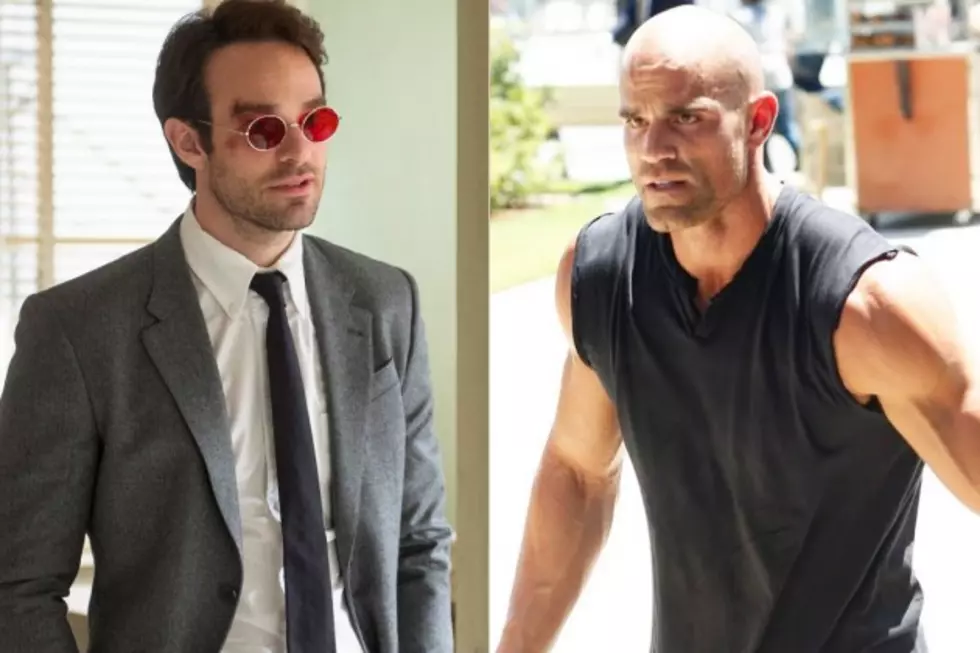 'Daredevil' Teases 'Agents of S.H.I.E.L.D.' Connection Through the Absorbing Man?
Marvel / Netflix / ABC
Marvel's Netflix Daredevil seems a stark contrast to the Marvel Cinematic Universe we've seen on the big screen and in ABC's Agents of S.H.I.E.L.D., but the Man Without Fear's new Netflix series may have revealed a surprising connection. Could Carl "Crusher" Creel, better known as Marvel's Absorbing Man, come to trade blows with the Netflix Daredevil?
Take this one with a grain of salt for the moment, but the official Daredevil Twitter account released a new promotional image for the series, one that left many an MCU fan scratching their head. The image presents as an advertisement for a boxing match with Matt Murdock's father, Battlin' Jack Murdock, though one strangely listed against Carl "Crusher" Creel.
For those keeping track of their MCU continuity, Brian Patrick Wade already appeared in the inaugural two Agents of S.H.I.E.L.D. Season 2 episodes as Carl Creel, then fully in possession of his Absorbing Man power, and working as a mercenary in Hydra's employ. The character was said to have been a former boxer caught using steel fists under his gloves, and secretly recruited as an Hydra asset by John Garrett (Bill Paxton).
Here's where things get a bit tricky: Brian Patrick Wade himself is 36, though the character's appearance and superhuman status could easily be made to skew older or younger, while we'd presume Matt Murdock's father to have died some 15-20 years before the start of Daredevil, during Matt's childhood. It's certainly plausible that Creel could have been boxing by that time, though we don't know for certain if Netflix's Daredevil will actually showcase the fight against Jack Murdock, or if Wade would potentially reprise the role.
For what it's worth, we reached out to sources at Marvel, who offered no comment on the tweet, at least for the moment. It'd be an odd bit of continuity to fumble, and lazy to patch over by claiming the Agents of S.H.I.E.L.D. rendition as a different character, perhaps even a son. Streaming all 13 episodes in 4K on April 10, here's now Netflix describes Marvel's Daredevil:
Blinded as a young boy but imbued with extraordinary senses, Matt Murdock (Charlie Cox) fights against injustice by day as a lawyer, and by night as the Super Hero "Daredevil" in modern day Hell's Kitchen, New York City.
Marvel's Daredevil is one of the best known properties of the street level heroes and will be the the first of four epic live-action adventure series (Marvel's A.K.A. Jessica Jones, Marvel's Iron Fist, and Marvel's Luke Cage, all leading up to the teaming of the main characters in Marvel's The Defenders) that delves into the backstory of how Matt Murdock evolves into Daredevil.
The show's New York Comic-Con 2014 panel also revealed the inclusion of Vondie Curtis-Hall as reporter Ben Urich, Man of Steel star Ayelet Zurer as Vanessa (not yet Fisk), and Bob Gunton as Leland Owlsley (The Owl).
Each Marvel Netflix series will shoot 13 episodes, culminating in an eight-episode team-up with The Defenders miniseries and bringing the total to 60 episodes (to start). Drew Goddard was replaced as Daredevil showrunner by Spartacus vet Stephen DeKnight, though Goddard remains a consultant.
We've included the full trailer again below, but could Marvel's Daredevil have its first explicit connection to Agents of S.H.I.E.L.D.? Could we ever see Coulson checking out Hell's Kitchen to recruit its newest hero?