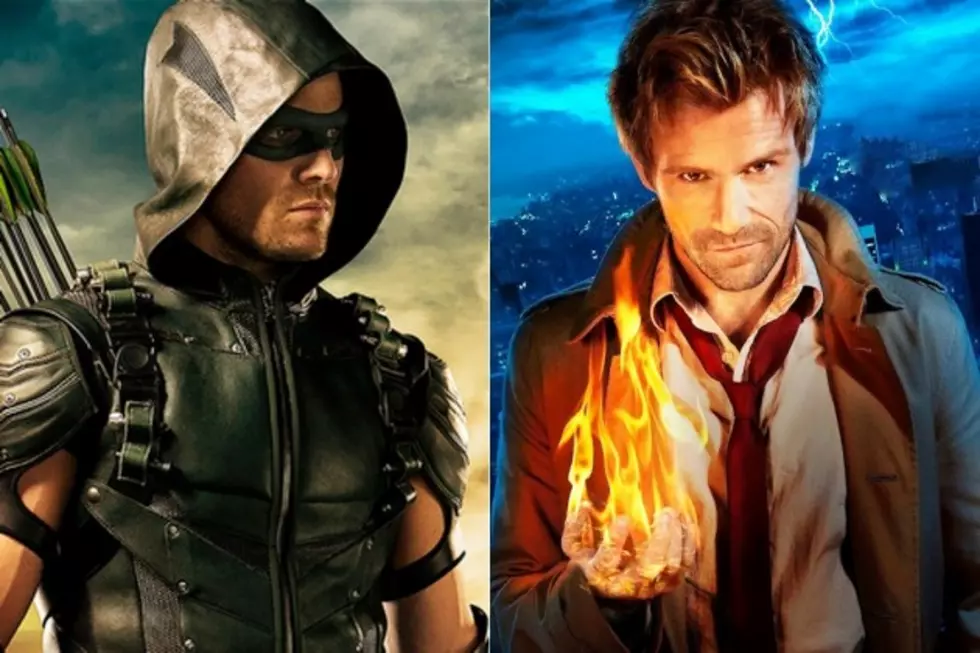 'Arrow' Season 4 Officially Conjures a 'Constantine' Crossover!
The CW / NBC
Where Constantine showrunner Daniel Cerone tweeted earlier in the day of a surprise for fans, The CW bosses have confirmed that ArrowSeason 4 will feature a one-shot appearance by Matt Ryan's chain-smoking conjurer. According to reports, Constantine will appear in the fifth episode of Season 4, "Haunted," in which the demon-fighter provides critical "critical support to Oliver (Stephen Amell) when arrows aren't enough."
Adds executive producer Marc Guggenheim:
We are thrilled to have Matt Ryan reprise the role of John Constantine on an upcoming episode of Arrow. Matt is an incredibly talented actor and his portrayal of this beloved character was always something we admired. The introduction of magic and mysticism on the show this season has provided a truly organic opportunity for us to bring John Constantine to Arrow and the CW's DC universe. It will be a well-deserved tip of the hat to all the Constantine fans who were so incredibly supportive of that series.
Co-showrunner Wendy Mericle previously spoke to the crossover potential:
Yeah, we really want to do it. It's something we've been talking to DC about and it's just a question of some political things, but also the actor's schedule. We're trying to work it out, but we don't know 100 percent if it's going to happen … But we're really optimistic and we would love to have him.
Arrow Season 4 will premiere on October 7, but what should we make of Constantine's apparent resurrection, and its unlikely (albeit hugely exciting) crossover?
Check Out 100 TV Facts You May Not Know!