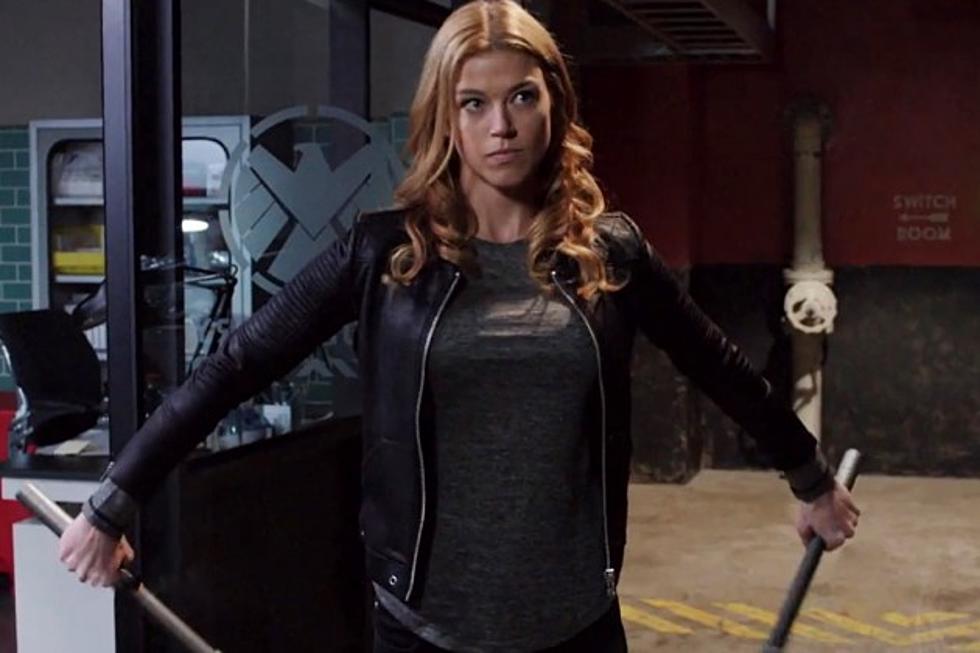 'Agents of S.H.I.E.L.D.' Ups Adrianne Palicki's Mockingbird to Regular, New Premiere Synopsis
Marvel / ABC
Marvel's Agents of S.H.I.E.L.D. have steadily been gearing up for the March 3 return with new friends and foes, but the latest to officially join the team has been with us for some time. Adrianne Palicki's Bobbi "Mockingbird" Morse has officially been upgraded to series regular, while the March 3 premiere has a brand-new synopsis reaching into the season.
As revealed in the latest synopsis for Agents of S.H.I.E.L.D.'s 2015 premiere "Aftershocks" (or "Epidemic," in other releases), former Friday Night Lights star Palicki's West Coast Avenger character will join Coulson's team full-time, having guested earlier on in Season 2. Perfect timing, considering the latest synopsis for the season teases some Inhuman challenges ahead, as well as Mockingbird's new mission:
After discovering an alien city with ties to his resurrection, Coulson and his team destroyed it before the forces of Hydra could claim its secrets, eliminating the villainous Whitehall (Reed Diamond) in the process. But new threats to the world have arisen, including Skye's father, Cal (Kyle McLachlan), who now seeks retribution against Coulson for stealing his revenge against Whitehall; a disturbing alliance between former S.H.I.E.L.D. agent Ward (Brett Dalton) and Agent 33; the enigmatic Raina (Ruth Negga), who struggles with her transformation into something inhuman by the alien Obelisk and seeks vengeance; and Skye (Chloe Bennet), who developed mysterious new powers from the Obelisk but whose lack of experience with her new abilities may threaten the safety of those she loves.

Meanwhile, Bobbi (Adrianne Palicki) and Mack (Henry Simmons) begin the next phase of a plan which seems to have grave repercussions for Coulson and his team, who are unaware that there's another mysterious force moving against them. And as Hunter (Nick Blood) is forced to make the biggest choice of his life, Coulson will find his mission threatened by this shocking endgame.

In the midseason premiere, "Aftershocks," Coulson's team must deal with the consequences of their war with Hydra as shocking revelations threaten to tear them apart, and Hydra makes a dangerous move that may involve a traitor in S.H.I.E.L.D.'s midst.
We've included the latest Agents of S.H.I.E.L.D. return trailers below, but will the March 3 premiere prove stronger than ever, now that Adrianne Palicki's Mockingbird counts herself a full-fledged regular?